The Mud Puppy
Several reports of this long-lived lure only tell part of the story of its inventor, Constance C. Roberts, who observed a muskie chasing a big salamander on the Wisconsin River almost a century ago. Roberts began to carve the likeness of the targeted bait soon after and began to sell these lures in 1918.
Most lure makers would have stopped there, but he continued to tinker and test, finally developing hook-release hardware designed to lessen the odds of the lure being thrown and fish lost as the lure body of a big muskie plug provides weight that is often shaken loose.
Constance Charles Roberts was born in Mosinee, Wis. on July 1, 1888. As a young man, he excelled as a baseball pitcher playing for many semi-pro teams in northern Wisconsin's logging/sawmill towns.
He was also an artist and sign painter who later moved to Chicago and then New York where he also drew cartoons for newspapers. He enlisted in the U.S. Army Air Corps during WWI, but while still in training the war ended.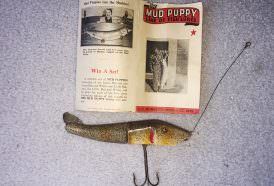 Returning to his boyhood home, he began to make lures in the back room of his father's store in Mosinee. A confirmed bachelor, he enjoyed the area's hunting and fishing until the day he died in 1955 on a fishing trip.
Early baits handmade
It was only possible to make the distinctive sucker heads for his lures by hand at first. His earliest baits are identified by the two-sectioned lure—having an even 50/50 division in the center. They sported eyes that were either painted on, or had imported glass or nails and varying in sizes, from 6 7/8 to 7 3/4 inches.
By 1920, demand and manufacturing advances enabled him to acquire equipment to greatly increase production for many years. He applied for patents on October 12, 1925, which were then granted January 15, 1929.
These Mud Puppy lures were reduced to 6 1/4, 4 1/4 and 2 inches. In the 1930s, a much smaller tail section helps distinguish baits from that era. They continued to be made with glass eyes until WWII, when they were no longer available from Germany. Then, they were all were painted on.
When hooks became unavailable, Roberts began to make his own. Soon he went to decal eyes, which are still being used today.
In 1932, 8-year-old James Rheinschmidt began helping Roberts. In 1945, James became Con's partner. His son Jim then carried on the business until his own son, Jim Jr., took over. The Mud Puppy lure is still being made and is the oldest surviving wooden bait company in Wisconsin.
Years ago, I was casting one of these lures when a muskie surfaced on a super-long cast away. Quickly swinging into action with my long, stout muskie rod, I cast as hard as possible. The bait broke free from its releasable hook rig, sailing far into the woods—lost, but not forgotten.
Other anglers lost baits after fighting fish. They then tried in vain to find the lure body, especially on choppy waters. This was especially true on rivers. For this reason, permanently attached "river" model lures were also made.
They are now available at mudpuppylures.com, and still made in Mosinee, Wis.
     Dan Basore is a fishing historian and steward of the history of the sport. In his efforts to preserve fishing history, Basore is always on the lookout for information about early lure makers, old lures, pre-level wind reels, manufacturer catalogs, tournament casting items and the like. If you possess information or materials that can help, please contact Dan Basore, Historical Fishing Display, at 630-393-3474 or 1-800-347-4525.
You can be among the first to get the latest info on where to go, what to use and how to use it!
---
Dan Basore is a fishing historian and steward of the history of the sport. In his efforts to preserve fishing history, he is always on the lookout for information about early lure makers, old lures, pre-level wind reels, manufacturer catalogs, tournament casting items and the like. If you possess information or materials of this kind, please contact him at 630-393-3474 or by email at [email protected]
All author posts
---