The Indy 500 Lure
The Indianapolis 500 has a special place in my life. Growing up just a few blocks away from the track, we could often hear the racecars' powerful engines imprinting us with a love of fast cars and racing. Across from the track's main entrance was Sutphin's Bait and Tackle Shop. Charlie Sutphin and his mother and father were all national casting champions. He took a young boy from a family where no one fished or hunted and molded me into someone who loves these sports, and can't imagine a life without them.
Drivers, mechanics, owners, tire reps, fans and mechanics all found a great place to hang out and swap fishing tales, especially on the rainy days. The machinists helped Charlie build a state-of-the-art shop where he "blue-printed" reels, much like the process when they built racing engines nearby. He repaired rods and reels and also built custom fishing rods, lures and casting plugs.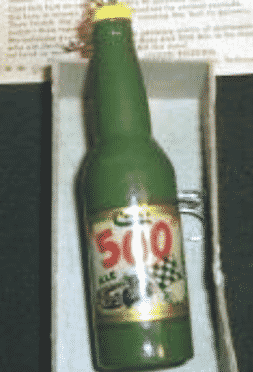 It was here as a young boy I learned to cast and fish and how a common interest in the sport crossed all ages, ethnicities and economic backgrounds, forming outdoor-loving friendships that has survived the decades. A passion for great lures, reels and tackle grew, and many old lures were obtained from trade boards and dusty shelves in the store.
Tony Hulman, the Indy 500 track owner, also had a partial ownership of the F.W. Cook Company that began making beer in 1853. Tony contracted the Bill "Red" Humphrey Bait Company of Jasonville, Ind. to make beer bottle-style fishing lures, which he gave out as gifts.
There were two versions of these lures and their white two-piece cardboard boxes. The earliest lure was made of wood, and these boxes proclaimed, "Another Plug for Cook's Goldblume Beer and 500 Ale." It pictured a racecar and checkered flag.
The second box had a picture of a Cook's beer bottle and read, "It's a Plug for Old Friends and an Old Favorite." The sides of both boxes read, "Good Cheer, Good Fishing." The papers in the box read, "Cook's Beer – The Best Brew on Earth – Tasted and approved by fishermen everywhere." Later versions of the lures were made of plastic.
These baits are a bit scarce and are highly desirable.
I wonder if anyone has fished them?
You can be among the first to get the latest info on where to go, what to use and how to use it!
---
Dan Basore is a fishing historian and steward of the history of the sport. In his efforts to preserve fishing history, he is always on the lookout for information about early lure makers, old lures, pre-level wind reels, manufacturer catalogs, tournament casting items and the like. If you possess information or materials of this kind, please contact him at 630-393-3474 or by email at [email protected]
All author posts
---