Strange Animal Lures
We continue to find lures, reels, rods, their catalogs, and advertisements to add to our Historical Fishing Display. It's amazing and sometimes amusing what people have made and marketed. Even though we started our collection 60 years ago, we can hardly believe the items found that someone believed would be their "ticket to prosperity." One that especially did this to visitors was made in South Bend, Ind. in 1952, the "Lucky Bunny" Bait.
Made by Art Iverson, who wrote a letter to Richard Walton whose lure collection was begun in 1908, Art claimed, "The 'Lucky Bunny' Bait is made of a real rabbit's foot, which is long-lasting and will keep its shape, wet or dry. It has very good eye appeal and looks far more becoming through the water than 90 percent of any other artificial baits. …"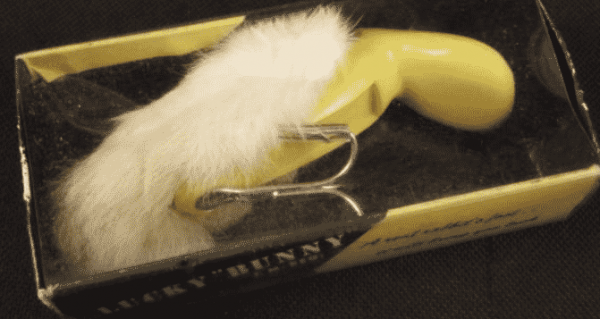 The next sentence has a puzzle that I hope you can help solve.
" … It has a good name and is an omen of good luck, because as mentioned above, is made of a genuine rabbit's foot. 'Lucky Bunny' baits sell for a retail price of $1.35 each and we can make shipment to you the same day order is received."
Finding a lure is just a part of the fun of collecting. And in working with Robert "Bob" Slade on his 18-volume The Encyclopedia of Old Fishing Lures, we found in our files a letter and patent number 2,556,507 granted June 12, 1951 to Oscar Tallaksen of Chicago, who also patented at least another dozen lures.
The patent was assigned to Art Iverson, who started the Lucky Bunny Bait Company at 3256 W. North Avenue in Chicago in 1952. Allen Lures Company operated out of the exact same address beginning in 1956. They were also aligned with Gene Cooper, who made the Ubangi Lure that had a long lower lip and was named for Africans who put ever larger plates in their own lower lips.
Art Iverson and Forrest Allen split in 1954. Iverson bought the rights to the Lucky Bunny lure and took it to Connecticut where he formed American Rod & Gun. Olaf Tallakson invented and sold at least another dozen lures over the rest of the 1940s that he then sold to various companies.
As my friend Dick Streater, who produced The Lure Collector's Bible, said, "The bunny who lost its foot wasn't lucky. How could they make such a claim?"
You can be among the first to get the latest info on where to go, what to use and how to use it!
---
Dan Basore is a fishing historian and steward of the history of the sport. In his efforts to preserve fishing history, he is always on the lookout for information about early lure makers, old lures, pre-level wind reels, manufacturer catalogs, tournament casting items and the like. If you possess information or materials of this kind, please contact him at 630-393-3474 or by email at [email protected]
All author posts
---