Missing Patented Lures
Each year we wonder if lures that have been patented but never seen by historians or collectors will be found. One never knows if somewhere a box may be found in an attic, basement or barn with 100-year-old gems inside.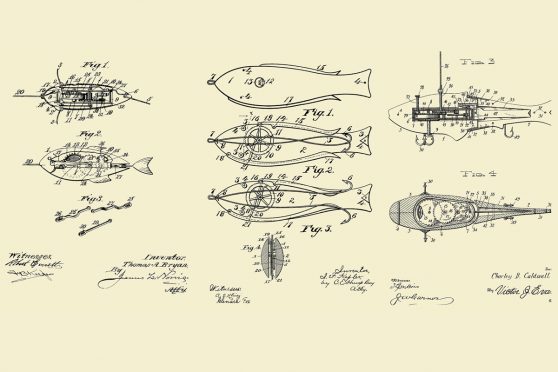 Fishing several years ago on Lake Erie, storms once forced us off the water. Hoping to salvage the trip, we asked everyone we saw if they knew anyone who might've had old fishing tackle. Finally, a firefighter told me about a fellow firefighter of his who went into a home about to be torched for their practice and recreation of real-time emergencies. Reaching up on a support beam there, he felt a box. He opened it and saw that it contained an extremely rare six-pack set of old Creek Chub lures that would have been lost to the practice fire another hour later.
Here are a few patents for mechanical lures that have not yet been found:
1. Thomas A. Bryan's bait, received patent April 21, 1908.
2. L. F. Kepler's geared bait, received patent December 12, 1905.
3. Charley Caldwell's lure, received patent June 16, 1908. (Caldwell was located in Paris, Texas and his waterproof lure had a speed-regulating spring motor powering a movable tail.)
There are many more lures that have never been found that are out there. We suspect that more never received a patent than the ones that did. Keep a sharp lookout for them, and if you want to, any that you find can be photographed and emailed to me for identification and valuation, if desired.
You can be among the first to get the latest info on where to go, what to use and how to use it!
---
Dan Basore is a fishing historian and steward of the history of the sport. In his efforts to preserve fishing history, he is always on the lookout for information about early lure makers, old lures, pre-level wind reels, manufacturer catalogs, tournament casting items and the like. If you possess information or materials of this kind, please contact him at 630-393-3474 or by email at [email protected]
All author posts
---