Three Lures That Made a Difference in 2015
It seems every year an angler develops a liking to a few select lures that he or she has the utmost confidence in. And when it comes down to catching fish, those are the lures they are going to rely on—and not only when the bite is tough.
For myself in 2015, I developed this confidence in three lures, each unique in their own way. Of course I am going to talk to you about those three, but more importantly, I'm going to analyze what those lures brought to the so-called "fishing" table.
The tried-and-true spinnerbait was one lure I started off throwing early in the season down on Kentucky Lake back in March. I had great success with it, and from there I was able to use it on the Mississippi River in the spring and then again down on Kentucky Lake again this fall. What made the spinnerbait such a go-to lure for me was that I was able to alter the retrieve to the water temperature and fish activity that I was faced with.
I went from slow-rolling the bait, just so the blades were barely moving, to burning it and then letting it free fall into deeper water. I also experimented with different soft plastic trailers and developed a liking for the Zoom Swimmin' Fluke to give the bait more bulk and then the standard split-tail trailer for when I wanted a more compact presentation.
Playing around with the blade sizes and shapes also allowed me to alter the bait's profile to the depth, water temperature and activity level of the bass I was targeting. My top two spinnerbaits of 2015 was a 1/2 War Eagle with a small Colorado blade, and a big Indiana blade along with a 3/8-ounce double Willow leaf model.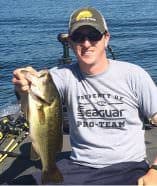 The gear I used for fishing spinnerbaits helped me acclimate to the conditions at hand, as the Wright & McGill Victory II reel has a 6.3:1 gear ratio model, allowing me to slow-roll the bait. This, coupled with the Victory Pro Carbon 7-foot spinnerbait rod and 15-pound-test Seaguar Inviz X fluorocarbon line, allowed me to maintain constant feel of those blades turning.
Another classic lure that I turned to numerous times this year was a jig. I flipped both a 1/2- and 3/4-ounce War Eagle Flippin' Jig around a variety of cover, from laydowns and riprap to deep weedlines and isolated patches of coontail.
What I really focused on when fishing a jig was fishing it slow and paying close attention to my line as the jig was falling, as many times I was getting bites on that fall. Like the spinnerbait, I employed a variety of trailers depending on the cover I was fishing and the profile I wanted my jig to have. My standard trailer was the Zoom Super Chunk, as I liked how it fell in the water and the action it gave off. I also used the Z-Hog Jr. when skipping a jig under boat docks and overhanging trees.
I feel that the 7-foot, 4-inch Wright & McGill Victory Pro Carbon Jig/Big Worm Rod allowed me to make more accurate flips to isolated cover. The sensitivity of this new rod allowed me to feel everything. The double trigger it features also has become a must-have for me, as I couldn't fish a flipping rod without one now.
Being that I spend a fair amount of time fishing the vegetation-filled waters of the Mississippi River, it is no shock that a topwater frog was one of my top lures in 2015. But for me, I feel I adapted to the conditions I was faced with. I altered the frogs I threw and the retrieve I used to get more bites out of otherwise "fished out" weed beds.
I primarily rotated between two frogs this season. The first frog was the Snag Proof Bobby's Perfect—this bait allowed me to make long casts in backwater lakes with very clear water. I would then start my retrieve with a walk-the-dog approach. If this failed I would employ a speedy-steady retrieve, but then kill it when I hit an open-water pocket or isolated piece of cover in the weeds. From here, if the bite got tough or the bass were missing my bait, I would use the small Tournament Series Frog. This provided a compact bait for the bass to hone in on if they were in one of their "moods." Using long casts with my frogs was key to getting more bites when the bite got tough. I needed to put my frogs in some nasty reeds and slop to achieve casting distance. I maintained my ability to get a bass out of the thick stuff and relied on the new Seaguar Smackdown braided line.
As you start to wrap up your 2015 fishing season, be sure to take a look back at the key lures you used and analyze just why they were so successful for you. It may clue you in on some things for next fishing season.
Glenn Walker has been fishing Minnesota and Mississippi River tournaments for more than 10 years, spreading his passion and knowledge of the sport via articles and videos. For more information check out glennwalkerfishing.com or on Facebook at facebook.com/glennwalkerfishing.
You can be among the first to get the latest info on where to go, what to use and how to use it!
---
Glenn Walker has been fishing Minnesota and Mississippi River tournaments for more than 15 years, spreading his passion and knowledge of the sport via articles and videos. For more information, check out glennwalkerfishing.com or on Facebook @GlennWalkerFishing.
All author posts
---