Spring Muskie Fishing
Throughout much of Muskie Nation the season is just beginning and the spring has a tremendous impact on our success, as well as the overall fishing patterns during the season. The cold and wet springs often result in slower weed growth early in the season. Along with that, water temperatures may be cooler than normal. In some parts of the North Country that the muskies have recently completed spawning, and in some extreme cases there may be some muskies still spawning as the season opens. On warmer springs, the weeds flourish, water temperatures are warmer, and the muskies are further from their spawn. Regardless of the spring, one pattern is consistent: Muskies that are roaming open water.
The obvious choice of fishing location for the season opener or in early summer revolves around spawning location. So, it's imperative to determine where the fish spawn. This information is pretty easily obtainable from local natural resource agencies, tackle shops or local fishing experts. You can usually expect some muskies shallow and holding along adjacent shallow cover of spawning bays and nearby points. So, depending upon the weather, it might make sense to cast lures around the shallow cover. If it's sunny and calm, check the real shallow water for sight fishing opportunities with smaller jigs and soft plastics.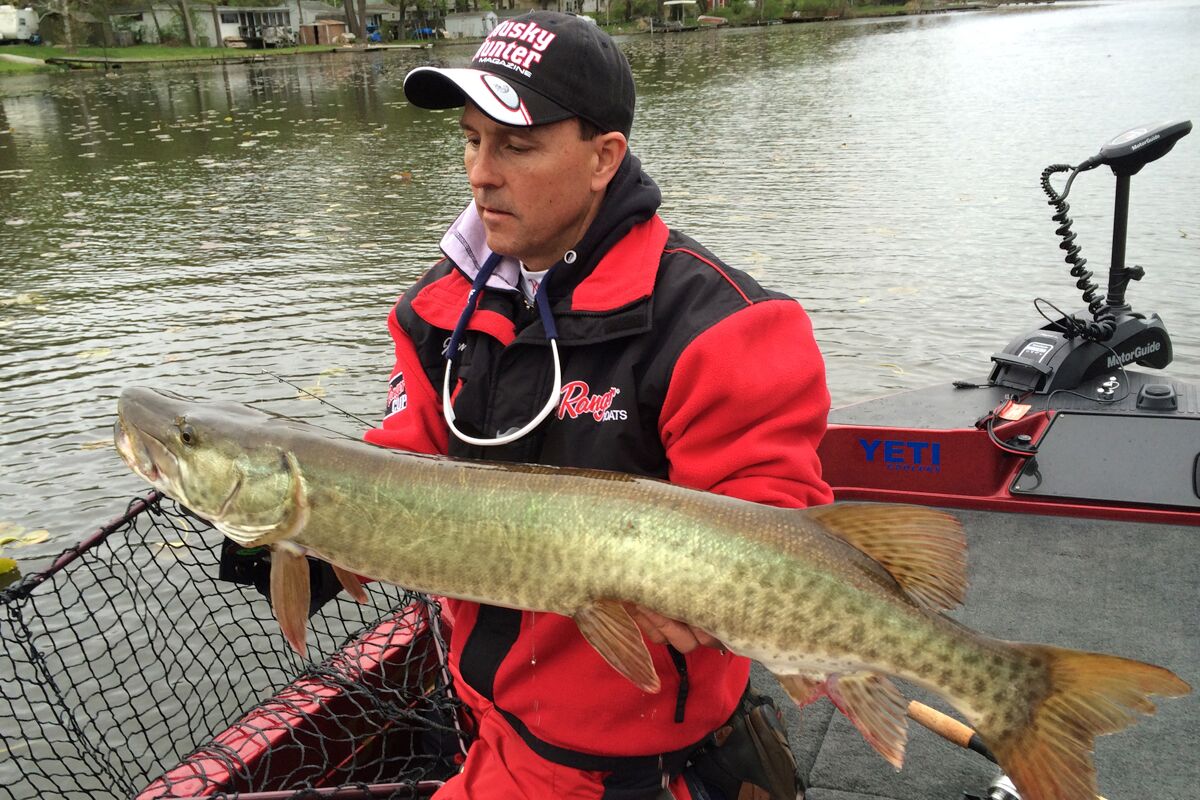 Personally, if after fishing a handful of shallow-water spots the muskies don't respond, I move deeper, regardless of the spring conditions. I rely more on fishing open water muskies, which for me over the years has been a much more reliable pattern. The spawning area is still key, but focus on the basin closest to the spawning area. I start out by keeping the boat far enough from the cover so my lure lands at the weed edge and then move deeper. I call this my "keep them honest" pass as it lets me know if the muskies are still related to the cover and either at the edge or suspended just outside of the cover. Then I make several systematic drift passes across the basin and away from the cover. It's not uncommon to locate lots of muskies several cast lengths away from the cover, suspended in the top 15 feet of water over basins that range from 25 to 50 feet deep!
So what are those muskies doing out there? Simply, they have spawned and since some bait is in open water the muskies hang out in open water as well. It really is a logical sequence, but for many muskie anglers it's outside of their comfort range. That's why starting with the "keep them honest" pass always helps. If they are not there it's easier to move deeper. You just have to give it as much of a chance as you would shallow water. If not, you are missing opportunities. Using your electronics can really give you confidence as well. My 3D imaging on my Lowrance sonar makes it easy to see schools of bait off to the sides of the boat and discern the the bait's depth and concentration. Before you start casting, motor around and hit a few waypoints where you spot schools of bait. It will give you much more confidence when casting the area.
When fishing these basins you don't have to fish deep. Sure, I catch lots of muskies on Bulldawgs and Depthraiders, but those lures run in the top 10 feet of water. However, I catch just as many muskies on shallower running lures such as Phantom jerkbaits, Shallow Raiders, Swimmin' Dawgs and Cowgirls, which run in the top 5 feet of water. Remember it's easy for a musky 15 feet below the surface to be chasing your lure with two kicks of its tail. So, don't fish underneath the muskies. In fact, if conditions are right, muskies hit topwaters regardless of the depth of the basin.
Muskies can seem ghostly in these basins, as they appear out of nowhere. You just have to as ready as you would be when fishing around cover. Also, when you catch a muskie or get a follow, expect to see or contact others in the same area. It's amazing that packs of muskies hold together in open water, but it's a reality. Some waypoints I have had for more than 10 years are located in open water, within large basins, and they produce muskies every year. There is no rationale as to why they are there. I just rely on my electronics to put me in the right position and focus on catching them. One final thing to consider when fishing these basins is to make long casts. I use a 9-foot or longer Shimano Compre rod to make super long "bomb" casts. This also helps trigger strikes away from the boat. Along those same lines, to ensure a good hookset you need a performance no-stretch braid such as 80- to 100-pound PowerPro. When a muskie strikes your bait, whether it's at the end of a long cast or mid-retrieve, you must be able to detect the strike immediately and set the hook hard. Just remember that in open water; you don't get snagged—any resistance comes from a muskie!
I am not a big fan of colder springs. I think they make the entire muskie season less predictable. Yet, in early season, regardless of the spring one thing that is predictable is the open water bite. Don't miss out on your early open water opportunities this year.     MWO
If you want to learn even more about muskie fishing, be sure to check out Musky Hunter magazine or muskyhunter.com. Also, watch "The Musky Hunter" television show—pure muskie fishing from the comfort of your own home at muskyhuntertv.com.
Learn more from Jim Saric in this exclusive MidWest Outdoors interview.
You can be among the first to get the latest info on where to go, what to use and how to use it!
---
We believe being outdoors is good. With more than 1,000 articles each year, MidWest Outdoors magazine is all about sharing outdoor experiences with you—where to go, what to use and how to use it… whether you're close to home or on that trip of a lifetime.
All author posts
---