Early-season Jig Tactics
The month of May means a lot of different things to muskie anglers in the Midwest. For those in Minnesota, the season hasn't even started. Yet for those in southern Illinois, you could characterize May as early summer. In Wisconsin, you could be dealing with post-spawn muskies, and in Indiana you could be catching them on topwaters at daybreak.
The point is now is a transition from spring to summer, and as a result, the entire ecosystem is ramping up and accelerating. Due to this transition, it's the one time that I almost always have a jig rigged on a rod. Whether you are fishing southern reservoirs or natural lakes, here's a few situations to consider when throwing a jig. Here are three things I keep in my bag of tricks.
Fishing post-spawn muskies, particularly in northern waters, may include shallow-water sight- fishing. On those bright, sunny days, cruise the shallows and look for muskies. It may seem hard, but it is not. Warmer, isolated bays, sand flats and channels tend to congregate muskies. Once you locate a few, it's time to try and catch them.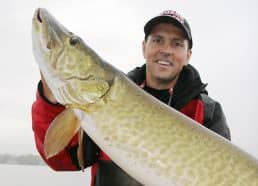 Some are going to be spooky and almost impossible to catch; others will respond to some offerings. One of my favorite jigs is a Musky Mayhem Stickem jig in the 1/2-ounce size. Try casting past the muskie and let the bait settle on the bottom. Jiggle the bait with your rod tip held high. I use a Shimano Compre 7-foot 6-inch, medium-heavy rod for fishing these soft plastics in shallow water. Now, pop the jig off bottom a few times, let it rest and slowly continue working the bait toward the muskie. If the fish notices the bait and approaches, try jiggling the bait in place with your rod tip held high, but do so with some slack line so that the jig shakes, but doesn't move forward. Lots of times, they just won't be able to resist, and it is game on.
Another northern-water jig situation is fishing around fallen trees and docks. Of course, there are certainly many southern waters where the same situation can occur, but in northern waters, before the weed growth develops and post-spawn muskies are cruising any type of shallow cover, it's not uncommon to find muskies hiding in a fallen tree or tucked under a dock. A jig is a great option here. Think about it—this is usually the time of year you run into bass anglers telling you how many muskies they have caught or seen. Many of these muskies eat bass jigs because bass anglers are targeting much of this shallow cover along the bank.
Are you enjoying this post?
You can be among the first to get the latest info on where to go, what to use and how to use it!
So, why not use a better tool to target muskies?
When fishing southern waters, there are two jig-fishing situations that instantly come-to-mind. The first is fishing around boat ramps. It's crazy, how many boat launches in southern reservoirs hold muskies. I think it's just the associated hard bottom and broken concrete and rock/rubble associated with these areas that hold other bait. And, or maybe, it's the concrete boat ramp slabs acting as a heat source. Regardless, one of the best ways to fish these areas is with a jig. You'll be able to feel the rock and work your way down the ramp and any other associated cover. Everyone launches their boat in these areas and heads elsewhere, but these can be great muskie hot spots in the early season.
One last southern muskie jig opportunity occurs when you are fishing in the early season and the muskies are either spawning or in a post-spawn funk. In many southern reservoirs, flats or shorelines are relatively featureless in the backs of coves. When the muskies aren't responding to traditional lures, try a heavier jig such as a 1 or 1 1/2 ounce. Once the jig settles on the bottom, hold your rod at the 10 o'clock position, and as you lift toward the 12 o'clock position, simultaneously shake your rod tip so the jig drags and bounces along the bottom, creating a lot of sound and commotion. Then pause the jig and repeat the motion, shaking and dragging the jig along the bottom. Often, inactive muskies at this time will react to this slow-moving jig presentation. This is a technique that takes patience and commitment. I would say, expect to take twice as long to fish a spot. So, it's best to use this technique when you are pretty certain that there are muskies in the area. If you had follows or caught fish the day before or even earlier in the day, this jig technique may be perfect.
I have a love-hate relationship with this month. The cold fronts can be surprisingly cold, but the warm, sunny days are a nice reminder of summer. You have to take the good with the bad, from a weather standpoint. Certainly, start with your traditional muskie lure lineup, but you'll have more success by having a jig tied to a rod. And by trying it in a few of the aforementioned situations, you might be astonished how many muskies you can catch on a jig.
You can be among the first to get the latest info on where to go, what to use and how to use it!
---

Jim Saric is a Legendary Angler in the Freshwater Fishing Hall of Fame, the host and executive producer of The Musky Hunter television series, editor at large of Musky Hunter magazine, a seven-time muskie tournament winner, and a contributing writer for numerous other publications.
All author posts
---