Early Season Wade Walleyes
Why fight the circus of extremely busy boat landings on the walleye opener and Memorial Day weekend if you don't have to? This time of year in northern Minnesota the shallows and smaller river inlets of your favorite spring walleye lake are full of walleyes. 
Wading for them can be the best way—by far—to catch them.
My brother Collin and I decided to not fight the crazy, full boat landings and the circus that goes along with them this Minnesota walleye opener. So we got out the waders and hit the river inlet of one of my favorite summer lakes. 
We found a nice sandy ledge that was in about 2 feet of water. We stood on the edge that had a drop in to the current. I started pitching jigs with a twisty tail and my brother was pitching a No. 7 perch-pattern Shad Rap. It wasn't long after we arrived that we had our first fish. 
We found that on that particular day the fish were attracted to—and triggered by—a fast action on crankbaits. So I made the switch over to a No. 5 green-back, silver-side Shad Rap. In an hour and half, right at dusk, we had our limit.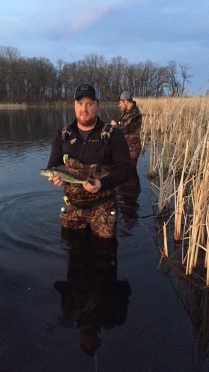 Our bent rods and landing walleyes on shore attracted some attention from the 30 or so boats out in front of us. Most of them were using jigs. Some came over and trolled close to where we were, but without success. They soon got frustrated and left. We were catching fish 3-1 to the boats. 
Just because you have a boat doesn't mean it is always the best option for catching fish. Also, don't be afraid to go deeper into the tackle box and try something different. 
Are you enjoying this post?
You can be among the first to get the latest info on where to go, what to use and how to use it!
The wading action is hot right at the opener and usually continues through Memorial Day weekend, depending on water temperature. Dusk and dawn are prime times.
Release pre-spawn walleyes
One thing I keep in mind when I am fishing locations like this at this time of year: I am very cautious on which fish I take home. Any pre-spawn, female walleyes, I automatically throw back regardless of the size. If am catching quite a few females I like to find another hole to try and keep the stress off the big girls so they can go ahead with the spawning process. 
Fishing like this is fast and furious—but you need to respect the fishery and understand that taking big females full of eggs isn't good for the whatever lake or river you're fishing. 
Ryan Shinabargar lives in Bemidji, Minn. and is a year-round walleye angler. This is his first submission to midwest outdoors.com. We hope there will be more.
For info on spring fishing Lake Mille Lacs, click here.
You can be among the first to get the latest info on where to go, what to use and how to use it!
---
We believe being outdoors is good. With more than 1,000 articles each year, MidWest Outdoors magazine is all about sharing outdoor experiences with you—where to go, what to use and how to use it… whether you're close to home or on that trip of a lifetime.
All author posts
---