Lake Mille Lacs Season Opening Tactics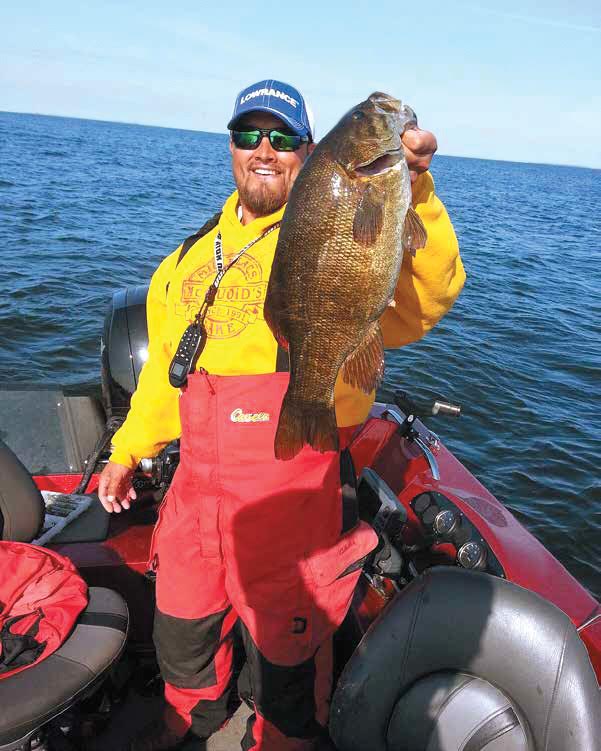 Secrets for catching big smallmouth bass on Mille Lacs.
   I connected with fishing industry veteran and longtime friend Mike Verdeja—who has managed McQuoid's Inn (a resort on the lake's east side) along with his wife Katey for the past nine years—to discuss early season tactics for walleyes and smallmouth bass. Mike guides nearly 200 days annually on Mille Lacs, from his Skeeter boat as well as running a charter launch for the resort and even some days on the ice guiding clients each winter.
MidWest Outdoors: Mike, what's your perception of the health of the Lake Mille Lacs walleye fishery these days?
Mike Verdeja: The last couple of seasons have gotten better and better as far as numbers of fish as well as the different sizes of fish. Some gaps that we used to have in sizes have started to fill in. Last summer was a great year for big fish, and it was good to see those huge walleyes come back because those fish don't just grow big overnight. Part of the reason for the hot bite was a lack of forage; the fish overall were pretty hungry and that even carried over into the early part of this past ice fishing season.
MWO: Do you anticipate that scenario again for this year?
Verdeja: No, I don't. We have a huge abundance of young perch in the lake. This winter, everywhere you drilled holes you were catching small perch, and the winter bite really tapered off as the predators gorged themselves on the baitfish supply. Not just little perch, but lots of lake shiners too. And every walleye you catch is bloated—just huge. From the 17-inchers all the way up to the 28-inch walleyes, they are super fat!
MWO: Talk about Mille Lacs smallmouths. Recently, they've enjoyed the national spotlight due to B.A.S.S. holding their Angler of the Year Championship here in consecutive Septembers.
Are you enjoying this post?
You can be among the first to get the latest info on where to go, what to use and how to use it!
Verdeja: Last year, the smallmouth bite was still phenomenal—even with the added pressure—but not as lights-out as it had been in previous years. If you visited here last year and didn't enjoy it, then you just don't like fishing for smallmouths! You can forget about boating a hundred of them in a day like the old days, but it's not uncommon to put 30 to 50 quality bass in the boat and handle a mix of 2- to 4-pounders with a couple 5- to 6-pounders mixed in. The added pressure on the fishery makes the bite a little different, but with adjustments you can still catch a bunch of bass. The quality of the fish is still there, for sure. My guide customers—many of them caught a personal-best smallmouth, and that's a testimony to this fishery.
MWO: Minnesota fishing opener is May 12 this year. Lake Mille Lacs has been a proving ground for live bait fishing tactics going back dozens of years. Whether it's leeches under slip-bobbers, spinner/crawler combos, or long-snell live bait rigs with slip sinkers, employing any of these presentations in May will catch walleyes. That being said, nowadays you'll also hook plenty of walleyes in the shallows during the early season with presentations meant for bass. Let's talk specifically about your favorite early season tactics for catching Mille Lacs smallies.
Verdeja: Well, interestingly when I started here nine years ago, all of my guide trips in May were for walleyes. Everybody wanted to fish walleyes. Now that's completely flip-flopped, and every single trip last May was for bass. I didn't have a walleye guide trip until the middle of June! That speaks to how awesome this bass fishery has become recently, despite bass being huge and easy to catch in Mille Lacs for decades. And yes, while targeting smallmouths in the shallows you'll catch a lot of walleyes, too. My season opening go to bait are hair jigs.
Verdeja: In my experience, chucking a lot of big-profile, large lures don't consistently work on this lake. I like the subtle presentation, downsizing with lightweight hair jigs. And by small, I mean like 1/8-ounce and even 1/16-ounce during the spring of the year. I throw them on a 6'9" medium-light spinning rod with an extra fast tip, and man, you can really feel the bite! The rod loads and the fish hook themselves most of the time. It's an enjoyable way to fish! I've scaled all the way back to 6- or 8-pound braided line on the reel, and a 6-foot fluorocarbon leader in 6-pound test. Lake Mille Lacs water clarity is exceptional, plus this is the only way to effectively cast such light lures. We deal with plenty of wind, so it's important to position the boat upwind of fish-holding structure so you can make productive casts. Sometimes, we'll even pitch the jig to the side behind the boat, using the boat's momentum to "quarter" the jig back over the structure. For colors, I still tie on olive from time to time, but hands-down you can't beat a black hair jig. Black is by far the best.
If you want to learn more about fishing Mille Lacs, look for the full article in the April issue of MidWest Outdoors magazine, available the first full week of April on the newsstand or by subscribing on our website.
You can be among the first to get the latest info on where to go, what to use and how to use it!