Devils Lake Early Season Perch Fishing Prognostications Looking Good
Devils Lake, N.D. – Talk to the guys who are on the water more than 250 days per year, and they know what to expect.  Guides Jason Feldner and Mark Bry forecast another very good Devils Lake season for perch through the ice.
Perch are the fabled fish that grow to giant sized trophies in this North Dakota lake.
"There is always the chance for a two-pound perch," Bry said.
"There may not be as many toads as years ago, but they are present," Feldner added. "Last season there were lots of seven to nine inchers in the system, and this year, they should be up to 12 inches long."  He also caught more perch in open water this summer than in the past.
"Based on the solid bite last winter and this summer when we caught 15 to 20 perch while walleye fishing, I anticipate good numbers of 12-inchers this winter," Bry said.
Todd Caspers, area biologist, revealed that summer net surveys averaged nine perch per net compared to 7.4 last year.  Most age classes were about the same as long-term averages.
Bry and Feldner shared their expert advice about catching perch.
Find the pockets
"For me, fishing early ice is like finding new water and fresh fish.  I like to start in 10 to 14 feet off the main lake points.  Later in the day, I usually slide deeper with the perch," Bry said.  Later in the season, most perch remain in deep water.  With so much deep water, he keeps looking for pockets of fish.  Electronics are the key.
Bry and his guides fish the entire system from Stump Lake on the east to the west end, approximately 100 miles distant.  Results with specific tactics make it difficult to change, and Bry favors a Northland Forage or Buck Shot spoon with a minnow head.  These aggressive lures draw in and catch perch. If perch show up on the electronics, but do not attack the spoon, he drops down to a Tungsten jig with a waxworm for a finesse bite.
"I prefer to keep moving and targeting the active fish.  It seems there are always some active perch willing to slam the spoons," Bry said.
Start shallow
Feldner starts his early season perch assault shallow, often in and around flooded trees.  He feels the perch drop deeper as ice season progresses, but said there are always schools of perch shallow and deep.  He brings in the perch with a Lindy Rattl'n Flyer spoon sweetened with a minnow head.  If they are attracted but don't hit the spoon, he switches to a tungsten jig with a waxworm.  When the perch are super deep, he uses the spoon, but removes the treble hook, and attaches an 8-inch dropper of 6-pound fluorocarbon line and ties on the tungsten jig.
"I still have the attractor lure working with the rattles and flash, and when perch show up on the electronics, I barely flutter the spoon to get them biting on the jig," Feldner said.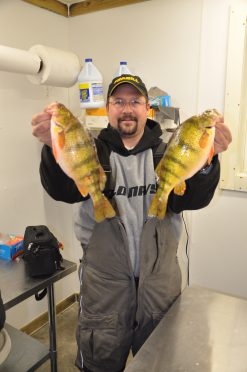 Anglers may use four lines while ice fishing Devils Lake.  The season never closes, and if perch fishing slows down, there are always northern pike, walleyes and white bass to keep fishermen active.  Running pike tip-ups is just that—running.  Action is often furious and lasts all day.  Walleyes can be targeted with any tactic, and a limit of perch combined with limits of walleyes and pike fillets will provide delicious memories when back home.
For more information about Devils Lake ice fishing guide services, lake and ice conditions, motels and resorts, fish cleaning stations, fishing reports for walleye, pike, perch and white bass, community activities, tournament opportunities, dining, casino and much more, go to devilslakend.com, or call the Tourism office, 701-662-4903.
You can be among the first to get the latest info on where to go, what to use and how to use it!
---

Dave Mull of Paw Paw, Mich. has spent his career communicating the outdoors experience and runs Inner Viking Media. He enjoys kayak fishing for anything that swims in the lakes and rivers of the Midwest and beyond, and even uses his MirroCraft, from time to time. Available for seminars.
All author posts
---