In his own words…Jim Saric: Muskie Bitten and Smitten:
You might say that Jim Saric earned every bit of his fishing career by paying for it with his inner fire. His story begins as classic Americana, at a summer cabin on the Lac du Flambeau chain of lakes in rustic northern Wisconsin, a place centered around interconnected waterways teeming with fish.
His father was really into fishing, but Jim became really into fishing.
All that water called, day after day, and he gave himself to it. Saric's teen years came along during the golden age of the modern fishing revolution, and by immersing himself in it up past his eyeballs––along with serious serendipity––he emerged, as a young adult, fully up to speed and ready to make his mark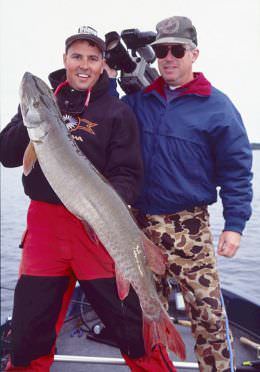 There have been, and continue to be, plenty of panfish, bass, walleyes, pike, salmon, and more, but Saric's fishing soul came to rest in the pursuit of freshwater giants that cling to mystique, even in this age of enlightenment. For Jim, it's all about muskies, to the point that he became owner and editor of Musky Hunter magazine, and developed a television show by the same name.
Here at MidWest Outdoors, we've had a boatside seat to all of it, as Saric hosted segments on our TV show and settled in as a regular muskie columnist, so it's high time that we present Jim Saric, in his own words…
MidWest Outdoors: What are your earliest memories that led to your passion for fishing?
Jim Saric: When I was younger, my dad was into both hunting and fishing, and he got me started hunting at a young age, and we did a lot of fishing on Lake Michigan. Then, when I was in seventh grade, my parents bought a place in northern Wisconsin, on the Lac du Flambeau Indian Reservation. The chain of lakes was all connected, and there was this little lake that our place was on.
MWO: They didn't just buy a cabin; they bought you access to almost never-ending fishing waters.
Saric: Right, so I started spending a lot of time up there. My dad had an engineering company in Chicago, and he arranged it so we'd go up there for two weeks, come home for a week or two, then go back up for two weeks, and it went like that all summer.
We'd fish in the fall, too, and hunt in the fall as well. I met lots of people up there, lots of great families we just hung out with. But when it came to fishing and hunting information, it was kind of secret.I remember going into a fishing tackle shop when I was in seventh grade, looking around at all the cool stuff, and picking up a Fishing Facts magazine. I said, "Dad, we should get this," and he said, "sure." He was probably thinking, "anything to get a seventh grader to read more." So I read a pike fishing article, took the boat out and tried what they were talking about, and it worked. I caught some pike. It was pretty cool. Then I read a bass article, my dad and I went bass fishing and caught some bass. I remember thinking that there was something to this, how you could read articles and go out and put the information to use.
I talked my dad into subscribing to the magazine, and that kicked off, in me, a drive to read as much as I could about how to fish. We fished walleyes, crappies, bass, and everything else there was at our cabin. Back in Chicago, we fished for salmon and lake trout and lots of other things in Lake Michigan and some of the streams, so I had access to that, too.
MWO: What else helped propel you along the fishing path?
Saric: One of our neighbors at the cabin in Wisconsin, his name was Ed Cardosi, and he was a really good muskie fisherman on that Flambeau chain. He saw that I was into it, so he took me out and showed me a bunch of things about muskie fishing.
MWO: He was an exception to the unwritten 'no sharing info' rule?
Saric: Yeah, he met my dad, my brother, and my mom, and he knew I was getting into muskie fishing.
MWO: At some point, you caught your first muskie. Do you remember it?
Saric: It was on July 3, 1976, at 12:10.
MWO: But who's keepin' track…
Saric: Yeah, who keeps track of that kind of thing [laughs]. And I caught it on a red-and-white Dardevle, and I remember it like it happened yesterday. My dad and I had muskie-fished together for about a year, and hadn't caught one yet. We'd seen a lot of big fish, because this Flambeau chain is deep, clear water, notorious for big fish. Some of the largest muskies of all time have come out of this chain. You look back historically, and verified 50-pounders have come out of those waters. We used to see these giant fish, and I remember how exciting it was to see 'em. But we could never catch them, didn't know how to catch them.
But just fishing for 'em was fun for me, and then we ended up catching that first one. It wasn't real big, it was like a 36-incher, but it was my first one, so it was exciting. I was hooked after that, because it was such an active type of fishing, with these giant fish that would follow, and I liked casting the big lures. I still fished for other species, but I liked everything about muskie fishing: cast hard, move to the next spot, keep going and going, and seeing those big fish come right up to the boat.
MWO: Tell us the story of that first muskie. Paint the picture.
Saric: It was a sunny afternoon, high noon on July 4th weekend, and we were doing what we always did, fishing for muskies on our lake. I was casting a red-and-white Dardevle in the bow, my dad's in the back, my mom is sitting in the middle watching. On one of my casts, something bumped the bait, it felt like a strike, but when I set the hook there was nothing.
I brought the bait in quickly and didn't see anything, so I immediately pitched back, just out of reaction. You know, "what was that?" As I'm bringing in that next cast, when it gets about 10 feet from the boat, here comes this fish.
It was a 36-incher, but to me, it looked gigantic. It grabbed the Dardevle, I set the hook, it went in the other direction, and jumped, and flopped, and it was pandemonium. My dad's looking over, he can't believe what's going on. My mom is screaming. We netted it, and it was a very exciting time, that's for sure.
MWO: Is that the fish that made you a muskie fanatic, or had you already become one, or was it something else?
Saric: I think that fish was the turning point for me. I knew I liked it even though we didn't catch anything, because what else would explain keeping it up for a year without success? Back then, in the mid '70s, there were stories of people who had never caught a muskie, others who had caught one fish in their life. That's what this was, according to the little bit of information we could gather.
To be young and to catch one was so cool, and that totally got me into it. I realized these fish are catchable, the experience was unbelievable, and I wanted to have it happen again. When I got that fish, Ed Cardosi heard about it, and I started fishing with him, and I learned a lot from him. We kept fishing hard, and over the next couple years we caught more muskies. I was always ready to go at the drop of a hat; any time I could, I was out there muskie fishing.
Here's where it keeps getting interesting. Ed was friends with Joe Bucher. When Joe got a free day, he'd come fish with Ed on the Flambeau chain. When Ed got time off, he'd go fish with Joe on the Cisco chain, where Joe was from. This was just fishing for fun, and one day when I was maybe a freshman in high school, Eddie said, "you gotta meet Joe; he's a really good fisherman and you can learn a lot."
Are you enjoying this post?
You can be among the first to get the latest info on where to go, what to use and how to use it!
I already knew who Joe Bucher was, because I was really into it by this time, reading the Fishing Facts articles, trying stuff out, and it was getting to be a huge part of my life. That was my testing ground. I'd read those articles, then go try out what they said. If it worked out, then I figured it was real. It was a great period for me.
MWO: How did you finally meet Joe?
Saric: My dad and I booked him as our guide for a walleye trip. We caught some walleyes, and talked about muskies. Then we booked him on a muskie trip, then more muskie trips, and I was learning more every time out.
Joe knew I was up most of the summer, so after my junior year in high school, he would just randomly call when he had a day off. He'd say, "hey, Jim, what are you doing? I have a day off and I'm going to go check out a new lake, why don't you come fishing with me?"
So I had one of the most phenomenal fishermen of all time, a great guide, who was on the cutting edge of the muskie thing, as a private teacher. He'd take me out when he wanted to test new lakes, so here I am, this high school kid, just going along for the ride. He knew I was bitten by the muskie bug and available at all times, so I was with him as he was working on the cutting edge of learning about open-water muskies, night fishing, all of it. My dad and I were still regular guide clients of his, too, but it was those trips where I really learned how to fish muskies.
MWO: You also met up with Spence Petros somewhere along the line, right?
Saric: Yes, and it was at about this same time. My dad and I, along with a few friends and their dads from Homewood, started going to the fishing schools put on by Spence Petros and Tony Portincaso in Chicago. These were in the winter, and that's how I got to meet Spence.
We also went on Spence's bus trips to Eagle Lake, where we'd ride from Chicago to Eagle Lake in Canada. On the first bus trip we were on, it was the last day, and I got to go muskie fishing with Spence. It was just he and I, and he saw that I was just crazy for muskies. So was he, so we had this bond.
For the next three years, I went on that trip every year, and I'd fish muskies with Spence. So literally, my high school years, and early years of college, I had Spence Petros and Joe Bucher as my fishing instructors.
MWO: You could not have had better instructors to ground you in the core concepts, and teach you how to experiment and reach for new ideas.
Saric: Right, I was fortunate, because I was in regular contact with guys who were on the cutting edge. Think about Spence; he was exposed to everything, and Joe was a phenomenal fisherman on muskies, walleyes, bass, you name it. Together, they launched what, for me, became a career in fishing.
MWO: When we pick up on the podcast, Saric is a sophomore in high school and just beginning to fish muskie tournaments. Over the years, he wins seven events, blossoms as a writer, and even dreams of starting a television show all about muskie fishing.
You'll find it in the Podcast section at midwestoutdoors.com. On the home page, look for the button that says Podcast, click on it, and you'll find the interview. Look for it around August 1.
We hope you have time to listen to some of our other episodes as well. We'll see you there… it's time well spent.
Jim Saric Timeline
Born: Oct 27 1962 in Homewood, Ill.
1976: On July 3, caught first muskie, at 12:10 p.m., on a red-and-white Dardevle.
1982: First article published in Fishing Facts, on fishing cribs for muskies. His editor? Spence Petros.
1983: Won first of 7 muskie tournament titles, in the well-known D-Bar-D Resort catch-and-release event in northern Wisconsin.
1989: In March, won the Masters Walleye Circuit (MWC) tournament on the Illinois River, with partner George Coniglio.
1989: Began writing for Musky Hunter magazine, which was co-founded by Joe Bucher.
1993: Became Editor of Musky Hunter magazine.
1995: Started Musky Hunter website forum, one of the first interactive fishing chat rooms.
1995: Started University of Esox, an on-the-water and classroom format that continues to this day. One is held in Vilas County, Wisconsin, one in the Northwest Angle area of Lake of the Woods. Details: muskyhunter.com/university-of-esox
1997: With wife, Suzanne, bought Musky Hunter magazine. On the way to sign the purchase agreement, Jim and father, Tony, won Lake of the Torches Musky Open tournament.
2001: Finished second in the Sturgeon Bay Bass Open, with partner Tom Sullivan.
2005: Started The Musky Hunter TV, the first show dedicated to muskie fishing.
2011: Inducted into National Fresh Water Fishing Hall of Fame. "That was a dream come true," says Saric. "To get that call was one of those 'wow' moments."
You can be among the first to get the latest info on where to go, what to use and how to use it!
---
MidWest Outdoors editorial director Mark Strand is a graduate of University of Minnesota School of Journalism with a minor in Fisheries & Wildlife Science. He has written for nearly every outdoor magazine over the past 41 years, and has written or co-written 14 books. In addition to writing and photography, Strand produces the MidWest Outdoors Podcast, and contributes to MWO digital properties. He is an outdoor generalist who loves hunting and fishing of all types. In 2018 Strand was elected to the Minnesota Fishing Hall of Fame.
All author posts
---