Making Memories on the Clearwater/Pipestone Chain of Lakes
When we started coming to Canada back in 1997, we were strictly fishing for muskies. Canada and muskie fishing just seemed to go hand-in-hand. Over the years, we fished several lakes and tried different outfitters. It took us four years to find a fishing place we can call "home." Doug and Kathy Johnson at Hideaway Lodge in Emo, Ontario has finally provided that "home away from home" for us. Upon our discovery of Hideaway Lodge on the Pipestone/Clearwater Chain, we have been returning for the fishing, accommodations and the camaraderie.
The Pipestone/Clearwater Chain of Lakes have some outstanding fishing, and not just for muskies as we have discovered over the last 18 years, but also walleyes, pike, small and largemouth bass, lake trout and perch. Pipestone/Clearwater is about 60 miles long, located between Lake of the Woods to the west and Rainy Lake to the east. The Chain includes two dams, one at each end of Clearwater Lake, two rivers (the Rice and the Mile) along with a short, narrow waterway that enters Jackfish Lake, feeding the system and creating constant water movement. This in turn leads to an oxygen-rich environment and makes the fishing fantastic.
The system is long and narrow with lots of islands, bays, twisty rivers, weed beds, rice bays, reefs and some narrow channels, all providing a wealth of outstanding fish habitat. Fishing the Chain never gets old even after all these years, and a week seems to blur past as we try to spend a couple days on Pipestone pitching for muskies, one day on Jackfish Lake jigging and pitching for the walleyes and smallies and a couple days and evenings on Clearwater for walleyes, bass and muskies.
You know that you've talked too much when your initial group of four guys, suddenly turns to five, and then six. At Hideaway, there is always a cabin that suits our party size. Our dates are always different and we have fished spring, summer and fall there. The biggest difference we have found between the varying seasons is generally the depth that we fish. During the spring in the Chain we fish shallower, and eventually move deeper as the fish go deeper toward their summer haunts, only to return shallower again for the fall.
Our trips generally start with pitching for muskies at least a couple days while we are here in hopes of catching that trophy fish. And muskies usually start with Pipestone Lake. From camp, you cross over the Pipestone Portage (about an 8-mile ride from Hideaway) and enter the upper part of the chain. The portage is a neat little contraption where you drive your boat onto a rig and a rail system, and a motorized pulley transports your boat and everyone inside over a short piece of land. It has a $30 return fee and accommodates any fishing boat. Hal runs the portage and is there 7 days a week. It operates during daylight hours, which ensures a full day of quality fishing. We like to fish around the islands and reefs, so we travel up around the northwest arm of Pipestone to the Gates Ajar area. Pipestone is a remote, clear lake, with 200-foot holes and lots of reefs. We also fish for lakers, small and largemouth bass, walleyes and pike.
We also take a portage ride to get to the south lakes of the 11-lake chain. Ray operates the south portage that is a $25 per boat return. The south portage will take you to Lake Despair, Rice, Footprint, West and East Jackfish lakes. We fish this shallower, stained water for Pike, smallies, walleyes, perch, and slab-sized crappies. There are some great reefs and grass flats that we frequent for these species. There is also a sand beach that is fabulous on West Jackfish Lake.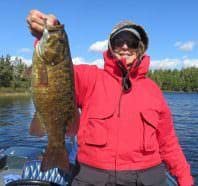 And then there is Clearwater Lake, formally known as Burditt Lake. Clearwater is a great little 9-mile-long gem. You can always see shore on both sides and can always find a spot to fish, even on the windiest of days. The bays, reefs, fingers, islands, and the lake get better and better fishing every year—mostly because of the limit changes and catch and release fishing.
But, whoever said that fishing camps are just for fishing?
In 2003, the families all got together and we decided to do a "rent-the-camp" deal. We filled Hideaway Lodge's five cabins with everyone, including the kids; we had up to 33 people in our group. This has become a biannual thing for us—we still keep our guys trips too. The week has consisted of fishing derbies, scavenger hunts, cookouts, fish fries, berry picking, pontooning, swimming and tubing—so much fun. Their slogan, "Making memories since 1929" sure holds true for our bunch and it may for your bunch too.
You can be among the first to get the latest info on where to go, what to use and how to use it!
---
MidWest Outdoors works with more than 200 outdoor experts each year, who contribute articles based on their areas of expertise. MidWest Outdoors magazine offers more fishing and hunting articles than any other publication!
All author posts
---