My Hunting Partner is My Best Friend
I was in my treestand, buckled in my safety harness and sitting still this morning 30 minutes before the sky started to turn grey from the pitch-black, moonless night. With very little wind on this cold morning, the sub-freezing temps gave the woods an almost eerie silence except for the light rustle of every careful step. The leaves were crunchy, but once the sun peaks and the temps start to rise, they can soften fast. The forest floor can slide from a noisy surface, calling attention to every creature that touches the leaves, to a silent, more sound-absorbing carpet that will allow a buck to sneak up on you completely unannounced. The anticipation was high: I have had a couple of shooter bucks on my camera at night. And I was hoping that the movement would switch to early post-dawn hours.
Crunch, crunch, crunch. This is it, I thought.
I readied my Mission Blaze and watched the opening to my left where the noise was coming from. Crunch, crunch … Getting closer—I was standing with anticipation, trying to keep my breathing slow and calm, keep the heart rate slow, but every thought of a big buck only makes the heart race a little more. Crunch, snap—there it is. I raise my bow. One doe … Another coming. And another doe and fawn coming: and then another doe. My heart relaxes only slightly.
There could be a buck following.
I'll stand for 20 minutes staring and waiting for "Mr. Big" to stroll down the trail. Then just on the trail beyond this one, I saw movement—yes, here he comes! It's a buck, head down and heading for the does. He was only a couple steps from my opening. I readied my Mission again started to draw as the six-pointer raised his head. I slowly let down; I passed this guy twice before. Good start, but a couple years from being a shooter. I watched as he slowly made his way behind the does and off he went to my right, never realizing how close he could have been to being a juicy steak dinner.
After waiting a little while, I decided to sit and check my phone: 8:50 already, it seemed like I was only there 20 minutes.
A text from my hunting partner came: "Saw three does, none close, how about you?"
I texted back that I saw the buck.
"Why didn't you shoot?!" he texted.
"Saving him for you dear!" I replied.
Yes, my hunting partner is my best friend—my wife. She was sitting in her stand about 4 miles away behind our house in the cedar swamp. Her stand is a little more comfy than mine, but she will sit as patiently as I do, waiting for the opportunity to fire her TenPoint crossbow bolt at a buck.
Are you enjoying this post?
You can be among the first to get the latest info on where to go, what to use and how to use it!
Lisa grew up in the outdoors, spending countless hours perch fishing with her dad and deer hunting a couple times, so it was a pretty easy transition into a full-fledged hunting fanatic like me. Let's just say I have a "live-in" hunting (and fishing) partner. It really does make it easy to plan hunting and fishing excursions. It's not who I go with, but when and where.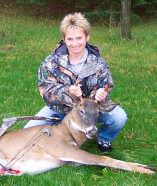 Outdoor adventures are always more fun to share with someone, and I feel blessed that I can have them with my best friend. It also makes my life just a little easier on those special occasions too. While most guys are shopping for jewelry and other things we know little about, I get to expand my birthday, Christmas and anniversary catalogs to include Cabela's, Bass Pro and Sportsman's Guide. It doesn't always mean saving money, but I guess getting her a new .243 is about the same as a diamond bracelet (only much cooler). And while it does elevate the hunting and fishing costs just a bit, I have to remember that when I get a new hunting jacket or new boots I'm going to get asked, Where's mine? It's a small price to pay for sharing all outdoors moments together.
I'm not alone; women are the fastest growing segment in the hunting and fishing world. That has shown up in new product development too. Women's fishing rod and reel combos and camo clothing have exploded in sales, showing the huge upswing in the field for this demographic. I have even noticed in the past 5 years a growing number of women on fishing charters. That's a good thing.
We planned a South Dakota pheasant hunt several years ago and it was one of the best trips that I have ever been on. Lisa was probably more excited to go than I was, and managed to score her very first pheasant on the trip. Fall grouse hunting excursions up north to the hunting camp have given renewed excitement, and even our shopping trips to Farm & Fleet include the hunting and fishing sections with mutual excitement.
Guys, this year, if you haven't done so already, introduce your best friend to the outdoors and see how easy it can be to go shopping for her gift for that special occasion.
Tip of the Month
More and more hunters are looking to "capture the shot" on video. The Tactacam is a great way to get that shot on film. It comes with two mounts and a stabilizer mount for your compound bow. Just screw it in the stabilized fitting and insert the camera and lock it in place. For your rifle or shotgun, it comes with a barrel mount that clamps on the barrel or scope and also to the camera. To activate, simply push the button to record. To better track the flight of your arrow, try using a lighted nock like Nockturnal Lighted Nocks and watch the arrow strike your target on film.
Capt. Lee Haasch is a charter captain out of Algoma, Wis. Capt. Lee has over 40 years of great lakes angling experience and has been instructing anglers for over 25 years with education seminars and timely freelance articles in outdoor publications.
For more information… For current fishing reports or information on charter fishing check out Capt. Lee Haasch's report page at FishAlgoma.com.
You can be among the first to get the latest info on where to go, what to use and how to use it!
---

Capt. Lee Haasch is a charter captain out of Algoma, Wis., with more than 45 years of Great Lakes angling and guiding experience. Haasch has been instructing anglers for over 30 years with education seminars and timely freelance articles.
All author posts
---