Preparing your Boat for Fishing Season
Routines are detailed courses of action that one follows regularly. When preparing for your bass fishing season, systematic preparation makes you a more efficient fisherman.
As we patiently wait for ice-out on many of our northern lakes, I offer some underutilized tips and routines to help make this year's bass fishing more productive and enjoyable.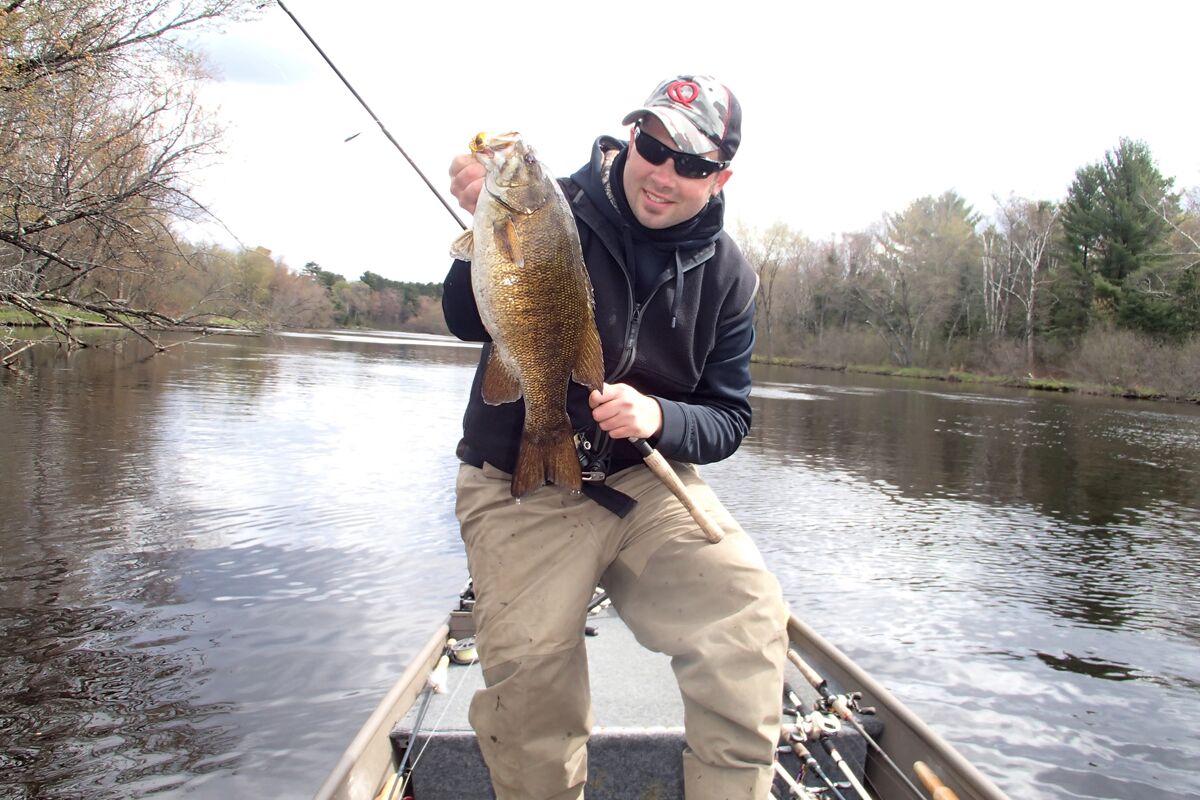 Configure your boat for optimal fishing
One of the most revealing things about a fisherman and his angling style is how he organizes and configures his boat.
Organizing my boat and gear optimizes my time on the water and helps me fish efficiently. Most important is knowing exactly where everything is stored, from jigs and terminal tackle, plastics and cranks, spools of fluoro, hook extraction tools, rods and reels, and safety equipment. I'm picky. Each year I stay consistent with how I organize the boat, rig up my rods on deck and prepare for the next day of fishing. I organize and prepare my boat's storage compartments during my downtime in April, since Wisconsin's gamefish season doesn't open until May.
Crap scattered all over the place is a turn-off for guide clients. It shows a lack of pride in the work space. I've fished with some messy folks—it degrades the fishing experience. Keeping your boat clean is like personal hygiene. A clean, well-maintained fishing boat rewards you with an effective fishing platform and an improved fishing experience.
I pack each compartment with a specific purpose in mind. Throughout the season things get out-of-place, but every so often I reorganize.
Plano utility boxes and soft tackle bags loaded with lures, soft plastics, and other terminal tackle fill my two front main compartments. They are organized by lure type and category. I also keep a few small boxes of spinnerbaits, spare spools of line, and other accessories. Beneath the deck extension storage, I keep a few gallons of marine oil, boat bumpers, and spare life jackets.
Rods go in port-side storage. I take 25 or so and Rod Gloves protect those not on deck. This keeps stowed rods and reels untangled.
The rear starboard compartment is dry-storage for clothing or it can be a cooler for the day's provisions.
Use your boat's layout and storage to its fullest potential. Customize your layouts and storage space according to your needs. Be efficient with time spent on the water. Stay consistent in how you utilize storage, so you know where everything is.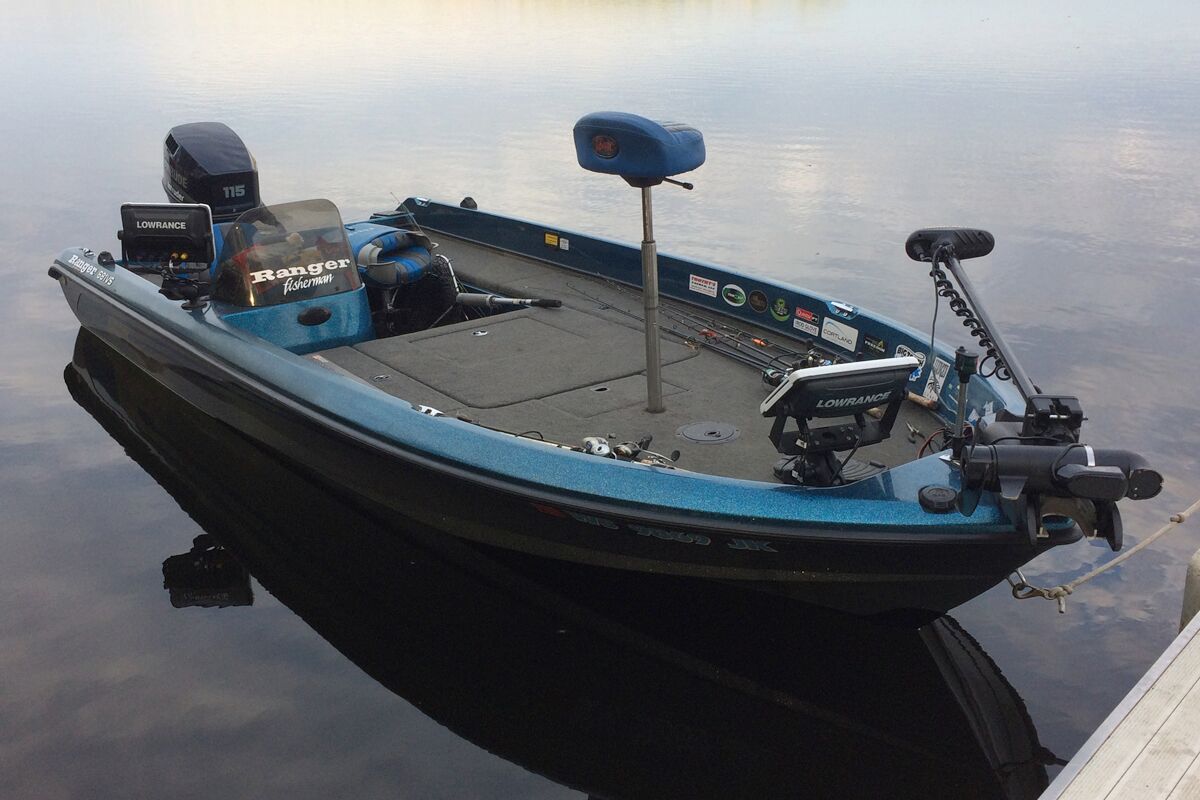 Electronics interpretation, maintenance and updating
I've always been fascinated by mapping and cartography; interpreting lake maps or labeling hot spots of my own. It's remarkable how many bass anglers don't read their electronics properly or update them!
I run a combination of Navionics HotMaps Platinum and Lowrance Lake Insight HD charts. For every lake, these are my most essential tools to locate potential fish holding spots. The power of our marine electronics is infinite nowadays, and I learn new things with my units almost daily.
During the off-season, I keep my Navionics HotMaps Platinum chips updated. Despite the arms race of new units released annually, marine manufacturers let us update nearly all multi-function displays with new software. These updates fix bugs and glitches and let us add new features and functionality. Updating your fish locator through an SD card usually costs nothing but a little time. It improves the performance and detail of your fish locator.
I also utilize desktop mapping applications, frequently using Navionics WebApp. During the offseason I browse these maps to further study my lakes' topography, and contours. This app helps me to better learn my lakes, understand the locations I'm fishing and identify key bass locations spring through fall.
Map and chart reading and identifying potential spots and differentiating contour lines are essential skills to further your bass fishing game. Map reading skills ultimately are acquired and enhanced through time on the water. Maintaining your units and GPS chips will maximize their longevity and working potential.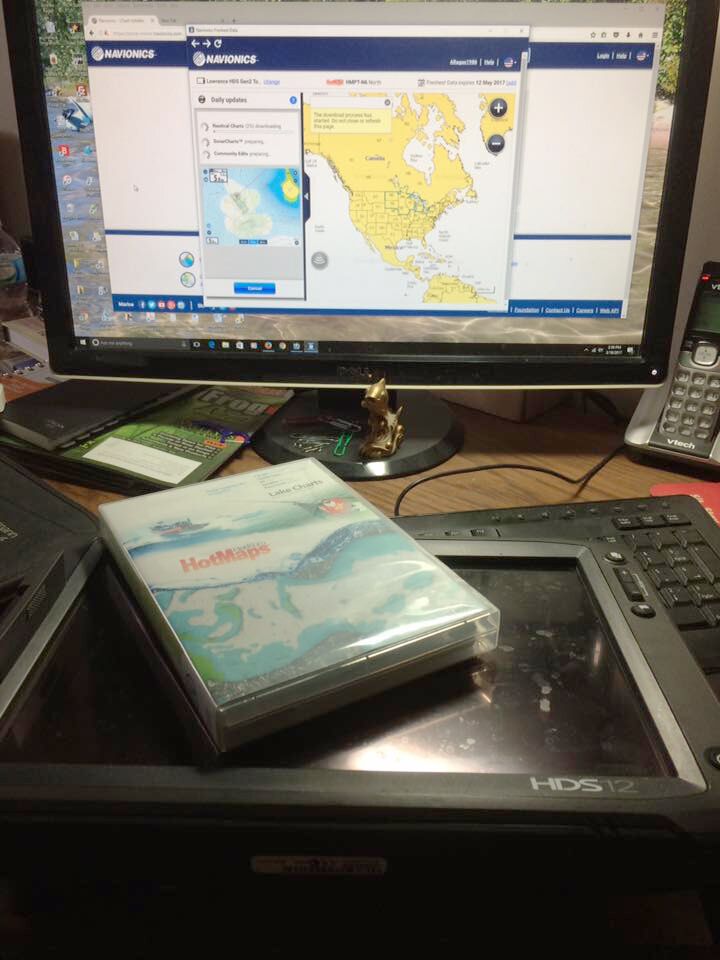 Battery care
Marine batteries are one of the most overlooked, under-maintained, and abused pieces of equipment on our boats. Our boats' power sources encompass at least a starter battery and a set of trolling motor batteries.
Are you enjoying this post?
You can be among the first to get the latest info on where to go, what to use and how to use it!
Dead batteries cut fishing trips short. As soon as your boat gets winterized, properly store and maintain your batteries so you can reuse them problem-free the next season.
Whether your batteries remain in your boat or you pull them for the winter, keep them properly maintained and fully charged to increase performance and lifespan. A typical set of 24V trolling motor batteries, and outboard starter battery should last three seasons of hard usage.
At the end of every fall season, I disconnect my boat's trolling motor batteries, fully charged, and store them in a temperature-controlled environment. This helps ensure their maximum longevity and peak power. While stored, I charge them once a month. My starter battery stays in the boat. I trickle-charge it monthly and disconnect all wires except for the outboard battery cables. You never know when you might need to tilt the outboard.
As trolling motors evolve into wireless, remote controlled units, the lithium ion coin cell batteries in remotes also need attention. Cold temperatures drain remote batteries rapidly. These batteries can corrode and ultimately wreck your remote. After the fall season, I remove these batteries and store them and the remote indoors. This assures that my remote and trolling motor function come spring.
Swap your treble hooks
Don't be the guy who fishes with cheap, crappy hooks and pouts after losing a big bass. Upgrading factory hooks to premium trebles can bolster your landing percentage.
As soon as a lure is out of its package, I replace its treble hooks with Trokar's TK300 series treble hooks or Wide Gap 3X Treble Hooks.
Deflecting crankbaits off rocks quickly dulls trebles, which leads to poor hook-ups.
Some suspending jerkbaits have improperly sized hooks prone to bending. I often go a size larger than the original factory hooks to increase depth. A slightly larger hook also pins more bass.
Topwaters's hooks also are often too small. Striking bass can completely miss them. I want my replacement hooks to be as large as possible without impairing flotation and action. When a fish explodes, odds of hooking up explode too.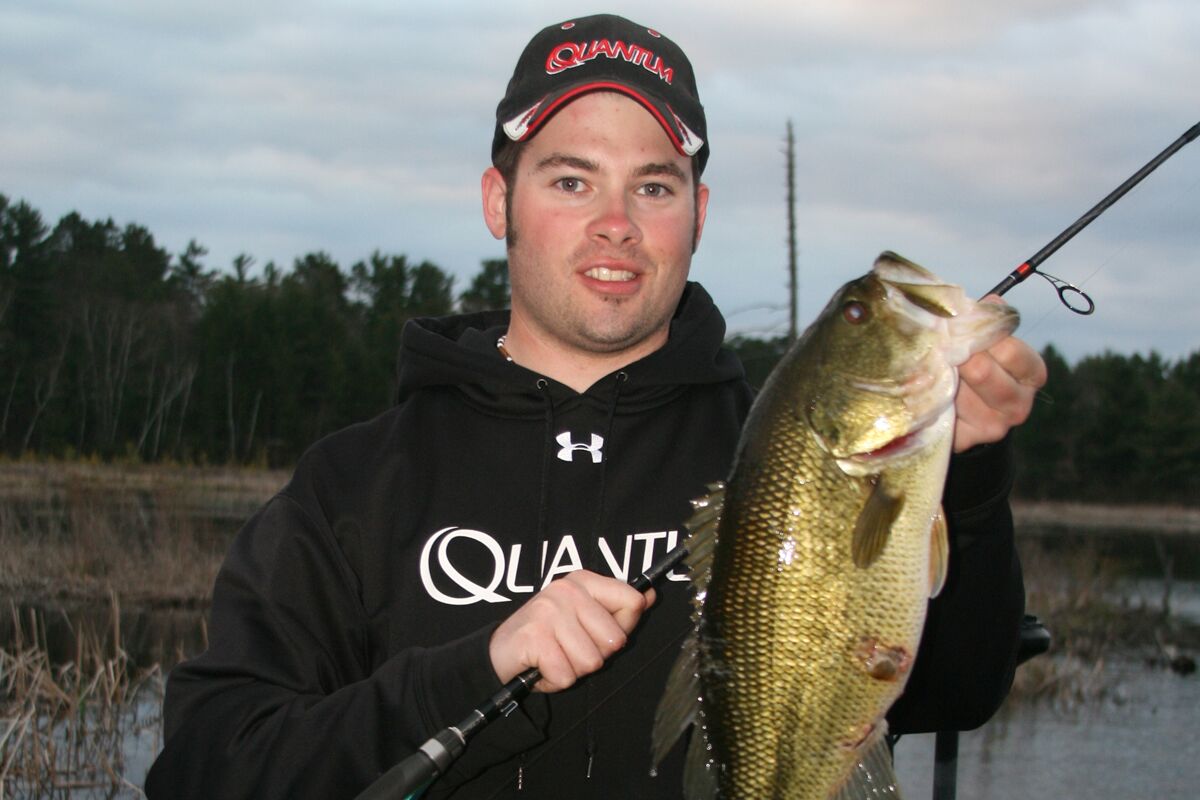 Safety equipment
As our waters crowd with more recreational watercraft, fishermen and tournaments, precautions and awareness are more necessary than ever. In recent months, the bass fishing community has endured accidents and death. No bass is worth these traumatic experiences. As boat operators we must prepare ourselves and our vessels to be safe.
All boaters must prioritize their boats' safety equipment and drive safely. As a part-time fishing guide, I keep safety equipment on hand and operate my boat responsibly.
It's easy to fall out of a fishing boat and much easier to fall out from a low-profile bass boat. Accidents can happen aboard any vessel. Wear those PFDs!
On-board I keep three flotation vests for guests and wear my automatic inflatable, connected to the kill switch while driving. I want children under age 14 to wear a PFD at all times. I encourage my guests to wear PFDs as we travel 25 to 30 mph across the lake.
I also take a throwable PFD that serves as a seat cushion on every guide trip. This piece is easily accessible if needed.
I also keep a whistle and a horn on board. Both are loud; if stranded without phone service I likely will be heard with either one of these from far away. Flares can be handy, too. I stow a first aid kit and have a fire extinguisher mounted beneath the console. I keep spare ropes for towing and launching.
Many fishing tournaments, guide services and recreational anglers need to prioritize safety. It starts with training yourself, preparation, and applying common sense. Never fish when weather turns extreme and makes boating dangerous.
Don't cut corners on safety equipment or your skills in operating a boat. Make an effort to improve upon these major boating necessities now.      MWO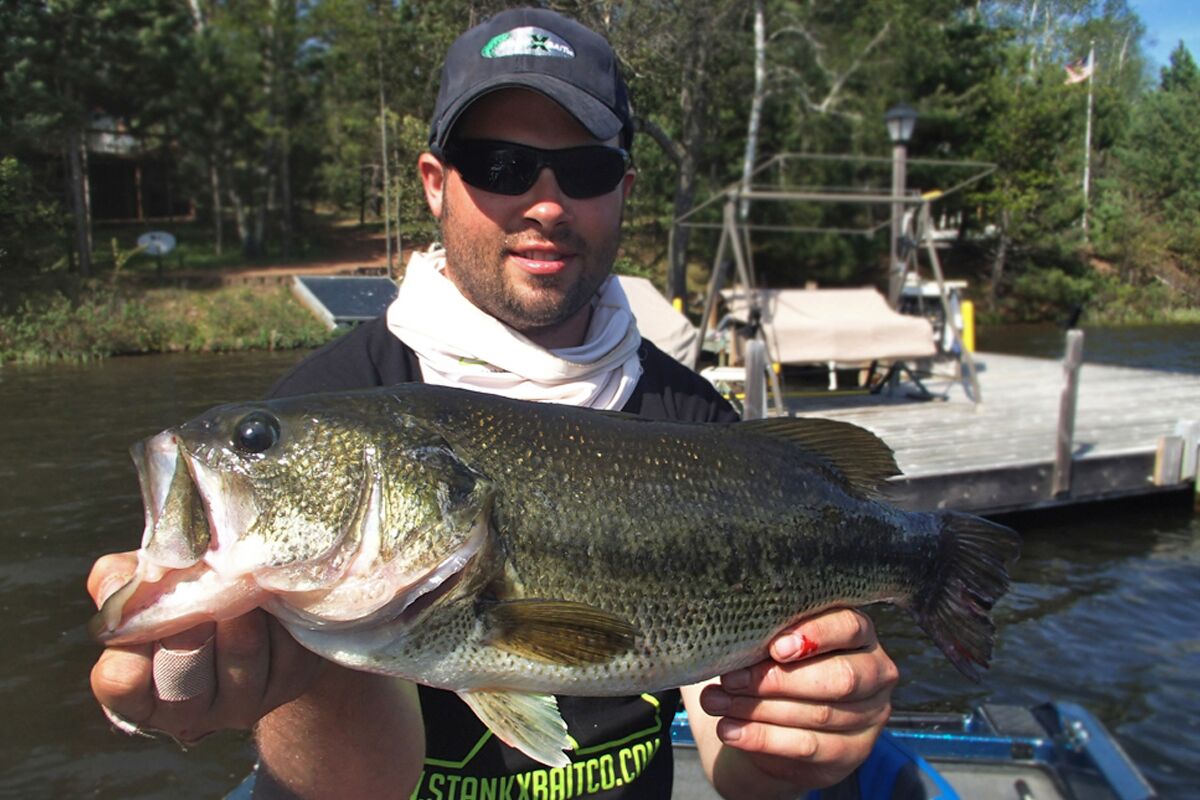 You can be among the first to get the latest info on where to go, what to use and how to use it!
---

Andrew Ragas splits time between Chicago and Wisconsin's Northwoods. Based in Minocqua, Wis., he specializes in trophy bass fishing and offers guided trips from May through October. While big bass are his passion, he dabbles in multispecies, as well. He may be visited online at northwoodsbass.com
All author posts
---