Off-Season Fishing Preparations
Off-season prep key to success
My ultimate hope is to increase the success rates of bass anglers who pursue their favorite species from the dry side of the lake. For many, bassin' from the bank could be on hold for the next couple of months, due to ice covering our favorite bass holes. If winter goes the other direction, we might enjoy open water in January. You certainly can continue to pursue bass through the ice, although the bass techniques narrow to jigging vertically or putting live bait under the ice. I'll leave bass fishing through the ice to the ice experts here at MidWest Outdoors.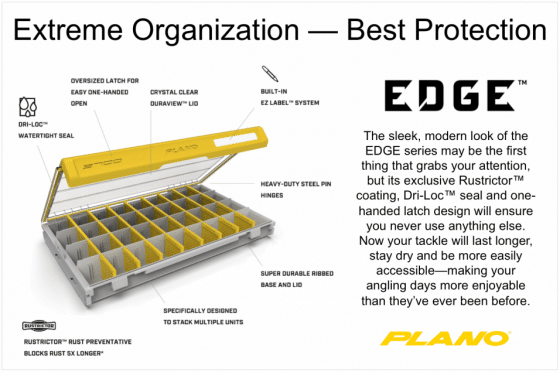 For many bassers, January is downtime from actual fishing. However, off-season prep critical for success in the upcoming open-water season. Rather than having to rush and gather, repair and organize tackle when open water arrives, let's prep now. I break my prep down into different tasks.
Maintenance and repair
Now is the time to strip line and clean and inspect your reels for damage from last season. Lube your reels according to manufacturers' specifications. If you're not sure how, take your reels to someone who does. Trust me, these new reels have micro springs and check balls that go flying once you take the plates off, so beware. Nothing like hearing tiny parts bounce on the hard floor and into the carpeting abyss, never to be found again.
Besides obvious reel maintenance, check your rod's line guides for hairline cracks that can ruin your line. These small fractures can often be hard to see. The easiest test is to run a cotton swab around and through the eye. Most cracks, nicks, and blemishes will grab some cotton from the swab. Best have the eye replaced by a rod repairer. This category of off-season prep may seem excessive, but it won't when you snap a picture of that trophy fish rather than snapping a frayed line.
If you won't get back to the water for a couple of months, then you might want to hold off on installing new fishing line. Braid is not an issue, but spool monofilament too long before using it and it holds on to its memory. You probably will deal with coiling line on your first outing. Some reel sprays claim to eliminate these issues, but I save spooling line until open water is imminent.
Lure care
After rods and reels, I start repairing lures. During the normal part of the season, I put baits that need care such as hook replacement or split ring changes into a storage box for repair now. Check the hooks on your bass baits, even those that don't appear to have issues. Encounters with wood, weeds and rocks can damage and dull hooks. Just perform the fingernail check to see if the hook hangs on your nail. If it doesn't, or if you see its point is bent, replace the hook. Sharpening today's hooks is a waste of time, since so many are chemically sharpened. Files are okay, for a temporary fix while fishing, but I'd rather replace the hook.
Now's the time to sit back in the recliner and go through your baits one by one checking for defects. Besides hooks, check for bent arms on spinnerbaits and buzzbaits, and replace spinner- and buzzbait skirts as necessary. Check that your prop baits spin properly. Replace bodies and skirts on jigs. If you left worm hooks in plastics, remove the hook and check plastics for tears. Get rid of broken plastics. I'm leaving out a few types of lures, but you get the idea. Have all your baits ready to go for ice out.
Organization
This is one of the most critical aspects of successful bass angling—for all fishing for that matter. When you are fishing, the baits don't always end up back in their respective boxes. That's totally normal. But, off-season prep gives you the time to correct this problem. For my storage, I keep all baits separated by type and sometimes by brand in clear Plano boxes. Plano has a box the right size for just about any bait, so pick up a few and begin organizing. You'll thank yourself, come open water. I have many Plano boxes with my various baits and just put the ones I want for a particular day of fishing into a bag.
Are you enjoying this post?
You can be among the first to get the latest info on where to go, what to use and how to use it!
Restocking
Now that my baits are organized, I can see what baits I need to add. Maybe some were lost. Plastics are the least-durable baits and need to be replaced regularly. Organize your plastics in their original bags or pick up some Zip Lock bags to store them. These baits can dry out and just look ugly if not used. A rep from Zoom Baits suggested always storing plastics in resealable plastic bags.
Also, write down the baits you need and the correct sizes and colors. I've shopped for replacement baits and forgotten what I needed or bought duplicates. Or, get high tech and take a pic on your phone of the colors you already have before heading out. That works for me.
Get a taste for toothies, check out this article on hooking bank-hugging muskies!
Destination planning
Off-season prep time is perfect for picking up some lake maps and mark some areas you might want to fish this season. Check Google Maps for bodies of water near your home or places you frequent. It's amazing to see how much nearby water you have never seen. I found a small lake, years ago, in this manner. It regularly produces 5-pound-plus bass. By the time ice leaves, I will have a game plan covering the waters I want to check out. I always try to find a couple of new destinations, too.
So during this off season, use your time efficiently to get prepped for a new year of bass angling. The time spent in preparation now pays huge dividends when ice-out arrives.
Most areas, here in the Midwest, now have outdoor shows. These are another great way to break up the winter months when you are off the bank. Take the time to check out new tackle and ask questions from tackle reps. It's another step in getting ready.
If you need any questions answered, or any type of help concerning this article or bass fishing from the bank, please contact me at: onthebank@att.net
You can be among the first to get the latest info on where to go, what to use and how to use it!
---

Passion for angling drives Dan Brozowski to the water's edge virtually any chance he gets. Although passion cannot be measured, weighed, or recorded, it can be shared. He does this through his writing and while on the water. If you have any questions or comments for Dan, you may contact him at: onthebank@att.net.
All author posts
---