Five Tips for Tree Saddle Hunting the Second Rut
December is here and we are now moving into the second rut and the end of whitetail hunting season for 2018. This may be your last chance to harvest that big bruiser, so here are some suggestions to make this last attempt a successful hunt. The second rut will most likely happen in the northern states about the first week of December through the 8th.
Here are five suggestions to make you more successful in the woods this year. Hunt your best spots, hunt with your gun, get to your stand early, hunt in all weather conditions and stay warm. Let's break these down.
1. Hunt locations that have multiple crossing trails.
I like to increase my odds at winning at everything. As in all things, there certainly are specific things to improve that goal in whitetail hunting. My number one, go-to plan to achieve this objective, is to try to find good tree locations close to a well-traveled intersection with multiple trails. If they also have very good ground cover, that is a huge bonus. I hunt this location early in the season and late. Why is this such a good practice?
It seems obvious that if you hunt at a location over multiple crossing trails you will just get more deer traffic, assuming these locations are traveled in the daylight hours. Remember not all trails are crossed night and day with the same frequency. The best time to figure this out would be early on in the summer when you can spend a day over a deer intersection. Another good time will be after the season, perhaps in February with snow on the ground. That will help you to see the deer tracks easier and the freshness of the tracks should be more apparent. Then you will be ready for next season. Remember to check out all of your shooting lanes. Are they clear for a good shoot?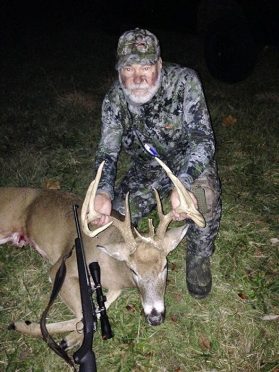 2. If you are typically a bowhunter, consider your shotgun or rifle.
By now there is a pretty high probability that the trophy buck you have had in your sights this season has been shot at a few times this year. He is already wary of this time of year, he has been here before and knows the routine. Becoming a monster buck does not happen by luck, unless he lives in an area that has little to no hunting pressure. He will be cautious, but he will still be seeking that next estrous doe. Of course, the does have been shot at as well, and they are just as cautious. Getting a close-up, 20- or 30-yard shot with your bow might be very difficult. Get out your shotgun or rifle, depending on the gun laws in your state.
The vast majority of hunters I know that hunt from a tree saddle hunt with a bow. No question about it, tree saddle hunters have an advantage hunting with a bow if they have good cover and a tree that is wide enough to use as a cover. However, later in the season getting closer shots becomes more difficult. Many times, it seems that the deer are just out of bow range.
That's when I switch to gun hunting. The extra distance a gun offers really comes in handy. I have killed some nice bucks late in the year with my gun. The Indiana buck pictured in this article I harvested in 2015 with my Ruger 77/44 All Weather .44 Remington Magnum Bolt-Action Rifle. Shot from my tree saddle at about 120 yards, it was the first time I used a gun from my saddle. Since then, I have harvested many late-season does that were donated to local food banks.
3. Be an early bird.
As stated earlier, December bucks are walking more cautiously at this point in the season. Getting to your tree earlier than normal and settled in will add to your success rate. Any movement in the woods is alarming for the deer. At this point of the year, their fear is heightened. Both the does and bucks have been hearing and seeing hunters roam the woods, hang from trees, and gut piles may have been smelled and observed. I certainly don't think that the deer stand over a gut pile and discuss what happened to their buddy Charlie, but you will never know. However, the unusual nature of all this activity will intensify their nervousness.
4. Hunt in all weather conditions.
Now that winter is here, you will have opportunities to hunt in much colder conditions, depending on your local weather patterns. One of my favorite hunting conditions is when the snow flies. I have had lots of success in these conditions, for several reasons.
The woods are certainly not as crowded. If you are hunting public land, many hunters look out at the snow and go back to bed or hang out at the local diner to chitchat with the boys. To many, the thought of hanging from your tree saddle or sitting in a tree stand is not as appealing. Let's face it, it's cold. Obviously, dressing for the colder and possibly wetter conditions is imperative to your success.
To your advantage, the inclement weather affects a deer's hearing, sight and smell. It is just harder for them to hone in on you when the weather turns bad. In addition to this, the fact that there are fewer hunters in the woods can improve your odds dramatically.
5. Stay warm.
When I first started hunting years ago, I had the chance to hunt in Iowa during muzzleloader season and was hunting the last week of December. Wow, was it cold! It was actually my second year hunting. I was hunting on a friend of a friend's property. This was before I knew about tree saddles and was sitting in a lock-on. I was not prepared for the brutally cold temperatures, minus 20 degrees with a 30-mph wind. As the day drug on, I became so cold that, when I did have a chance to shoot a 140-inch buck, I could not raise the shotgun. I was frozen. Lesson well learned! So, I took the opportunity to look into better layering techniques and improve my cold-weather clothing so the next time I could finish the shot.
I ended up investing heavily in Merino wool undergarments, one of my best hunting purchases ever. Merino wool is a wonderful natural fabric. It is expensive if you get 100 percent Merino wool. I feel that every penny I spent on it has been well worth it. In addition to the wool being very warm, it also has natural bacteria-fighting elements in the wool. It seems to eat the bacteria, which is what is creating your body odor (your stink)!
In addition to the Merino wool, I did improve the laying options I had and this has also added quite a bit of warmth, allowing me to stay out much longer in the cold weather. Staying warm means staying in the field longer.
Good luck if you are heading out to take one last stab at that big buck you have seen on your trail cams. Be safe, be focused, be still and soak up nature at its very best—a cold, crisp, December day.