HUNTING WATERFOWL? GET FASTEEL® 2.0
Kent took their original Fasteel and made it even better for hunting waterfowl by loading it with top quality components to help resist corrosion while maintaining maximum on-target performance. The foundation of Fasteel 2.0 begins with a high-performance base wad to optimize functioning in today's most popular semi-automatic firearms, allowing for fast follow-up shots and ensuring consistent reliability.
The addition of precision ground zinc-plated steel shot and nickel-plated heads provide added corrosion protection from the elements while maintaining superior patterns for better performance in all conditions. Kent's custom blended powders help manage felt recoil while reaching optimal velocities to keep you ahead of your game the next time your hunting waterfowl. See also:  Age of Refinement in Steel Shot and see how Kent Fasteel 2.0 performed in the field.
FASTEEL® 2.0 PRECISION PLATED STEEL™ WATERFOWL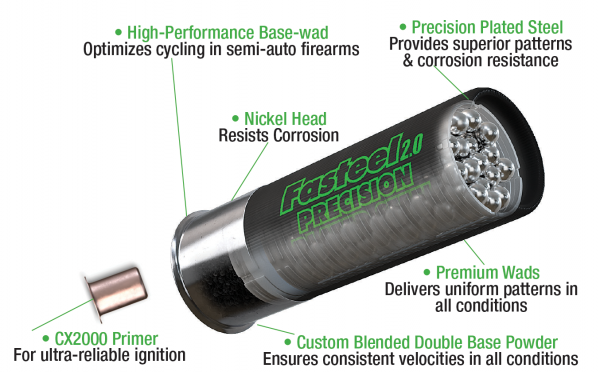 Ultra High Performance Shotshells
High Performance Base Wad
All Weather Performance
Optimal Velocities for consistent patterns
Precision Plated Steel
Designed to function reliably in semi-automatic firearms
You can be among the first to get the latest info on where to go, what to use and how to use it!
---
We believe being outdoors is good. With more than 1,000 articles each year, MidWest Outdoors magazine is all about sharing outdoor experiences with you—where to go, what to use and how to use it… whether you're close to home or on that trip of a lifetime.
All author posts
---