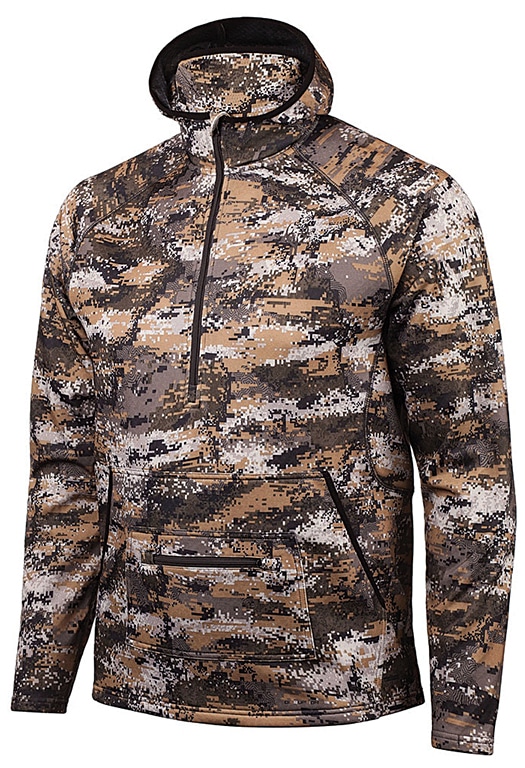 Huntworth Performance Hoodie in Disruption Digital Camo
Worn by itself or as a layering piece, this 4-way stretch knit terry moves with you and doesn't bind. Made with wicking yarns that draw moisture away from your body, and knitted into a hexagon pattern for maximum airflow. Treated with Microban antimicrobial product protection for scent reduction to get closer to your prey without detection. A shaped hood provides superior peripheral vision. A built-in face mask offers full concealment or push it back into the hood when not needed. huntworthgear.com

Savage 110 with AccuFit
Built for any hunt—and any hunter. The accurate, hard-hitting Savage 110 Hunter's AccuFit system makes it easy to customize the length-of-pull and comb height for a personalized fit, while the user-adjustable AccuTrigger offers a crisp, clean pull. Together with the AccuStock, which secures the action three-dimensionally along its entire length, the110 Hunter provides the fit and function of a custom rifle—right out of the box. savagearms.com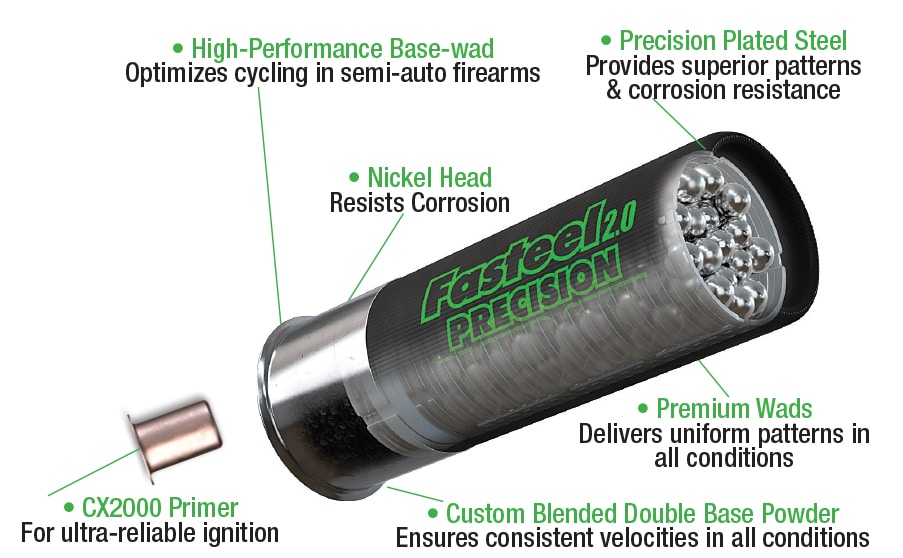 Kent Fasteel 2.0
Are you enjoying this post?
You can be among the first to get the latest info on where to go, what to use and how to use it!
Kent Cartridge took their original Fasteel and made it even better. The foundation of Fasteel 2.0 begins with a high-performance base wad to optimize functioning in today's most popular semi-automatic firearms, allowing for fast follow-up shots and ensuring consistent reliability. Precision ground zinc-plated steel shot and nickel-plated heads provide corrosion protection from the elements while maintaining superior patterns for better performance in all conditions—and Kent's custom blended powders that help manage felt recoil while reaching optimal velocities. kentcartridge.com
Scent KillerGold with H
unt Dry Technology
Formulated for maximum performance after it dries, so you don't have to hunt with wet clothing. This specialized blend of advanced odor fighting ingredients attacks a wide range of odors, the most important one, human odor! Spray bottles come equipped with a high-output sprayer that will even spray upside down. Scent Killer Gold with Hunt Dry Technology Plus was found to be 99% effective at stopping replicated human odor in testing at Rutgers University—20 days after drying! A heavy application can effectively turn your hunting clothes into a high-powered scent elimination suit. wildlife.com

Nosler Ballistic Tip Ammunition
Every bullet weight and muzzle velocity is optimized for maximum effectiveness on whitetail deer and manufactured to meet Nosler's strict quality standards. Nosler's streamlined polymer tip resists deformation in the magazine and initiates expansion upon impact. The fully-tapered jacket and special lead-alloy core allows controlled expansion and optimum weight retention at all practical velocity levels. The heavy jacketed base acts as a platform for large-diameter mushroom and prevents bullet deformation during firing. Ballistically engineered solid base boat tail configuration combines with the streamlined polymer tip for extreme long-range performance and easier loading. nosler.com
You can be among the first to get the latest info on where to go, what to use and how to use it!
---
We believe being outdoors is good. With more than 1,000 articles each year, MidWest Outdoors magazine is all about sharing outdoor experiences with you—where to go, what to use and how to use it… whether you're close to home or on that trip of a lifetime.
All author posts
---