Age of Refinement in Steel Shot
Kent Fasteel 2.0 performed well in fall and summer testing, as verified by our own Senior Shooting Writer, L.P. Brezny.
This past fall, Kent set out to show its newest load developments in terms of Fasteel and Bismuth shot loads to waterfowl writers. The selected location was central Canada, and the areas selected to hunt were target-rich, to say the least. While Kent had put a whole lot of development into Matrix loads in the past, the new direction as applied to load introduction was headed toward Bismuth and a product label that carried the shot type's name. The shot was new, the loads hit hard, and by example we took Canada geese at 40 yards with #4 shot upon occasion during that hunt.
Steel development
Also during the past year, Kent has been upgrading Fasteel. This means making use of some new powders and jewel-like polished steel shot. Fasteel by Kent has always been running in the ballpark of 1500 f.p.s. downrange, but with even better shot, cleaner powders and touched-up wads, the new Fasteel 2.0 loads are at the top of their game in the field. For a test of these loads beyond the Canada experience, I hauled some of the early reference ammunition into Minnesota on our annual down and dirty pigeon and related bird hunt with Black Bird LLC, the commercial outfit that ran an animal control business as headed up by 'Bird Man' Todd Gifford, out of Hastings, Minnesota. Gifford had warm targets nailed down in terms of shooting at a commercial dairy farm that supplied milk to the southern Minneapolis-Saint Paul metro area. This was not my first rodeo in terms of gunning farms with Bird Man, as he and I go back about 30 years in the test and evaluation business, with me drumming up the industry work and Todd dialing in on the test targets.
Test guns
Gun selection was flexible in that we were shooting Stoeger 3500s, and Browning Maxus waterfowl guns. Choke selection ranged from modified to improved cylinder for the work from blinds over bait and decoys. The Browning retained the new continuous tapered bore that delivered outstanding patterns, while the Stoeger made use of a more standard bore that also performed quite well. Shooting the Kent Fasteel 2.0 Cartridge 12-gauge, 3-inch, 1 1/4-ounce #3s, was a hard punch against the soft targets, but rest assured that I had seen loads in the past return some not-so-great performances even on a 1-pound pigeon, or common crow.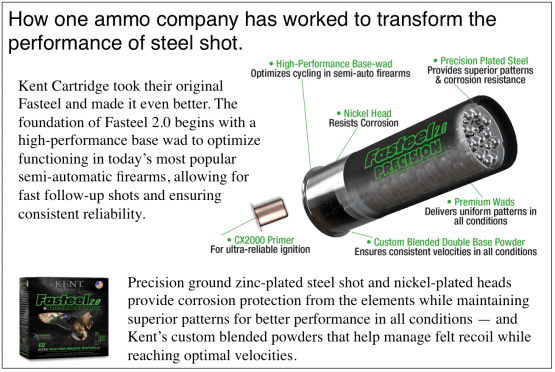 Gifford had obtained a special unit crow predation permit as a part of the shoot, aimed at helping to trim a specific flock of birds that was causing problems in the area. With my basic pattern work shooting the Kent #3 Fasteel 2.0, returning full choke averages centering around 83 to 90 percent, and modified chokes returning a solid 70 percent performance level, I had no doubt that if we did our job over the gun barrel, the loads would fill in all the blanks in terms of returning positive performance standards. What I was looking for was mechanical reliability, as applied to loading and ejecting test guns and the lack of squib, or soft loads being fired in the mix. In this area, I found no issues whatsoever, and up to four shooters were keeping these guns very busy over the course of the controlled commercial shoot.
Ejection was crisp and clean, and both the Stoeger recoil inertia-driven system, and the Browning gas system, performed without a single 'stove pipe,' aka jammed action. In terms of rounds fired, just about a full case was sent aloft during the test.
While we may well be at the end of an era regarding load development, rest assured that companies like Kent are always rethinking their loads in order to supply the best to the guys and gals that go afield in search of game birds each fall. As a lifelong bird hunter with 60 years in the field, I can tell you that the ammunition performance on your own hunts are very dependent on what you buy ahead of the hunt. For steel loads, the Kent Fasteel 2.0 is a truly solid choice.
For more information on the lastest advancements in fall hunting gear, read the fall issues of MidWest Outdoors, available the first full week of each month at the newsstand or by subscribing on our website.
You can be among the first to get the latest info on where to go, what to use and how to use it!
---

Writing on outdoor subjects for over 40 years, L.P. Brezny has written four books on shotgun and rifle (ballistics and performance). He's an expert at smoothbore, and high-power, ultra-long-range shooting. He's a specialist, producing reviews covering general products used in the outdoors industry.
All author posts
---