A common term bandied about in the muskie world is "feeding windows." These feeding windows are periods of time when the muskies are more active, usually triggered by some environmental change. These windows can be short-lived periods, maybe only lasting 10 minutes, or may last a couple hours. These usually fall somewhere in between and there can be several throughout the day, but on some tough days, only one window occurs.
You can't always predict what is going to happen in nature. So, how can knowing about feeding windows help you catch more muskies?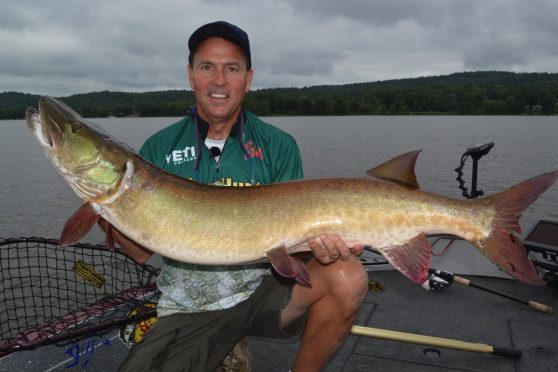 You simply can't predict when muskies are going to bite. However, understanding when feeding windows might be generated can help you predict when one is going to bite before it even realizes it. This may sound like a stretch, but it isn't. Consider a few of the factors triggering a feeding period: sunrise, sunset, moonrise, moonset, weather changes, and barometric pressure. Sunrise, sunset, moonrise and moonset can all be determined any day by looking in the newspaper, checking online or looking up the sun/moon times on a sonar. These are all periods associated with either a light change or some type of gravitational effect from the moon.
Again, these periods activate the muskies. So on any given day, if you have had a follow from a big fish or simply fished a spot you believed may hold a big muskie, make sure you're on that spot 15 minutes before any of these mentioned times and periods. It's really important that as you plan your day you're fishing during these times and not taking a break. Within these periods you may find your only opportunities.
Watching the weather and anticipating changes is the second-closest way to predicting feeding windows. Pay attention to your surroundings, and if the wind shifts, anticipate a feeding window and pick up and move to one of your top spots. The same is true if all of a sudden a storm approaches and the sky conditions go from bright and sunny to overcast. It's then time to move and find some active muskies. I'll also watch the barometer in my boat, and if it moves 1/10 of an inch, I'll assume a window is about to happen and then move to a top spot or area where I have had a big muskie spotted.
In all of these scenarios and ideal times, it really is a matter of keeping track of some factors that occur every day. Sure, there may be hours where it seems there are no muskies in the lake or other water and then all of a sudden the fish start showing up everywhere. When this happens, recognize that you are in a window and that you need start fishing faster.
This brings me to my last point, which is that sometimes there are no obvious changes yet the muskies seem to be biting. This happens, and it is all part of muskie fishing. Don't fight it or wonder why; wait until the day is over. Just pick up your game and always be ready. You never know how long a window will last, as it can close as quickly as it opened. So, once you land and release a muskie, be ready for a strike on the next cast. The faster you make an adjustment the more likely you are to catch more fish.
Predicting fish activity is never easy. That sunrise, sunset, moonrise or moonset is happening every day, and can give you some enthusiasm and hope, even on those tough days. So, stick it out and don't give up. After all, a window of opportunity could open up at any point, anytime this summer.
You can be among the first to get the latest info on where to go, what to use and how to use it!
---

Jim Saric is a Legendary Angler in the Freshwater Fishing Hall of Fame, the host and executive producer of The Musky Hunter television series, editor at large of Musky Hunter magazine, a seven-time muskie tournament winner, and a contributing writer for numerous other publications.
All author posts
---