Marina Muskies
Want a shot at some early season muskies? Go south.
Of course, south doesn't mean you have to travel all the way to Kentucky or Tennessee, although they have are some great muskie waters. There are lots of great waters in central and southern Illinois, Missouri, Ohio and Indiana. These waters, besides having open water and supporting lots of muskies, have fish that are generally active in early spring.
Given our early spring, it just makes the muskie fishing that much better. Also, considering the fact that these southern muskies tend to feed primarily on shad, tend to make them more active early, and fishing many traditional muskie lures will produce action. However, it is not the lure choice that is difficult for most northern muskie anglers who venture to these "southern" waters, but where to find the fish. Many of these reservoirs are huge and the individual coves or creek arms are larger than many northern waters. Also, consider the fact that many reservoirs don't have any weed growth, and those that do have very little now.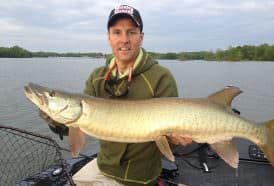 So where do you begin? Here is one sure-fire area that has produced in every southern muskie water I have fished: a marina.
That's right, the boat launch and adjacent marina are natural muskie magnets. Unfortunately, in some states, fishing around the marina is not legal. However, in most places you can join the bass and crappie anglers and fish in these areas. These areas offer lots of shade and other man-made cover for the shad and are usually located adjacent to deep-water areas of a cove. In fact, the marina may serve as a conduit from the deep water to the shallow water in the back of the cove. So it certainly makes sense why these areas can be so good for holding muskies. If you launch your boat in the back of a cove, be sure and fish around the ramp and then all around the marina. Make a habit of fishing your way out and around the marina to the main lake, and you often won't be disappointed. Try the shallow section of the marina and see if the muskies are holding closer to the shore and bank. If the muskies aren't there, then cast in and around all of the docks and work your way to the deeper water. You'll find some individual slips or portions of a marina may hold more muskies than others, but systematically cast around each dock and boat slip and you'll contact muskies.
A minnowbait, such as a 5- or 7-inch Shallow Raider in either a White/Pearl pattern or a FireTiger pattern is my first choice. Otherwise, I am going to cast a standard size Bulldawg in Blue/White, FireTiger or Black, and let it swim deeper than the minnowbait. I particularly like the smaller double Dawg early in the season, as it has a slower drop-speed. Like any other time of the year, be sure and complete each cast with a figure eight. Often, the water is stained in spring and the muskies appear out of nowhere.
Don't let the size of a reservoir intimidate you this season. Be sure and thoroughly fish the marina and you are bound to encounter early-spring muskies.
You can be among the first to get the latest info on where to go, what to use and how to use it!
---

Jim Saric is a Legendary Angler in the Freshwater Fishing Hall of Fame, the host and executive producer of The Musky Hunter television series, editor at large of Musky Hunter magazine, a seven-time muskie tournament winner, and a contributing writer for numerous other publications.
All author posts
---