Beat-the-Heat Muskies
Summer is my favorite time to chase muskies. After all, you have warm weather, long days and lots of time to figure out what they are doing. Plus, in summer you often have longer feeding windows and that means a greater opportunity at catching more.
However, the heat of the long days can also take its toll on you. So, you really need to manage your day to maximize your muskie production.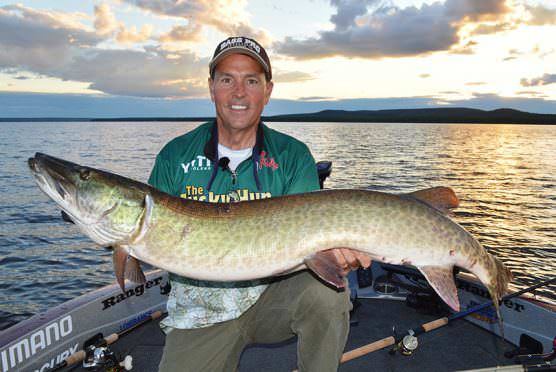 Although we all want to enjoy our trips to the fullest, I will advise you to be aware that late nights will make life more difficult for you in summer. So, if you are on a trip when the daytime air temperatures are going to be in the upper 80s or 90s with high humidity, you better hydrate. And whatever you consume in the evening may not count toward long-term hydration.
Be smart and drink plenty of water before you head out. Then, load your cooler with lots of ice and water and keep drinking throughout the day. Force yourself to drink more water than you normally would, and that will really help you make it through. Staying hydrated is common sense, just like applying sunscreen. However, they both tend to be forgotten in the heat of the moment, when big fish are on your mind.
Dissecting the day
I break summer days into three periods: morning, afternoon and evening. Each of these times has different objectives and approaches. In the morning, my focus is trying to determine the pattern for the day. Mainly, it's what spots or cover types the muskies prefer and which lures they want to eat. If the morning is warm, start out early and fish fast, covering many different types of spots. I believe in early-morning periods you have a great chance to encounter active muskies and whatever type of structural element they seem to be holding.
As the sun gets higher and the afternoon settles in, my approach changes to that of "dissection." At this time, I'll slow my boat speed down and make more casts to a particular spot. I'll often assume muskies are in the area, but need a little more coaxing to get them to respond. Erratic lures, or those that can be paused or ones that allow you to pick apart the cover, are my top choices. As always, I am trying to get a bite, but it's equally important for me to try and locate a big muskie. All I really want is a large, lazy follow and I am happy. If you can locate a big one in the afternoon, you have a great shot at catching it later.
Inevitably, there will be a lull after midday and you might go a few hours without a sniff from a muskie. However, if you are young, in good shape, hydrated and feeling energetic, fish through it until evening. If you are older and wiser, you should take a break for a few hours and get out of the sun. It's amazing how taking a few hours to cool off, reassess what happened on the water, getting something to eat and rehydrating with drinks or planning your evening can really have you both physically and mentally prepared to make the most out of that evening.
Summer evenings are magic; there is just something special about this time for me. At this point, the sun is getting lower on the horizon and you have hopefully caught or at least located a few big muskies—now it's about fishing a bunch of spots to try and get a bite. This is bucktail/topwater time at its finest. I am often on the Cowgirl/TopRaider bandwagon at this time. Move the boat quickly through the spots and try to get a muskie to bite. Return to spots where you have seen muskies earlier in the day. I really don't fish too many new spots at this time, as I am focused on making the most of what I have seen throughout the day. Obviously, if you have follows from muskies on a spot or two in the evening, those spots become my last spots to fish at dark. Another thing to consider is to try and fish smaller spots in the evening, ones relatively close to one another. This way, when the muskies start showing up you can fish several areas and hopefully catch more.
So, what happens if you only find muskies on one spot in the evening? Don't be afraid to fish that same spot again. I have caught muskies on several occasions by simply turning around and refishing the area.
Sometimes, particularly as dark approaches, more muskies may move into a location or just get active. There are times the best "move" is to just not move at all and try and catch as many muskies as you can from that one spot. Summertime is prime time for muskie fishing across the entire species' range. Manage your day and time, fish with a purpose, take care of yourself and rehydrate in the heat and you can catch your personal best.
You can be among the first to get the latest info on where to go, what to use and how to use it!
---

Jim Saric is a Legendary Angler in the Freshwater Fishing Hall of Fame, the host and executive producer of The Musky Hunter television series, editor at large of Musky Hunter magazine, a seven-time muskie tournament winner, and a contributing writer for numerous other publications.
All author posts
---