Scoring Bagley at the Classic
Sometimes it's better to be lucky than good. But we make our own luck too many times. When it all comes together, it doesn't get any better.
Going to the Bassmaster Classic every year is a must. Seeing, interviewing and reporting on the pros, attending the expo to see what's new and enjoying some of the greatest fishing venues in the country is my dream come true.
But the Classic in 2015 was even more special with the acquisition of some very special lures. While fishing tournaments in the early '70s, one of my main sponsors was the Bagley Bait Company.
Owner Jim Bagley was one of the friendliest, most hospitable and innovative men I have ever met. Barnstorming around the Midwest with Jim and Bill Dance doing promotions, visiting his factory to consult on new lures, fishing favorite waters with him from Canada to Florida and being whisked around in his helicopter provide many cherished memories.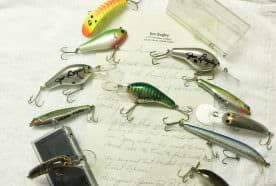 At the time though, I was too close to the forest to see the trees. Many of the prototype and special order Bagley lures Jim furnished me back then were treated like fishing lures, not collectable baits.
So when a friend made what I thought was a generous offer for my Bagleys, I took it. Now I realize this was a big mistake but what's done is done.
A friend told me a few months ago about a man in South Carolina who had some old Bagley baits. When I called, he said he lived right on Hartwell Lake where the Bassmaster Classic was to be held and he had received his lures directly from Jim.
Are you enjoying this post?
You can be among the first to get the latest info on where to go, what to use and how to use it!
We arranged to visit and between events. There was just a little time for me to drive an hour to the other side of the lake for a visit and back in time for a special dinner. His home was right on a steep bank near the water. But when he showed me the lures and pictures of Jim and his friends pheasant hunting on his family farm in South Dakota, I was excited.
It turns out that with thanks for the great hunting trip, Jim sent him a group of prototype lures along with a two-page letter describing each one. One was a Jerry Reed Git Down model that no one I've contacted so far is aware of. Jim's letter provides provenance for each bait.
He wrote, "A Jerry Reed 'git down model Diving "B" III that we made especially for Jerry when he used to come down all the time to fish with me." Of course you remember Jerry Reed Hubbard (March 20, 1937 – September 1, 2008), known professionally as Jerry Reed whose recordings include "Guitar Man," "Amos Moses," "When Your Hot Your Hot," "Alabama Man," "East Bound" and "Down" that earned him a Grammy for Smokey and the Bandit in which he co-starred and She Got the Goldmine I Got the Shaft.
Another is the original test model of the Rat Fink. Most were test models that have a special finish that was never produced.
Now that I have a second chance to make a special display with the Bagley lures and Jim's letter, pictures of their pheasant hunting trip and maybe a picture of Jerry Reed if I can find one of him fishing, these keepers are not getting away,
Dan Basore is a fishing historian/steward of the sport, and is always on the lookout for information about early tackle makers, early tackle, early fishing catalogs, and the like.
You can be among the first to get the latest info on where to go, what to use and how to use it!
---
Dan Basore is a fishing historian and steward of the history of the sport. In his efforts to preserve fishing history, he is always on the lookout for information about early lure makers, old lures, pre-level wind reels, manufacturer catalogs, tournament casting items and the like. If you possess information or materials of this kind, please contact him at 630-393-3474 or by email at [email protected]
All author posts
---