You hit the water and conditions are perfect—warm, cloudy with southwest winds. You fish a bunch of spots and catch four muskies on five different spots and manage to have a bunch more follows. Your evening is full of excitement, great stories and anticipation of the next morning, after all you have the muskies figured out and tomorrow you're going to crush them. Of course, the next day is never like the previous. Today conditions are clear, slightly cooler with no humidity. You fish through the five spots and you don't even see a muskie.
Actually, you have one "muskie mirage" where you "think" you saw a muskie from one spot. After checking a few more spots, you look at your watch—it's noon and a feeling of panic begins to enter your brain. Where did the muskies go? Lots of ideas and other questions start spinning in your head: Should you fish different spots? Are the fish deeper? Did they move to open water? Should I switch lures?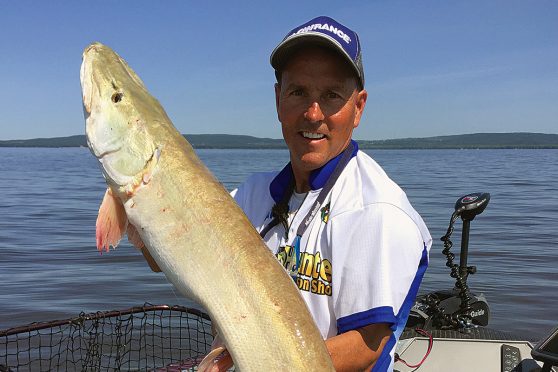 All of these are excellent thoughts and questions, for if you aren't thinking you can't stay a step ahead of the muskies. And as my friend Spence Petros always says, "If you aren't one step ahead, you're one step behind." This phrase is very true in muskie fishing. You have to be constantly analyzing the situation to determine what to do next. They may include changing spots or techniques. The above scenario happens to all of us every summer. So, what's most likely happening in this situation and how should you react?
Most likely in this situation the muskies have established a summer home range and are going to remain on the same spot they were yesterday. They may move to an adjacent structure, but my bet is that in most cases they're in the same place they were the previous day. If they do move, in many cases they simply may move tighter into the cover on the same spot. What's happened today is that the weather has decreased the muskies' feeding "attitude" and has therefore decreased their strike zone. The fish may have fed heavily yesterday and are just not going to feed as much today, unless an opportunity presents itself. For example, yesterday you may have caught the fish on Cowgirls. The muskie could easily feel the presence of the Cowgirl through its lateral line system. The bait may land 20 feet from the muskie then it feels the bait. And since it's in an active mood the fish moves toward the bait to get a visual on the target, and attacks it.
Today, the muskie can still feel the target, but unless the lure lands 2 feet from its mouth it's not going to move toward the target. Even still if the bait moves away from the fish too fast, it may not react. So, your odds of catching a muskie have decreased tenfold. That's simply what has happened and is why it's been so difficult to catch that fish that day.
To catch the muskies you have to recognize this situation and slow down your boat speed through an area. I'll make sure to take my foot off my Motorguide trolling motor pedal and force myself to make more casts on a spot. Just remember that you caught them there yesterday. These are the days you camp on a handful of spots and spend lots of time fishing them. The muskies are there, so you just have to pick the spot apart and wait for one to bite. You'll probably have to make a lure change to catch them as well. These are the conditions where I'll switch to a Phantom Softail glider and use its slow rhythmic action to hang in front of a fish and trigger a strike.
Another option is the Shallow Bull Dawg. This lure has more of an up and down motion, but it has a slow hang time that triggers strikes, presenting an opportunity to a muskie. Also consider large spinnerbaits like the Musky Mayhem Cyco spinner with a number 10 blade or a Heli-Dawg with a large blade. You'll be fishing these slow and focusing on the vibration, working the lure just above the cover. Be ready to set the hook on anything unusual.
Finally, these days often play out in two ways: a figure-eight strike at boatside or a strike right at dark at the end of the day. You just have to remain focused throughout. Any muskie that decides to chase your bait will probably eat it at boat side with a well-executed figure eight. Plus, it just seems that the last few minutes of light always tend to produce one bite. Don't give up or panic on these tough summer days. Recognize what's happening, make the adjustment, and then stay focused and catch one.
You can be among the first to get the latest info on where to go, what to use and how to use it!
---

Jim Saric is a Legendary Angler in the Freshwater Fishing Hall of Fame, the host and executive producer of The Musky Hunter television series, editor at large of Musky Hunter magazine, a seven-time muskie tournament winner, and a contributing writer for numerous other publications.
All author posts
---