MidWest Outdoors Kids: Ned Rig Basics
Digital Editor Dave Mull is a self-described light tackle "finesse fanatic" for bass and other species and loves the Ned Rig. It's not just because of the added challenge of catching fish on lighter tackle.
"I used to throw 2-inch, flat-tail plastic worms, and have graduated to the Ned Rig," Mull says. "I usually get a lot more bites on these smaller presentations than with heavier, bigger, more standard gear for bass. It's\ great for kids to use, too. No telling what will bite the little bait."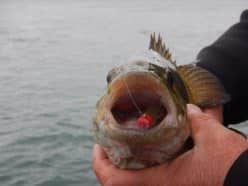 Since Mull started using the little lure last year, it has caught most species of Midwestern gamefish. Species include bluegills, brown trout, northern pike, muskies and channel catfish. It isn't the best choice when searching for a lunker bass, "but I prefer getting the string stretched. I'd rather catch lots of little fish with some big ones mixed in rather than just fishing for a few big bites," Mull says. "I think that's what most kids prefer, too—a lot of action."
NED BASICS
Are you enjoying this post?
You can be among the first to get the latest info on where to go, what to use and how to use it!
The basic Ned Rig carries the name of retired University of Kansas archivist Ned Kehde. Through his articles in different publications, Kehde popularized downsized plastics on jig heads ranging from tiny 1/32-ounce models to 1/8-ounce heads. Original combos featured plastic worms cut down to 2 1/2- to 3-inch pieces.
The current rage is 2 3/4-inch TRD plastic worms from Z-Man or half of that company's 5-inch ZinkerZ. These plastics work on a wide range of small jig heads. Kehde is a fan of Gopher Mushroom Heads. Z-Man offers its own ShroomZ heads, too.
Finesse anglers like these soft plastics, which are made of incredibly durable ElaZtech plastic. Reports of more than 50 fish on the same jig and TRD abound—Mull logged 51 bass and three walleyes on the very same Ned Rig before he accidentally broke it off on a back-cast.
Mull feels that a lot of small nuances in rigging and retrieving Ned Rigs can help get more bites and land more fish. In this five-minute video, he shows how to rig a TRD on a ShroomZ jig head.
You can be among the first to get the latest info on where to go, what to use and how to use it!
---

Dave Mull of Paw Paw, Mich. has spent his career communicating the outdoors experience and runs Inner Viking Media. He enjoys kayak fishing for anything that swims in the lakes and rivers of the Midwest and beyond, and even uses his MirroCraft, from time to time. Available for seminars.
All author posts
---