In His Own Words…Mark Martin: Night Walleyes, Original Champ, Hall of Fame
In the late summer of 1990, along the shores of Rainy Lake near International Falls, Minn., touring pro Mark Martin of Michigan stood backstage at the first-ever Championship held on the Professional Walleye Trail (PWT). Standing by a tank of circulating water, he was watching over a submerged box that held his final-day catch, nervously sanding at his pants with his palms, paying close attention as each competitor was weighed and the results broadcast across the crowd by emcees Al Lindner and Jim O'Rourke.
Whoever won this event would have his name etched in walleye history, and they were holding Martin back, because it appeared he had 'the box' to win it. Holding people with good boxes back is a tradition, because it builds suspense and makes for a good story in the media. Martin could have done with a little less suspense. His hands were shaking, because he knew what this would mean to him, his family, his career. In addition to etching his name in history, the biggest cash payout ever in a walleye tournament, 30 grand, waited on a big foam check. Martin was thinking that his name would look good on it, even in magic marker.
His mind went back to nights, without number, trolling Lake Michigan in the darkness for monster walleyes with his dad, Robert, and Grandpa, Smitty. That was their thing, and it became Mark's thing, too, but they also chased salmon, steelhead, trout, pike, bass, anything that would bite, on every imaginable fishery: lakes, reservoirs, big rivers, little streams, and ponds.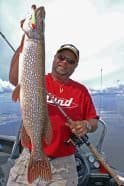 He thought about his father cranking up an old reel-to-reel tape deck and handing the microphone to a five-year-old Mark, asking him a series of questions for posterity. The subject of what he wanted to be when he grew up was raised, and young Mark immediately announced that he was going to be a fisherman. Fishing was a big deal to Dad, too, but fishing wasn't something you did for a living, "so he gave me lots of chances to say something else," remembers Martin. "But no matter how many times he asked, I said I was going to be a fisherman."
There had been lots of different work along the way, starting at age 15 selling fishing tackle and bait at Bill's Sport Shop in Spring Lake, Mich. At 18 he started welding and press work, then made auto parts, and got into tool-and-die making. It never felt right and it was never steady, and at age 23, he passed the Coast Guard Captain's test on the first try and made it known he was available to guide people. His reputation preceded him, so he was busy right away. He worked 3 to 11 p.m., guided midnight to 6 a.m., slept 7 a.m. to 2 p.m.
If he won this championship, it would change everything. He could focus on fishing.
Finally, there were no more anglers to bring to the weigh-in stage, and they announced that Mark Martin was coming. There was loud cheering when the crowd saw the outlines of the walleyes in the box, the scale and Al Lindner declared him the winner, and by 1991 he was a full-time professional fisherman.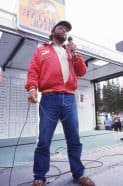 Back home in Michigan, at a celebration dinner with his family, his father stood up and apologized for questioning his career path, then pushed play on that old reel-to-reel deck and the excited voice of a five-year-old, declaring that he was gonna be a professional fisherman, brought tears to the room. Over the years, he has qualified for every championship since, even while competing on three major circuits at once, a streak that stands today, and here we go, with Mark Martin, in his own words…
MidWest Outdoors: Let's go back to the roots of your love of the outdoors. What are your earliest memories that led to your passion for fishing?
Mark Martin: Fishing with my grandpa and dad. They loved fishing as much as I love fishing. They brought me into the fold, starting when I was three years old. I can remember catching my first fish, and I know where it was, it was on Muskegon Pier. It was a perch.
MWO: Paint the picture for us.
Martin: Cane pole. Just dropping it off the side of the pier into Lake Michigan, and that's when we used to get a lot of perch coming in, and it would just be one after another. It was the perfect scenario to take a little kid and let him have fun.
MWO: So they rigged it, took you on a nice day, with lots of catching.
Martin: Right. Eventually, they brought me into their passion, night walleye fishing.
MWO: Not only did you end up loving night walleye fishing, but in large part, you staked your early reputation as a fisherman and guide on that, right?
Martin: Yep, I guided night walleye fishing 200-some days a year. Even if it was raining, snowing, cold, hot, windy, I still went, because you could always catch walleyes. At night, they bite under all sorts of adverse conditions. During the day it can be a little more difficult, but at night they're up in shallow water, you don't have to go far. And once you understand them–and my grandpa and dad taught me how to understand them–you can really dial it in.
Even though the things they explained to me went in one ear and out the other when I was young, it still stuck with me. When I started to get really serious about it, and started guiding, those memories came back to me. The lessons helped me lead customers to fish, and I could entertain them with stories from the past.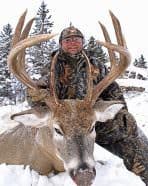 I'd tell 'em, "see that moon up there," and I'd tell them how the fishing was going to go based on how high the moon was. I even did that with Al Lindner, and you can ask him about it. We did a night-fishing show on Lake Erie, and I told Al we were going to go out and catch fish around Rattlesnake Island, right off of Port Clinton.
He suggested we start out on the reefs down by the power plant, but I told him walleyes might be there but they aren't going to bite, that the biters will be on shoreline structures that reach out into the lake. "Right here is perfect," I said. He said, "did you practice here?" I told him no, but that I'd fished the spot in the daytime and there were big ones all around us, so they would move right up here tonight.
So we go out there, and Jimmy (Lindner) is running the camera, and Al and I are fishing. We're starting to set out the lines, and I turn around behind me and see the moon just coming off the horizon, and I went, "awhh," and Al said, "what?" and I told him we didn't have long to catch these fish, that they were going to shut right down. But they would be on fire until the moon gets right there [points to a spot not directly overhead, but almost].
He looked at me like, "I'll believe it when I see it," and we put our lines out. I saw a fish on my Lowrance and said, "one of us is going to catch that fish," and I no more than got it out of my mouth and I had it on, about a 9-pounder. We start filming right away, let the fish go, put the lines back out, there are fish all around us on the depthfinder, and I no more than get it back out to 80 feet [using a line-counter reel] and bang, I got another one, about 8 pounds.
We let that fish go, do a quick sound bite for television, and start trolling again. Al no more than clicks his reel shut and he catches a 10-pounder. Things are really happening.
We got around the island, and the moon got up to the height that I showed Al, and the fish shut off. We went around the island one more time, but never had a hit. Al said, "let's stop right here; we got plenty of fish, and I need to get this interview, because what you said at the beginning of the night all came true."
MWO: When did this take place?
Martin: It was one of the first PWT tournaments at Port Clinton, so maybe '90 or '91.
MWO: Let's get into this a bit deeper, because we want to know: what is it about the rising moon, the height of the moon, that either turns on walleyes or shuts them down?
Martin: I don't know what it is, because it can be a sliver, a full moon, a half moon. If it's a half moon, we're probably going to catch the biggest fish. Three days either side of a half moon is a key thing for big walleyes.
But it doesn't matter what phase the moon is, as long as it's coming up off the horizon, until it gets right there, and then they're going to stop. But there's another thing, too; if the moon is going down, when it gets right here [points to the same angle, not quite directly overhead], you better be where the fish are, and when it hits the horizon and disappears, it's over. It's two variances of the same thing. One going up, one going down, but it works the same. Doesn't matter what the moon phase is, so it's something else. There is some sort of gravitational pull, I'm sure, that has an impact. But I don't know what it is.
When I was a kid, my grandpa and dad told me about it, and I'd say, "yeah, right," but then I'd see it work, see it work, see it work. Then pretty soon I would get all excited when I saw the moon starting to come up. They passed that down to me, something that they figured out, so I would tell people about it when I was out guiding. They would start out skeptical, but I would tell them they had to buckle down, when the fish were biting, because we only had so much time to catch 'em. I was square with 'em, and whether they believed me or not, they believed me by the end of the night.
MWO: So your dad and grandpa were pretty sophisticated fishermen for their time.
Martin: Right. They didn't have fish finders or electric motors, and they only let us each keep one fish a night. I didn't keep a limit of walleyes until I was 18, and the only reason I did that was because my buddies went with me and we were having a bachelor party, and I was supplying the fish. So we had a great fish fry.
My grandpa and dad brought a big cooler in the boat, and you could keep one fish. You had to use a bucket to keep changing the water; that was your aerator, and if your fish died, you had to quit fishing and row the boat. Those were the rules. You worked hard to keep your fish alive. Grandpa didn't like frozen fish, because he grew up when all you had was an ice box, no freezer. You ate fish when it was fresh. Even after we could freeze fish, he wouldn't eat it. If you kept a fish, you ate it the next day.
MWO: Tell us some other things about Robert and Smitty Martin, things that made them successful despite not having modern gadgets.
Martin: We figured out how deep the water was by using Clorox bleach bottles with 15 feet of cord and a brick for a weight. Grandpa would drop all the bottles in at different places and let the wind blow them in toward shore. Wherever they caught, we knew it was 15 feet deep.
Then, we had level-wind reels, with dacron line and cat gut leaders. They showed me how to count the passes on the level-wind reel, as you let your line out to start trolling. We knew whether we were shallower or deeper than 15 feet, based on what side of the bleach bottles we were, and we'd count the passes on the reel to try to control how deep our lures were going.
MWO: You must not have been fishing where there were a lot of other boats.
Martin: There was nobody. I never saw anybody out there fishing at night until 1975, and I started going with them in 1959. My dad and grandpa were way ahead of their time, and we caught a lot of big fish out there at night.
And my grandpa made all our lures. We never bought any.
MWO: What kind of lures?
Martin: They looked like a Rapala. He made them out of wood. And I didn't realize this until a little while ago, because I read it when I went to the Hall of Fame. I wanted to see my plaque up there, because I actually made it into the Hall of Fame! My grandpa made 'em like Lauri Rapala did.
MWO: You don't have any of those old lures that your grandpa made, do you?
Martin: No, I lost 'em all.
MWO: Doesn't that make you sad?
Martin: It makes me really upset, because they would be cool to have. He carved 'em out of a piece of wood, and he took metal lips off Heddon lures that you could unscrew, and screwed those onto our walleye lures, and he screwed the treble hooks on. Then he'd coat it with some kind of glue, and took the aluminum wrapper from cigarette packs and glued that onto the body of the lure.
MWO: It sounds almost exactly like what Lauri Rapala did.
Martin: Yeah, I know. It blew my mind. And he didn't know that.
MWO: How about any pictures of what those lures looked like?
Martin: I used to have some, and my grandpa's old diaries. He wrote down all the details of what the weather was and how many fish we caught, every night we went, so he could keep track. They were kept at my dad's office, in a vault, and I was using those records to help me write articles when I first started out. One night, I forgot to put the boxes back in the vault, so those diaries were left out. Everybody knew we caught a lot of fish, and they knew what was in those boxes, and I think when the cleaning crew came in that night, they took 'em. They were gone the next day. The notes are gone, the pictures are gone, and the lures are gone. Everything. It's only up here [points to his head]. It lives in my mind. That's the only place it lives now.
Listen to more with Mark Martin…
There's much more to our conversation with fishing Hall of Famer Mark Martin, and you'll find it in the Podcast section at midwestoutdoors.com. On the home page, look for the button that says Podcast, click on it, and you'll find the interview. Look for it around June 1. We hope you have time to listen to some of our other episodes as well. We'll see you there… it's time well spent.
Mark Martin Timeline
Born: Dec. 12, 1956, in Muskegon, Michigan.
1959: Began fishing as a 3-year-old, under the guidance of his father, Robert, and grandfather, Smitty. Standing on a pier in Muskegon, Michigan, young Mark caught one perch after another with a cane pole. The three became inseparable fishing partners, and soon Mark was a crew member on frequent night walleye outings.
1968: Caught his biggest walleye, a monster of 14 lbs., 1 ounce, at just 12 years old. The fish came on a November night, while young Mark was trolling Muskegon Lake with his dad and grandpa. "Grandpa passed away shortly after that," Martin said, "but within a few weeks, he also caught his biggest walleye, and it was bigger than mine."
1975: Was graduated from Spring Lake High School.
1981: Started guiding after earning Coast Guard Captain's License. Mainly known for his night walleye prowess. "It was like taking candy from a baby for me," Martin says, "but it seemed like a magic act to my customers."
1983: Entered, and won, his first tournament, the Muskegon Shoreline Spectacular, taking home $2,500.
1985: Began fishing MWC walleye tournaments. "Everybody who was anybody fished those," Martin remembers. I made it to the championship, and that became my goal after that, to make it to every championship.
1990: Won first Professional Walleye Trail (PWT) Championship, held on Rainy Lake near International Falls, Minn. Prize money of $30,000, and rise in visibility, changed his life.
Over the years, Martin fished every major walleye circuit, winning numerous events and has qualified for each championship, a streak that continues to this day.
You can be among the first to get the latest info on where to go, what to use and how to use it!
---
MidWest Outdoors editorial director Mark Strand is a graduate of University of Minnesota School of Journalism with a minor in Fisheries & Wildlife Science. He has written for nearly every outdoor magazine over the past 41 years, and has written or co-written 14 books. In addition to writing and photography, Strand produces the MidWest Outdoors Podcast, and contributes to MWO digital properties. He is an outdoor generalist who loves hunting and fishing of all types. In 2018 Strand was elected to the Minnesota Fishing Hall of Fame.
All author posts
---