Muskie Stats: Ride the Peaks
As the season winds down, it's a great time to reflect on past muskie trips. Certainly, we always focus on the great trips. After all, it's those great days on the water and trips that make fishing memories. Like many of you, I experience good and bad trips throughout the year. I hate to relive the bad trips, but it's a necessity if you want to become a better muskie angler. There is usually something you could have done to catch a few more muskies. However, there are some trips when we reflect that seemed there wasn't any solution such as using a different pattern or lure. Not to make excuses, but that happens. When it does, it's time to evaluate if it's the water that's changing and if it's trending in the wrong direction.
Every water has its peaks and valleys, and when muskie fishing, it's important to ride the peaks and get out of the valleys, but that's a lot easier said than done. We all have memories of great experiences on many waters and it's hard to let them go. However, you can't catch muskies on memories alone. Ask yourself this question about the many waters you fish: Is it as good as it was five years ago? If muskie action is the same or close, then you need to keep fishing that water. However, if you answered fishing is not as good, then you need to evaluate the situation and turn to your muskie statistics.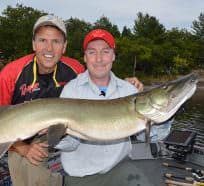 All top muskie anglers keeps a log of their fish catches. Besides being able to help you determine when to fish a lake or what lure to use, a logbook is invaluable in analyzing trends. If your lake X is not producing the way it should, go back to your logbooks and start calculating the number of muskies caught per trip for the last five years. Do you see a trend? If the lake is trending downward, take a closer look and see if there were any records of extreme cold fronts or other obvious situations that could have impacted a particular trip. I always keep a general comment field in my muskie logs so I can make a note about a particular trip (i.e., big cold front and wind really shut the fish down). If there wasn't any obvious weather, go back and record the lure each muskie was caught on per year. If the numbers are going down and all of the fish are being caught on the same lure, you might have to consider switching lures. Ultimately, if the numbers of muskies being caught are going down, you might simply consider finding another water. It doesn't mean you'll never come back, it's just that maybe the time is right to experiment and learn a new water.
Are you enjoying this post?
You can be among the first to get the latest info on where to go, what to use and how to use it!
I conduct an analysis of my muskie fishing and lakes, rivers and reservoirs that I fish all the time. If a lake appears to be trending downward, I start looking into other waters. Like many of you, I use social media to gain information on big muskies being caught from various waters. Whenever I hear about a lake I don't normally fish that produces a big muskie or has a hot bite, I simply write down the name and time on my notepad on my cellphone. Therefore, when some of my current waters are taking a downward trend I have others I can check out.
If you don't have a list of new waters to check out, have no fear. It's winter and now is the time to do some research. Between social media, resort websites and sport shows, there are lots of waters that produce muskies waiting for you to check out. Who knows? You might just find yourself a new lake X and have some great muskie fishing for years to come. Rely on your muskie logs and do a little statistical analysis and you might find the answers you need to make 2016 your best year ever.
You can be among the first to get the latest info on where to go, what to use and how to use it!
---

Jim Saric is a Legendary Angler in the Freshwater Fishing Hall of Fame, the host and executive producer of The Musky Hunter television series, editor at large of Musky Hunter magazine, a seven-time muskie tournament winner, and a contributing writer for numerous other publications.
All author posts
---