Muskie Fishing: Then and Now
I was recently reviewing notes from our dear friend, the late Robert Falkenstein. He was a great collector of muskie lures, articles, letters and notes from the top fishermen decades ago. Headlines from that era include: "Hunting Musky Like the Pursuit of the Impossible Dream" and "The Fish of 10,000 Casts."
The "World Musky Hunt" established in 1977 in Minocqua, Wis. was conducted on the Minocqua Chain of Lakes. It was considered the "heartland of musky fishing" and some of the "best freshwater fishing in the world." Held in prime time September and October 1977, it included seven teams of three of the top anglers. They caught three legal muskies measuring 40 1/2, 40 and 35 inches. Two undersized fish of 27 and 28 inches were released.
Records from a top muskie guide in that era, Dick Rose, reported results from his boat in the 1980 season:
"We caught a total of 67 legal muskies (over 30 inches then), 14 were killed and 53 were released and 52 were between 30 and 42 inches. The largest was 45 pounds, second largest was a 35-pounder and 13 fish (were) in the 20-pound class."
Rose was using the very productive muskie lures we now call "Cowgirl," the double Colorado blade inline spinnerbait that's very effective.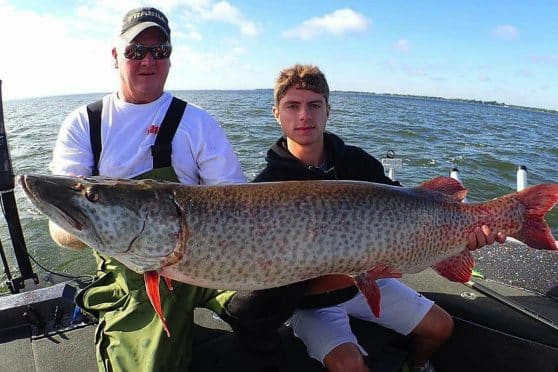 Around 1976, Rose contacted Dick Moore of Moore's Lures and requested that he make a supply of inline bucktail lures with two number 8 Colorado blades on the same clevis—and, keep it secret. Moore told him it wouldn't work, but made the baits exclusively for Rose who later named them "Rosetail." They kept the secret for many years and it was the top-producing lure for them and the clients.
Now
Several years ago we were searching for a guide for smallmouth bass up in Door County. There were reports coming out of quantities of prized bass and muskies just a short distance away. Larry Ladowski of Midwest Outdoors recommended Bret Alexander to help, and we have been fishing with him and his guides ever since for years.
My friend Larry Marek, who has helped me with my "Historical Fishing Display" at sports shows, joined our annual group. When Bret also talked about the great muskie fishing there we decided to take a try at it.
After arriving at the spot, and about 35 minutes after launching, Larry had landed a 48-inch monster. We ended up with five that day. Since then, more trips have resulted in some at over 50 inches. Alexander does guide for multiple species and starts with ice fishing, but after it melts he and his guides chase smallmouths, walleyes and those muskies.
The numbers for muskellunge from his boat alone was 237 this year with 67 over 50 inches and the largest taping at 56.
You can be among the first to get the latest info on where to go, what to use and how to use it!
---
Dan Basore is a fishing historian and steward of the history of the sport. In his efforts to preserve fishing history, he is always on the lookout for information about early lure makers, old lures, pre-level wind reels, manufacturer catalogs, tournament casting items and the like. If you possess information or materials of this kind, please contact him at 630-393-3474 or by email at [email protected]
All author posts
---