In His Own Words … Denny Brauer: Aw Shucks on the Outside, Bass Assassin on the Inside
We'll get to the whole story, but there's a fascinating turning point in Denny Brauer's life that took place on a job site. The kid who grew up in rural Nebraska had always been interested in fishing, and found it where he could, in creeks, farm ponds, and a few trips to actual lakes.
At this seminal moment, married with a young child, Brauer was a journeyman bricklayer, dust all over his jeans, work boots and hands to match. On a break, one of his fellow construction dudes let him borrow a magazine loaded with stories of people who fished bass for a living. Right then and there, his mind began to explore what it might be like to cast for bass and prizes, rather than spending each day lining up perfect rows of blocks.
Outwardly placid as a glass-calm lake, you would think it might take five gallons of gas to light a competitive fire around him, but on the inside burns a methodical will both long and strong, complemented by a sense for the right time to take calculated risks, no matter how life-changing they might be. He just seems to know what to do, whether testing the waters of tournament fishing, moving south to put himself in the thick of it, or closing out victories against the rest of the best in the world.
Over the course of a distinguished career, Brauer has weighed in nearly 9,000 pounds of fish in B.A.S.S. competition, finishing in the top 10 an impressive 79 times, winning 17, including the 1998 Bassmaster Classic.
A few years ago, a virus attacked him, taking half the capacity of his heart and lungs. But his love of fishing and life keep him moving right along, as he still fishes a few tournaments, represents his loyal sponsors, and continues to help develop products and teach us how to catch more fish.
What a nice guy, what an awesome tournament angler, and we are delighted and honored to present Denny Brauer, in his own words…
MidWest Outdoors: You spent the first four years of your life on a farm in rural Nebraska, then tragedy struck your family in the form of polio taking your father. Your mother moved you and two younger siblings to the edge of town, in Seward. As a young boy with no father to take you fishing, how did you get started in the sport?
Denny Brauer: We were on the east edge of Seward, and there was a little creek that ran through there called Plum Creek. We'd go down there and fish for whatever we could catch. Back then, being the oldest, anything I could catch was a free meal for the family. So I was fishing and hunting on my own by the time I was eight years old, rabbits, pheasants, whatever I could bring back.
The Blue River ran through the other side of the city, and we fished there, too. There was a city park pond that we would fish, and as we got older, we'd ride our bikes to some farm ponds, four or five miles. My friends and I would camp out on weekends, and that's where I really got into bass fishing, was on those farm ponds.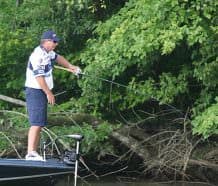 MWO: Did you teach yourselves how to fish?
Brauer: Absolutely, and I was fortunate to have a couple uncles who enjoyed fishing, and occasionally they would take me along to the sand pits or wherever they were going. But it was a learn-as-you-go experience for me.
MWO: You probably did not have a boat, right?
Brauer: No, not until I got into high school. For a shop project, we found an old sunken boat in the Blue River when the river was down low. We had drug it out of the river, it was an old wooden boat. Our shop project was to totally refurbish that boat. It was tremendously heavy, like all wooden boats are, but that's what I started fishing out of. Eventually, I graduated up from there to an old aluminum boat.
MWO: Picturing you as a little kid with some, but not a lot, of available fishing water, and no boat, and not a lot of fishing instruction, how in the heck did you turn out to be a professional bass fisherman?
Brauer: … Well, it wasn't something you dreamed about, that's for sure. I went to college for one year after I got out of high school, and that was all I could afford was that one year. I had an uncle that was in the masonry trades, and he got me on with him to where I could earn enough money to where I could go back to college.
But I decided to get into the union bricklayer trade, so that's the direction I pursued, and I did that for 13 years. I was married and had a child, and bass fishing was the furthest thing from my mind, as far as doing it for a living.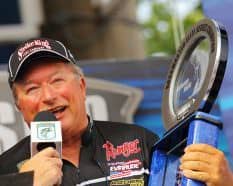 MWO: What changed, that led you down the path to professional fishing?
Brauer: I think it was in 1974, one of the guys I worked with subscribed to Bassmaster magazine, and he brought a copy along to work. We'd been spending a lot of time on the area lakes, just doing recreational bass fishing, and it intrigued me.
That got me reading about the tournament anglers, and I thought, "this sounds kinda neat," and I got a few guys together. There was no bass club in the Seward area, so we started the Blue Valley Bass Club, which still exists today (bluevalleybass.wix.com/bvbc) Editor's note: a "Dennis Brauer" is listed as a charter member.
In fact, a few years ago, they won national chapter of the year. At that same time, in the early 70s, I was able to save enough money to buy my first Ranger bass boat. They'd send a six-man team every year to the state tournament, and in 1978 I qualified to go to the state tournament at Merritt Reservoir. I actually won it, and got to go to the B.A.S.S. nationals. Then, I won it again in 1980 and got to go back to the nationals, and I think I finished fifth there.
You start to think, "man, it'd be neat try one of those professional tournaments." So in April of 1980, B.A.S.S. had scheduled Lake of the Ozarks in Missouri, which is only about a six-and-a-half hour drive from Seward. I decided to enter, never having really spent time on big water like that. I went down there and ended up finishing about 20th, and won $1,000, which seemed like a ton of money back then, and it triggered the desire to go try it again.
I was in the right place at the right time, and Ranger Boats was willing to help me pursue a few future tournaments. Next thing I knew, one thing led to another, and we made the move to Missouri, where I could guide and continue to pursue fishing for a living. It was something that kind of evolved naturally.
MWO: Still, it had to be a big leap of faith to move down to Missouri to be on the water and chase a dream with no certain future.
Brauer: It was, but it was a time when the building trades had slowed down because of high interest rates. And by moving farther south, it made for a longer fishing season for me, and I could make money guiding on Lake of the Ozarks and Truman Reservoir, it was brand new. I felt like career-wise, and family-wise, it was a good time to take the chance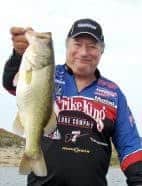 MWO: How old were you at that time, and what kind of a place did you move into?
Brauer: I was in my early 30s, and we bought a small house right on the lake. My wife worked at the bank in Camdenton. For the first four years, it was pretty tough making ends meet. In between tournaments, I might guide 30 to 35 days in a row, then off to the next event. Back in those days there weren't a ton of tournaments, so we fished about eight a year. You had to do something else to supplement your income, and there weren't as many sponsorship opportunities.
Then, in 1984, I won the first Bassmaster event of my career, at Sam Rayburn Reservoir, and that really kicked some doors open. That was also the time they started to televise some events.
MWO: Your success on tour was the most important factor, but how much did TV exposure help, in terms of landing sponsors?
Brauer: It was really perfect timing, career-wise. You looked at it like a four-year training program, and then you win a tournament at the same time they're starting to be televised, and that's when the endorsement opportunities really started to appear in the sport. And each year, you just tried to continue to build on that resume. My career grew as the sport grew, and I don't think there's a better time to be involved with anything than the main growing period.
Are you enjoying this post?
You can be among the first to get the latest info on where to go, what to use and how to use it!
MWO: Being a self-taught fisherman, once you were competing at the highest level in competitive fishing, did you continue to learn on your own, or did you associate yourself with a mentor at any point?
Brauer: No, it was pretty well self-taught. Back in those days, everybody pretty well kept to themselves, knowledge-wise. I would read everything I could get my hands on, all the magazines. You're just grasping for every little tidbit of knowledge, but time on the water was the real key. I think most of my knowledge came from guiding on Lake of the Ozarks and Truman reservoir. I was forced to be on the water day after day after day, to try to make it work financially. That put me out there on days when I didn't really want to be there, but you learn what the fish do when it's really cold out, when it's raining out, in all types of weather, and I don't think there's a better learning curve than time on the water.
MWO: You taught yourself how to fish and ended up on top of the heap, so you're the perfect person to ask: if we're just getting started in fishing, or want to improve, what should we do, to begin learning the art of fishing?
Brauer: I guess some of it depends on whether you want to just be a good angler, or a good tournament angler, because they're really two different animals.
MWO: We're talking about recreational fishing.
Brauer: I would say pay attention to the obvious things. Is the lake rising or falling? What's the weather doing? Is it a cold front, or has the weather been stable? If you observe things and think about how they relate to the fish, some of the answers become pretty obvious.
All week long you might be sitting at your job in an office, and you're observing the weather, knowing you're going fishing on the weekend. What the weather's doing leading up to that weekend will give you a great idea on how you're going to fish. If the weather's stable, the fish might be real aggressive. If there's a lot of negative stuff going on, weather-wise, you might have to slow down, really work hard, and expect a slower day, really grind it out.
Whether you're a golfer or fisherman or whatever, the more time you spend doing anything, the more comfortable you're going to get at it, and the more you make good decisions. Study up, learn, and figure out the seasonal patterns; that should become basic for you. It's springtime, so you know the fish are going to be wanting to spawn, so you look for them in the protected areas. You learn where to look for fish at each time of year.
Another real important thing is if you're not having success, don't get into that robot mode of picking a spinnerbait and throwing it all day. After an hour and it hasn't worked, either you're in the wrong place or you're using the wrong thing.
MWO: As another way of asking essentially the same question: despite the fact that we have better equipment and more advanced tech gadgets than we've ever had, do you think there are some fundamental ways of approaching fishing that we should focus on?
Brauer: Yeah, the more familiar you are with your equipment, your electronics, your boat, the things you do on the water become second nature. And ask yourself what you enjoy. If you're a recreational angler and you enjoy topwater fishing, don't be afraid to force it. You're going to have some days that aren't that good, but you're there to have fun. Don't get too caught up in it. Make it fun, keep it fun.
Everybody's got strengths and weaknesses. I even tell tournament anglers, if you're struggling, you have a bad day, just go back to what you enjoy doing the most, because you're probably the best at that, and you'll probably be the most successful at that.
Brauer through the years
Denny Brauer and his wife, Shirley, now live on the banks of sprawling Lake Amistad in southern Texas. They have a son, Chad, who fished professionally for several years, and three grandchildren.
"I live an enjoyable, simple life," he says now. "I'm fortunate to spend time with family, fish, and hunt. Those three things take up most of my time."
February 3, 1949: Born, in Seward, Neb. He spent his first four years on a farm about 30 miles west of Lincoln.
1953: Brauer's father passed away from polio, and his mother moved Denny and two younger siblings to a house at the edge of Seward, where he grew up. Denny has no memories of his father.
1978: Began his career fishing B.A.S.S. events, the Federation Chapter Championship on Lake Eufaula, Ala.
1980: Started his professional bass fishing career, fishing B.A.S.S. events, on Lake of the Ozarks. Later the same year, he moved from Nebraska to Missouri, to become a fishing guide and pursue the dream of professional tournament fishing.
1984: Won first B.A.S.S. tournament, the Texas Invitational on Sam Rayburn Reservoir.
1985: Won US BASS Angler of the Year.
1987: Won B.A.S.S. Angler of the Year, becomes first pro angler to appear on Late Night with David Letterman, where he attempts to teach Ozzy Osbourne the fine art of flipping. We suspect Ozzy already knew how to "flip," just not for bass.
1998: Biggest victory of his career, winning the Bassmaster Classic on High Rock Lake near Greensboro, N. C. Also wins FLW Angler of the Year, and becomes first bass pro to appear on the Wheaties (cereal) box. Also inducted into inaugural class of the Professional Bass Fishing Hall of Fame.
2012: Retired from Elite Series B.A.S.S. tournament competition, after a difficult year during which he was diagnosed with a rare virus that robbed him of half the capacity of his heart and lungs. "For most of that year," he says, "it felt like I was having a heart attack."
Also, moved from Missouri to the shores of Lake Amistad in southern Texas. It's a sprawling lake that fascinates Brauer. "It's a terrific puzzle," he says, "and a very rewarding one."
After regaining health, catches his biggest bass to date, a fish from Lake Amistad that "bottomed out two 15-pound scales," says Brauer. "It was the coolest experience of my fishing life." Testament to Brauer's love of fish, rather than fame, given that he won the Bassmaster Classic. Further testament: he let the fish go without taking any pictures of it. Do we believe him? Absolutely. His life, and career, comprise nothing but integrity.
Listen to more with Denny Brauer…
There's much more to our conversation with fishing legend Denny Brauer, and you'll find it in the Radio Podcasts section at MidWestOutdoors.com.
We hope you have time to listen to some of our other episodes as well. We'll see you there … it's time well spent.
You can be among the first to get the latest info on where to go, what to use and how to use it!
---
MidWest Outdoors editorial director Mark Strand is a graduate of University of Minnesota School of Journalism with a minor in Fisheries & Wildlife Science. He has written for nearly every outdoor magazine over the past 41 years, and has written or co-written 14 books. In addition to writing and photography, Strand produces the MidWest Outdoors Podcast, and contributes to MWO digital properties. He is an outdoor generalist who loves hunting and fishing of all types. In 2018 Strand was elected to the Minnesota Fishing Hall of Fame.
All author posts
---