Fantastic Fishing, Mouthwatering Meals, a Manitoba Masterpiece
A destination that has been on my bucket list for a number of years is Manitoba, Canada.
Over the years, I have fished many locations throughout Canada—Ontario, Saskatchewan, Northwest Territories and even Nunavut—but Manitoba has somehow eluded me. My Manitoba experience has been limited to the Winnipeg airport, as it is the central starting point for many fly-in lodges throughout Canada.
This past summer, I managed to accomplish my goal. My destination was a lodge that I had been keeping an eye on for quite sometime—Bolton Lake Lodge. Bolton has been a staple at many of the All-Canada sport shows, and I had spoken with the owner, Trevor Dick, for a number of years. What was really special about the trip was that I would get to fish with my youngest son, Logan, who would accompany me on the excursion.
Logan is in high school and this past summer was between his junior and senior year. He would be going off to college in a year, and the chance to spend a week in the wilderness with him before he goes, really appealed to me. We would get to relax and share each other's company without distractions. No better way to do that than on a beautiful lake, fishing trophy waters in the Manitoba wilderness.
Between some high-level demanding classes in high school, studying and homework, playing boys volleyball for school and a club team, looking at and applying to potential colleges, as well as spending time with his friends and girlfriend, Logan has a busy schedule. Many times we as parents, with our own daily hassles and stress, don't remember how difficult the pressures at that age can be. A fishing trip into Canada without those other distractions would be a welcome thing for both of us.
Bolton Lake is an American plan, fly-in operation in northern Manitoba. With no road access and being the only lodge on the lake, Bolton has its own private runway just a short walk from the lodge. Part of the Bolton package is a chartered, direct flight from the Winnipeg airport right to their runway.
Immediately upon landing, we were greeted at the plane, and our gear was taken to our cabin. We were told that breakfast was waiting for us in the main lodge. Not being accustomed to this type of pampering, Logan gave me that "this is going to be awesome" look of satisfaction.
After breakfast, and while we were unpacking our gear, our guide Barry dropped in to let us know that whenever we were ready, his boat was at the dock, gassed up and waiting for our first day on the water.
Bolton Lake is the only Manitoba lake in the top ten for master angler awards in three fish species: pike, walleyes and lake trout. The Manitoba Master Angler program is in its 50th year, the oldest program in North America. In order to qualify, a northern pike needs to be a minimum of 41 inches, a walleye needs to be 28 inches and a lake trout needs to be 35 inches in length. Being mid-July, we would primarily focus on the trophy pike and walleye fishing.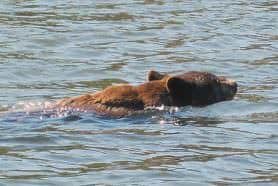 Our first stop was a short boat ride from the lodge to the western side of the lake and where the Bolton River feeds into Bolton Lake. Barry maneuvered the boat down the river to where a picturesque set of rapids told us that we couldn't go any farther. Positioning the boat just off the right side in an eddy just below the rapids, we began to cast Berkley Flicker shads, Yo-Zuri 3DB Vibe's and 1/4-ounce jigs tipped with Berkley Gulp and Uncle Josh Pork minnows right into the base of the rapids. As we bounced off the rocks below, it was thump, thump and then set the hook with almost every cast. The healthy golden, white-tipped predators were stacked just waiting to ambush our baitfish imitations. Logan was more familiar with northern Wisconsin fishing and not used to the type of fish-after-fish catching that Canada and Bolton Lake can offer. We kept a few fish for our shore lunch and released the rest.
It always amazes me how fast time goes when you are catching fish! After a few hours of walleye after walleye in the 17- to 26-inch class, it was time for a Bolton-style shore lunch. Typical shore lunches at Bolton and throughout many Canada lodges include fresh fish, baked or fried, along with baked beans, corn and potatoes. However, Bolton adds a "twist" to shore lunch by offering the opportunity for the guides to add their own creativity and chef skills to the meals. Barry seemed to really enjoy his shore lunch excursions and made walleyes with an Italian flair, a Cajun-blackened pike, and bacon-wrapped walleye fillets in addition to the traditional breaded and fried versions.
Fully satisfied from the meal, as well as the respite, we were ready to take on whatever Bolton Lake dished up for us in the late afternoon. Our shore lunch spot was just a short distance from the rapids, and it was too irresistible to not see if our walleye bite was still on—it was. So after a few more walleyes, Barry suggested we try another spot. I have heard many say to never leave a spot where fish are biting for another spot, but I don't think those people ever fished the rapids at Bolton. If we hadn't left then, we might never have. We decided to check out some Bolton pike action for the afternoon.
Slipping out near the opening of the river to the west of the lake, we drifted a large weed flat that was full of pike. Casting Mepps spinners that stayed just above the submerged weeds, we gave our Abu Garcia Revo reels a workout. We had follows, strikes and many boated pike within minutes of each other.
From there we drifted some northern shorelines around Baker Island and caught pike mixed in with some walleyes. We quickly learned that leaders would be an important part of our equipment, and tied them on to both pike and walleye rods, as many of the spots we fished had both species. The leaders didn't hamper the walleye bite in the least.
It seemed everywhere we went on the lake we caught fish. Clearly, our guide Barry saved the best spot for the last part of the day. Just before we had to return to the lodge for supper, we stopped at the spot called Hole #2, which was a weed flat within sight of the lodge where the big girls hang out. Barry helped pick out a few lures and we relaxed and began trolling the outside of the weed bed. I'd have to say within 15 to 20 minutes, Logan's reel screamed and Barry figured it to be a good fish. As Logan fought the fish, a smile came across my face, because there is nothing more enjoyable than watching someone you love catch a big fish.
A short while later, the fish was boated and Logan had his first Manitoba Master Angler pike—a 41-inch beauty. The fish was quickly immortalized with a photo and then released to eventually give another angler a fight for another day.
Bolton Lake is a catch-and-release fishery and you could tell that our guide Barry took that as an important part of his job. As soon as the pike was in the net, and prior to unhooking it, he reminded us to get our camera ready and set the stage for a quick photo and release. The proper handling and release of their trophy fish is what continues to make Bolton the quality fishery that it is.
What an amazing first day of fishing—unbelievable walleyes, topped off with a trophy pike! As far as the fishing part of the trip, it could have ended there as a huge success, but we still had three more days on the water.
Back at the lodge, we showered up and got ready for one of Bolton's full-course suppers in the main lodge. The meals at Bolton are first-class suppers, including appetizers, fresh breads, steaks, soups, salads, ribs and delicious deserts. Between the service on the water with our guide Barry and the terrific shore staff that owners Trevor and Jodi Dick put together, it's a no-brainer that they have an outstanding repeat clientele.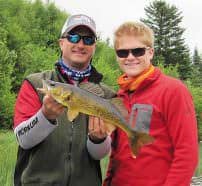 The cabins at Bolton are very comfortable. The lodge has eight cabins that can accommodate up to a total of 26 guests at any given time. They offer private rooms and cabins for groups of two, four, six or eight guests, and even larger groups with multiple cabins. They come complete with mini-fridges, living rooms with couches and card tables, full bathrooms and a deck over looking the lake. Fresh coffee is delivered to your cabin every morning with a friendly wake-up call prior to a cooked-to-order hearty breakfast.
The lake is almost 200 square miles, and with the maximum of 26 guests, that only means 13 boats on the entire lake at any given time. Being approximately 12 miles wide and 17 miles long, it feels like you have the lake all to yourself. Bolton also offers one-day fly-outs and two outpost cabins if you want even more remoteness.
As far as gear, medium to medium-light rods work well for the walleyes, and bring a few heavier, medium to medium-heavy rods for pike. I brought my Venerate series spinning rods that have extra- fast actions and a Midwest focus for the walleyes, and I combined them with Abu Revo spinning reels. For pike, I brought a medium-heavy Veritas spinning combo for Logan, knowing that he doesn't throw a baitcast combo very well. And for myself, I packed my Revo Toro Beast baitcast reel and a medium-heavy Villain rod, which is one of my favorites for casting for pike. The rod has a soft enough tip to cast the lighter spinners like #5 Mepps, but can also handle some heavier body-baits with good hook-sets.
Looking back on it now, the rest of the trip flew by as we caught more than our fair share of walleyes and pike, and enjoyed outstanding weather with lots of laughs and camaraderie both on the water and off. One of the best evenings, for me, happened after supper in the lodge on our last night. Another group arrived at the lodge with a boy Logan's age. Logan had brought his ukulele on the trip and found out that the other boy played guitar and ukulele as well. The two of them struck up an immediate friendship and entertained the guests and the staff by playing songs and singing for a couple hours that evening.
The other boy's dad and myself agreed to try and coordinate our trips next year in hopes that the boys can resurrect their musical evening. It also will guarantee that my Manitoba fishing wasn't an anomaly and will continue for another year.
Each fishing trip I go on seems to take on its own theme or identity. This father/son theme was one that I will remember and cherish for a long time. What they say about quality time with family and friends while fishing is really something that I strongly believe in. It can turn family members into closer friends and friends into, what seems like, family members.
For more information, feel free to stop by the Bolton booth at the All-Canada shows or give Trevor a call at 1-800-665-5321 and get into a Manitoba adventure of your own.
You can be among the first to get the latest info on where to go, what to use and how to use it!
---

Larry Ladowski is a regular host on MidWest Outdoors TV and has been writing for MidWest Outdoors magazine for more than 25 years. Ladowski enjoys any time on the water and in the field, no matter where it happens to be and no matter what species he is fishing or hunting.
All author posts
---