Mille Lacs Lake: Already on the Rebound
Central Minnesota's Mille Lacs Lake is one of the state's most unique and resilient fisheries, as well as one of its most dynamic angling destinations. Located only 100 miles north of the Twin Cities and just to the east of the similarly popular Brainerd Lakes region, "Mille Lacs" (for short) traditionally receives plenty of fishing pressure. It's continued to produce huge numbers of fish while weathering the cyclical ups and downs of baitfish and gamefish populations, a myriad of DNR regulation changes and slot limit adjustments, and modern anglers armed with cutting-edge electronics and angling techniques. Unlike many Minnesota lakes, it's never required walleye stocking programs to maintain the health of the fish population.
Now, the delicate balance between angler expectations and fisheries management policies regarding Lake Mille Lacs have clashed like never before. For the first time ever, the DNR closed the lake to walleye fishing back on August 3, and while the populations of smallmouth bass, muskies and northern pike are all in good shape, it's the lower numbers of walleyes that are the current cause for concern. And walleyes are this famous fishery's bread and butter for travel and tourism, and the livelihood of the resorts and businesses that ring the lake.
As this edition of IceBreakers goes to press, we still are awaiting word from the Minnesota DNR on what walleye regulations will be in place for the coming ice fishing season. There's even been talk of a closed walleye season on Mille Lacs this winter––a proposition that, until recently, no Minnesota angler could imagine, even in their wildest dreams. Ice fishing for walleyes on this frozen expanse is as much a tradition in these parts as mom's apple pie.
The facts are these: Lake Mille Lacs is a much heathier fishery than what's being characterized in the mainstream media and on the evening newscasts; if you ice fish Lake Mille Lacs this winter you will catch lots of walleyes, even if you're angling for perch; just as this lake has weathered every curveball thrown its way in prior years, the rebound that is already underway is remarkable; and the benefits for the fishery and anglers alike are numerous.
Noted Minnesota fishing guide Tony Roach, a member of the newly-formed Mille Lacs Fisheries Advisory Committee, recently offered some perspective on the lake's walleye population.
"I've been fishing the trophy smallmouth bass on Lake Mille Lacs this October, mostly pitching plastics along the deeper reef edges, and I can say with 100 percent certainty that the walleye population is already on the road to recovery. The 12- to 15-inch walleyes are everywhere in the lake—and I mean everywhere you stop to fish—and when you couple that with the fact that you're also catching those BIG walleyes that Mille Lacs is known for, the lake is in really good shape all things considered."
This bodes well for anglers catching walleyes through the ice this winter, even if it means restrictive policies with regard to keeping walleyes for the frying pan. For many folks, it's the action when fishing that makes the time on the ice or water worthwhile. The days of justifying a fishing trip by how many fillets you harvest for your freezer are over. Catch-and-release fishing has been ingrained in our angling culture for decades now, and slot limits are in place on fisheries throughout the country, and certainly not a justification to stop fishing.
"Lake Mille Lacs is a lot healthier than its being given credit for," says Roach. "This fall, schools of baitfish were clouding my electronics, and there were hoards of walleyes all over the place. The main concern for the DNR right now is making sure the existing walleye population—which is healthy—makes it to reproductive maturity, and they're trying to see that through in the short term, for the long-term benefit of the lake and the fishermen who love this lake," he says.
The advent of zebra mussels and the water-filtering capabilities of this invasive species means water clarity on Lake Mille Lacs is at an all-time high. The absence of wave action to stir up sediment when the lake is covered with a sheet of ice enhances the clear-water phenomenon. As a result, anglers need to adjust their tactics for angling success.
"The daytime bite definitely has shifted deeper—to the mud basin and the deeper transition areas where the deepest rocks meet the mud, of course the mudflats, and also the deep edges of the gravel flats where it transitions to the mud basin," Roach says. "You can still target walleyes on the shallower rock reefs but you really have to focus on the night bite or at least dawn and dusk to do it."
What remains to be seen is whether anglers can fish for walleyes this winter, or have to focus their efforts on jumbo perch and northern pike rather than walleyes.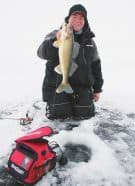 To stay on a consistent bite during daylight hours, mobility is the key, especially when seeking fish roaming vast areas of the basin or running the transitions between soft and hard bottom content. Focus on depth changes—for example, the 60-plus mudflats that rise 8 to 10 feet from the featureless basin are a favorite walleye and perch haunt—and drill lots of holes along the transition edges and keep moving to find active fish. Roach calls this tactic "ice trolling," and while the labor requires more dedication than sitting in one spot all day, the payoff is worth it. Experiment with a variety of jigging spoons (tipped with minnow heads or whole minnows) that you can "fish fast" from hole to hole. On days when walleyes are more aggressive, larger sizes like 1/8 and 1/4 ounce are perfect. When the fish get finicky, be sure to downsize to a 1/6-ounce spoon for best results.
While walleyes will tend to congregate on these changes in bottom content and depth, the perch typically roam flats during the winter months. While success in finding the schools can be hit or miss when you can't pinpoint their location in terms of structure, the ice trolling technique is the best way to catch more perch.
"The jumbo perch numbers are low," says Roach."There just aren't the huge schools in the lake we've seen in past years. The upside is, when you do find perch, they tend to be those big jumbos—the giants up to 14 inches. Those monsters are fun to catch, but you just can't expect to load up on them. Drilling lots of holes and moving to stay on top of these roaming fish is key in winter."
Lake Mille Lacs is one of Minnesota's premier winter fishing destinations. Area resorts and businesses offer a wide variety of accommodations, amenities, and price points. Lake access—via public access points or the plowed roads maintained by the resorts—makes navigating to fishing hotspots a breeze, and local knowledge can be tapped by booking with area guides or visiting the bait shops.
Explore this fishery via portable fish house and snow machine, or reserve a rental fish house from a Mille Lacs resort. The "Sleeper Fish House" tradition, for overnight fishing fun, has its roots here. For good times on the ice, Lake Mille Lacs is about as good as it gets.
You can be among the first to get the latest info on where to go, what to use and how to use it!