Crane Lake: A Northwoods Paradise
It was our first morning in Crane Lake, and we were already on the water when a beautiful sunrise greeted us. The evening before, we arrived in this Minnesota Northwoods community and unloaded our gear at Voyagaire Lodge & Houseboats. It was our base of operations for yet another summertime MidWest Outdoors TV shoot featuring both the houseboat operation and the beauty of Crane Lake. It's become an annual tradition to reserve Father's Day Week for a "working vacation" with family and friends, producing MidWest Outdoors TV segments highlighting great fishing, family fun and spectacular scenery on these Minnesota/Ontario border lakes.
We loaded our houseboat and sailed up the chain of lakes for a three-hour evening cruise, beached our "cabin on the water" in a protected bay, and built a campfire to accompany good conversation and S'more-making for the kids. In pre-dawn light the next morning, close friend Scott Walsh and I—along with MidWest Outdoors TV Producer Matt Pollack—geared up my Skeeter boat for a day of smallmouth bass fishing.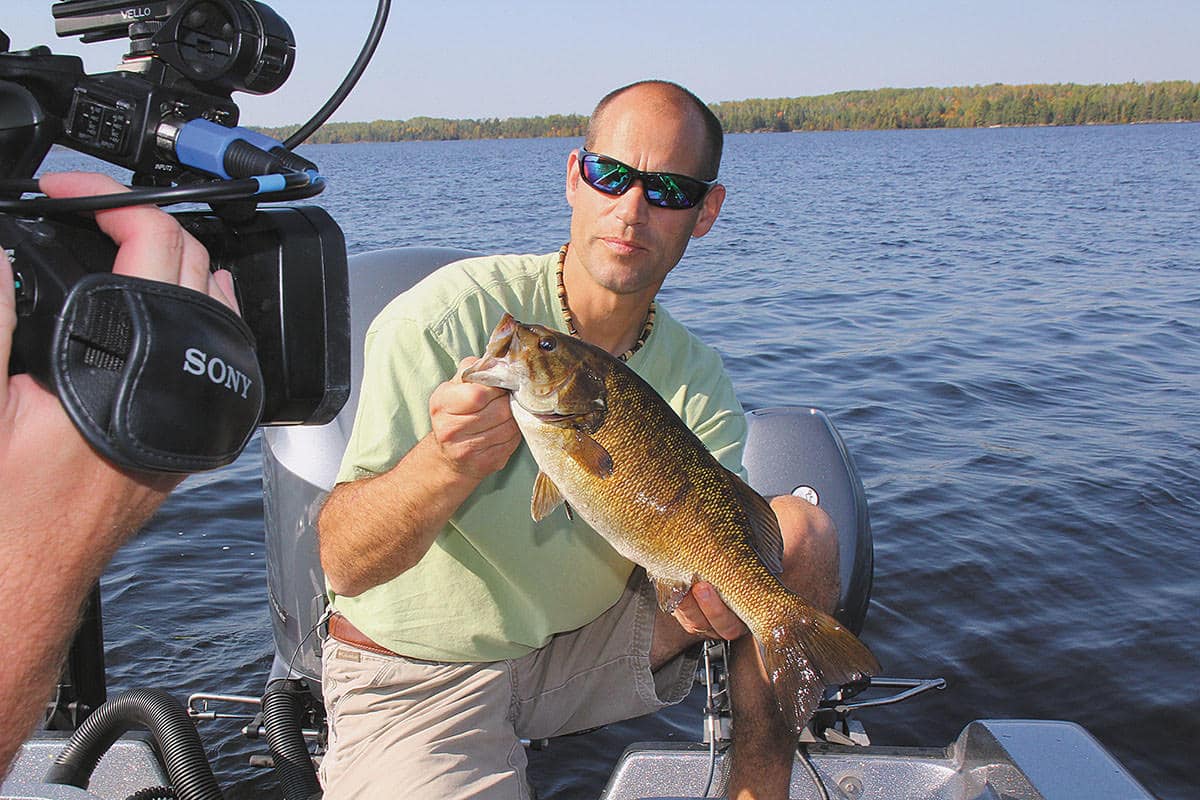 In the orange glow, Scott set his coffee cup down and picked up one of his topwater rods, flinging a cast toward the shoreline that stretched out from our mooring spot. The Rapala twitched just twice on the surface and a monster bass erupted on the lure. We quickly hauled it to the boat. The 18-1/2-inch fish was measured on the deck of the Skeeter and released, and before even untying our fishing boat from the back deck of the houseboat, we knew it was going to be a great day of fishing!
The Crane Lake area is a great destination for fishermen and families alike. This region encompasses famous Voyageur's National Park, a beautiful backdrop of interconnected waterways and forests, and the only "water-based" National Park in the nation. Here, the classic "Canadian Shield" terrain featuring exposed granite cliffs and shorelines offers ample opportunities for wildlife viewing. Bald eagles soar, and when boating through the Park you may see whitetail deer, beavers, otter, and perhaps a black bear. Rarely seen (but sometimes heard howling at night) are timberwolves. Bird-watchers, nature lovers and hiking enthusiasts will find a myriad of opportunities as well. One "must-see" is the famed Vermilion Gorge, where the rushing Vermilion Falls squeezes through a ten-foot wide gap in a stunning granite cliff, producing Class III to Class V rapids.
A wide variety of activities and accommodation choices are available, from the classic northern Minnesota resorts and lodges featuring lakeside cabins, swimming beaches, boat and pontoon rental, and docking for your own boat. Many of the lodges are "housekeeping plan," meaning the cabins come equipped with kitchens stocked with all cookware and utensils and you provide your own food and beverages. However, some resorts offer American plan meal packages as well. In town, there are local shops and motels, a marina and other services providing live bait/ice/fuel.
Several area restaurants promote a wide variety of menu items. There are fishing guide services, canoe and camping outfitters and floatplane operations in the event you want to take an aerial tour of the Park or access remote waters. Price points and activities for every budget await you in Crane Lake.
Crane Lake actually is a chain of lakes, an easily navigable waterway with channel markers and buoys that straddles the Minnesota/Ontario border. You can choose to enjoy your entire vacation on the U.S. side, or possess the proper paperwork to access the Canadian side of the system. Both U.S. and Canadian Customs & Immigration have offices and staff based in Crane Lake. As you venture up the lake, you'll journey from Crane Lake into Sand Point Lake, then into the expansive Namakan Lake and eventually Lake Kabetogama. Numerous smaller lakes and lazy rivers meander off the main waterway. The famous Kettle Falls blocks boat access to the adjacent Rainy Lake. There are so many boating waters and fishing spots, you'd need ten lifetimes to explore them all.
Great fishing spots keep us coming back to this amazing fishery year after year. Multi-species fishing opportunities abound. The number one species is walleyes, and you'll find plenty of saugers (a close cousin to the walleye) mixed in your creel. Spring walleye fishing means shallow shorelines, warm back bays with an abundance of minnow forage, and areas with some current rolling through. There is moving water throughout Voyageur's National Park and the Crane Lake Chain, as these lakes flow northward and eventually spill into Hudson Bay. Mid-summer through fall, walleye anglers key on main lake reefs—generally topping out anywhere from 15 to 40 feet of water—where schools of walleyes congregate for most of the year. Live bait presentations far and away produce the most bites: a lot of jig fishing, as well as live bait rigs featuring a slip-sinker inline and a plain hook or floating jighead, aid anglers in catching their limits. Tip your offering with a lively minnow or frozen shiner, nightcrawler, or leech. In these stained, whiskey-colored lakes you'll find bright jigs in variations of chartreuse, yellow, orange, and the popular UV color schemes are ideal for attracting walleyes.
In addition to great walleye fishing, large northern pike and muskellunge swim in these waters, and panfish enthusiasts will enjoy catching abundant yellow perch as well as slab crappies. However, for my friend Scott and I, we'll never pass up an opportunity to experience world-class smallmouth bass action, and Crane Lake is one of the nation's top destinations for big bronzebacks. There are so many good bass spots, it's staggering.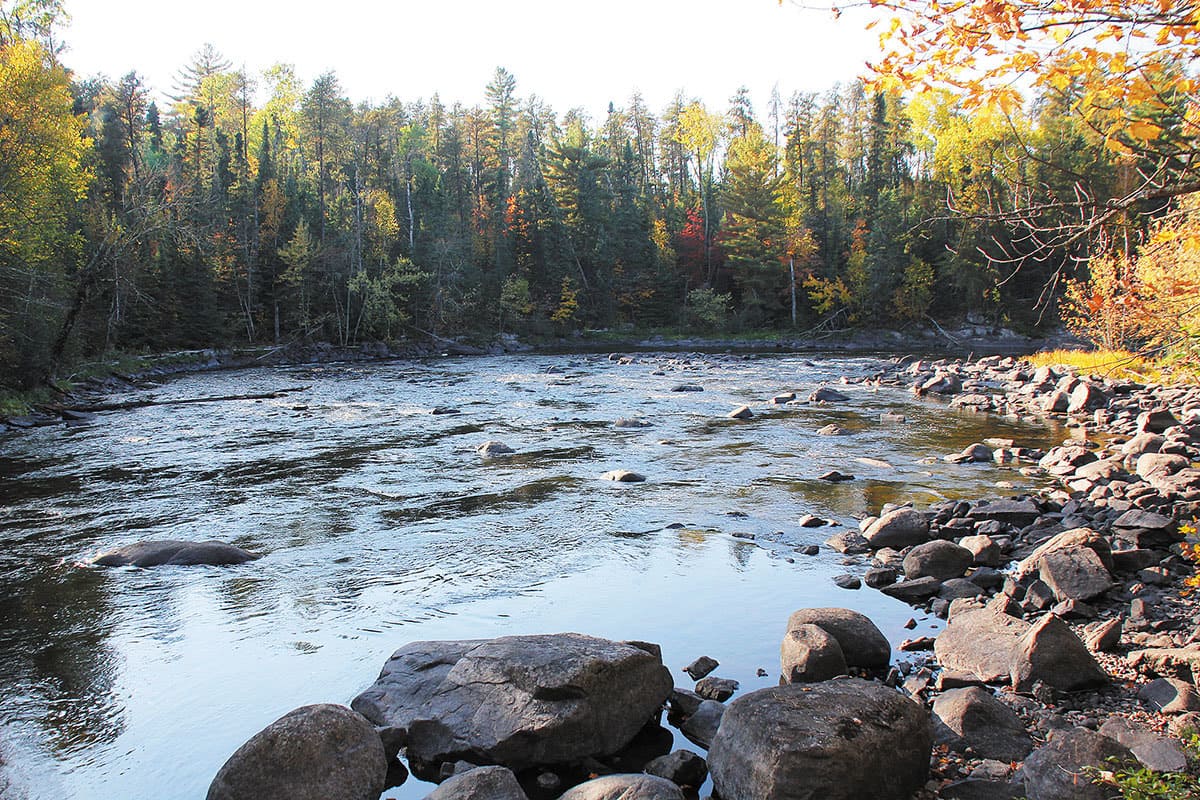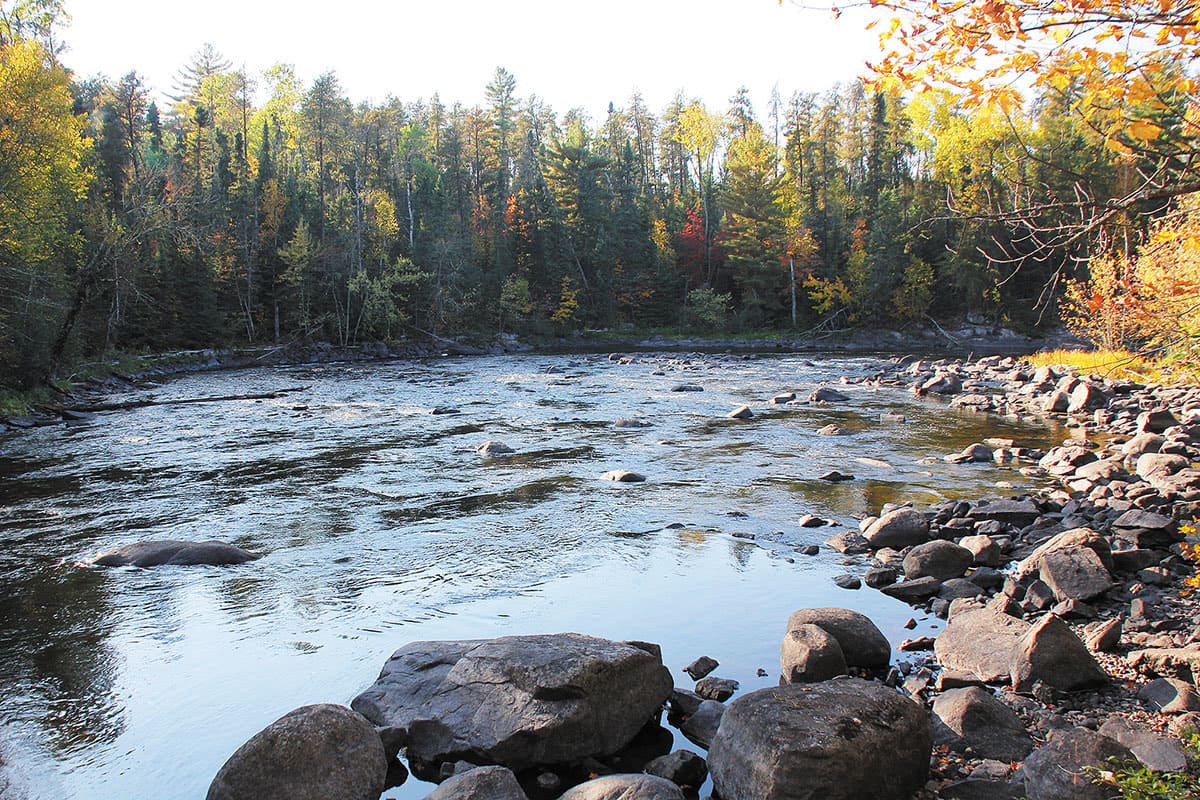 On some days when the shallow bite is going strong, you can literally step on your trolling motor, creep down the shoreline and hook smallmouth on virtually every cast. Of course, as any smallmouth angler knows, these fish can get finicky at times too, especially when big swings in weather or water temperature prevail. Over the years, Scott and I have learned to keep a wide variety of presentations rigged and ready to help us be successful at catching bass in all conditions.
We throw a lot of Rapalas, and the entire lineup of topwater lures have their place in your arsenal. Smaller sizes such as #5 or #7 are ideal choices, and you can experiment with colors to see what the bass prefer on a given day. Variations of silver often trigger the most strikes. When the crankbait or jerkbait bite gets going, we reach for ScatterRap Cranks (Shallow and Deep), #10 X-Raps, and Husky Jerks. Two of my all-time favorites for northern Minnesota bass are Glass Purple Sunfire and Tennessee Shad #10 Husky Jerks.
Inclement weather days, windy days, or mid-summer/fall patterns typically indicate it's time to fish the crankbait bite, but soft plastics also have their place in the lineup—especially when bass get finicky. One go-to option is a 4- to 5-inch twister tail grub rigged on a swimming jighead to trigger lots of bass bites. Tubes are another obvious choice, as are small jig worms. Stick with brown or smoke colors that imitate crayfish and baitfish and you'll catch plenty of bass. Yet another popular tactic employed by north country bass anglers is a hair jig—often a black Marabou-style is the first choice—that is pitched on light gear into the shallows, and/or gently retrieved back to the boat as you fish the first main breakline out from shore. It's a subtle presentation ideal for smallies that are "off the bite."
You can always tune in MidWest Outdoors TV to see segments featuring Crane Lake, and on the Crane Lake Tourism website you can view a library of MidWest Outdoors TV segments featuring fishing tips and trip-planning details. It may be the middle of winter, but we're already looking forward to more summer fishing adventures in Crane Lake.
Watch exciting action on Crane Lake Now! https://www.youtube.com/watch?v=bHD973LAV58
For more information, visit cranelaketv.com for more.     
You can be among the first to get the latest info on where to go, what to use and how to use it!