Exploring Minnesota's Crane Lake Region
One of Minnesota's finest destinations for sportsmen and families is the northeastern "Arrowhead" region of Minnesota and its border waters with Ontario. Here, a series of connected waterways weave their way north and west and eventually spill into Hudson Bay and the Arctic. Visitors can find some of the most diverse, rewarding fishing opportunities in the Upper Midwest with spectacular scenery.
Fishing, boating, canoeing, hiking and wildlife viewing are the main draws to this area in spring, summer and fall, while ice fishing, snowmobiling and cross-country skiing provide winter adventure. A huge variety of freshwater fish species beckons, chief among them are Minnesota's state fish, the walleye, also northern pike, smallmouth and largemouth bass, muskellunge, lake sturgeon, lake trout, crappies and yellow perch. White-tailed deer, moose, black bear, numerous furbearing mammals such as beaver, otter, mink, pine martens, red and gray fox, lynx and timberwolves join a healthy variety of bird species in the fields and forests.
Here's a quick overview of preferred angling tactics for three popular gamefish species in the Minnesota Northwoods during May and June: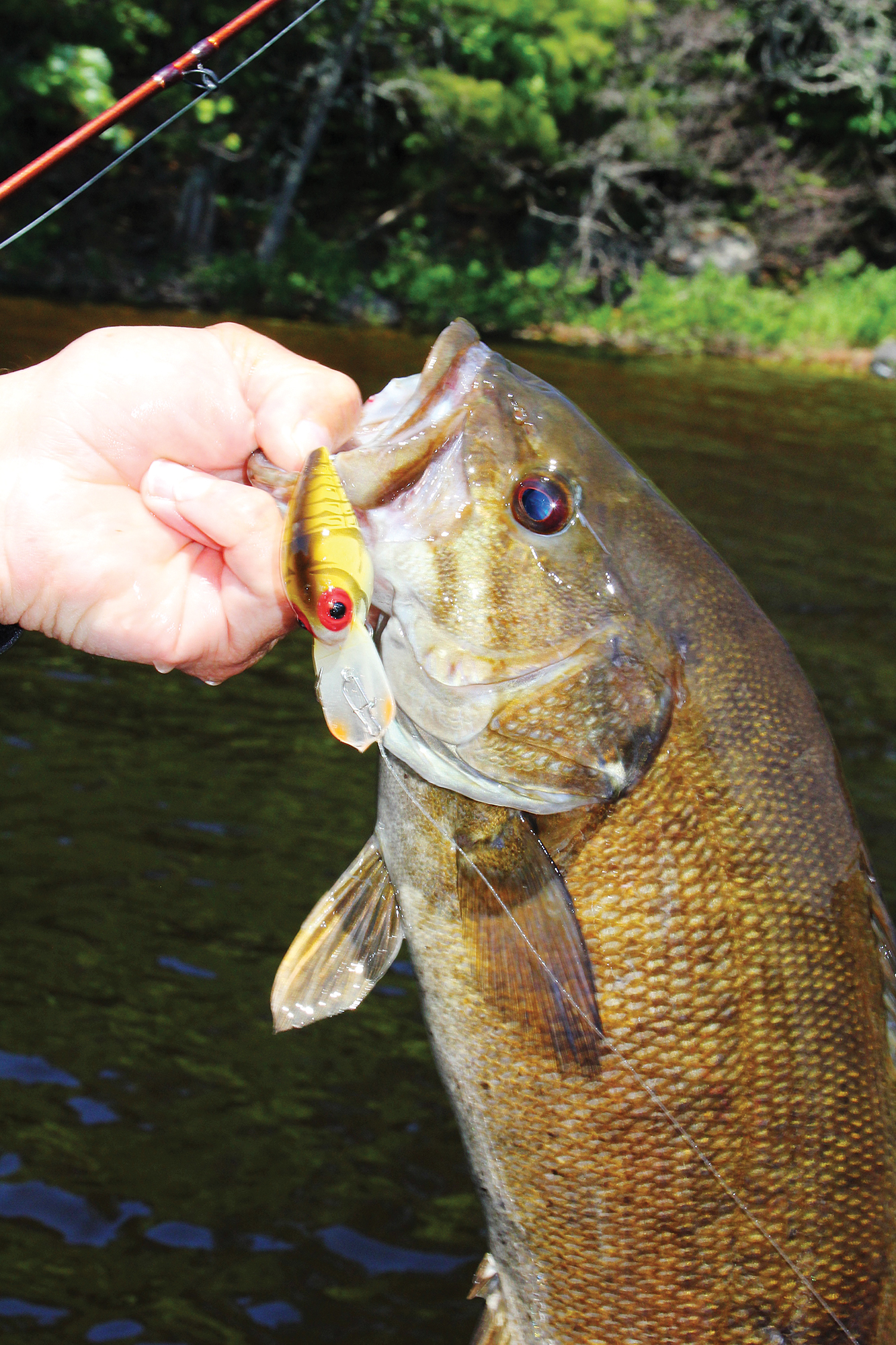 Walleyes
This species spawns shortly after winter ice releases its grip on the northern lakes, when water temperatures reach the mid-40s. After depositing their eggs on shallow, gravel substrate, large females migrate to deeper waters, often in areas with current that provides high oxygen content that assists with recuperation. Smaller males remain behind to roam spawning areas. Casting small, shallow-diving crankbaits or light jigs tipped with minnows or imitation plastics are ideal for catching eater-sized walleyes in the shallows, then switch to heavier jigs in current areas where larger fish may be holding. With so much flowing current and spawning shorelines in the Crane Lake chain of lakes, it's easy to find key spots that hold walleyes in May and early June.
Smallmouths
While the Crane Lake region has both largemouths and smallmouths, the latter are more dominant in these "Canadian-Shield" lakes that feature rocky shorelines as the predominant structure vs. lots of weedy, shallow bays. Some huge largemouths are caught from back bays each year, but you can cast along miles of shoreline offering prime habitat for smallies. When water temps reach 55 to 59 degrees, smallmouths will be in peak spawning mode, especially in tandem with the full moon phase. A variety of jerkbaits, crankbaits, plastic worms, hair jigs and topwater lures all produce numbers of bass.
Northern pike
Crane Lake does give up a few muskellunge every summer and fall—fish that have migrated from nearby Lake Vermilion, a muskie hot spot—and northern pike are common throughout this lake chain. True trophy potential can be hard to come by, but numerous smaller specimens are caught incidentally throughout spring by bass and walleye fishermen. To target northerns, locate emerging vegetation on the outer perimeters of black-bottom bays or cast and troll around rocky main-lake points adjacent to deeper water. Larger diving crankbaits and jerkbaits in gold or silver colors make ideal choices for open-water areas. Choose spoons, spinnerbaits or white paddle-tail swimbaits for the weed edges.
The northern Minnesota, border waters offer spectacular scenery and multi-species fishing action. You can choose to fish these waters exclusively or, with proper paperwork, enjoy the Ontario side as well. Both the U.S. and Canada have Customs and Immigration facilities located along Crane Lake.
For more information, go to visitcranelake.com or voyagaire.com.
You can be among the first to get the latest info on where to go, what to use and how to use it!