Shot Show 2017: The Whole Nine Yards part one
After 17 miles of walking over a four-day period according to my iPhone step counter, I'm here to tell you all that the gun industry is very much alive and well.
Shot Show 2017 needed more than four days, if you even came close to seeing it all. As I evaluated the total event, the thing that stood out in my mind was the massive continued interest in specialized ultra-long range shooting, and, shooting at medium ranges for accuracy. Right at the press room door on the second floor of the show was a booth covering brand new products that didn't make the big room "cut." The Product? A new rifle built by TACOMHQ that was different from anything I've ever observed in terms of bringing a rifle's action and barrel together.
Now, after over 40 years in the business that's saying something. Chambered in 300 Norma Magnum, the rifle was classified as a 2,000-yard shooter and had a barrel construction that involved harmonic porting and a long series of what looked like large washers set in place at varied thicknesses, all accurate descriptions. I talked in length with a young discharged U.S. Army sniper who had gone to work with the outfit. He indicated, by way of the correct lingo, that this rifle was no fluke.
All I know is I want to get one in my hands someplace down the line and see for myself.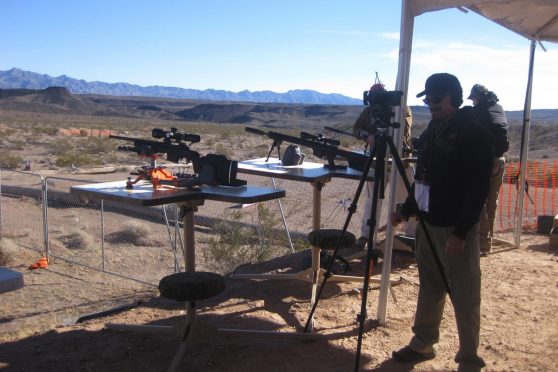 While that 2,000-yard smoke pole started things off for me at SHOT, it only got crazier as booth after booth featured receivers, barrels, complete chassis rifles and rail guns that were big, heavy and designed to shoot to the next zip code. Even the pre-SHOT "Writer Day" at Bolder City, Nev. pulled standing room-only crowds on the hill and bench rest stations that allowed 800- and 963-yard shooting to take place. Rifles were this year's state-of-the-art-tools, and I enjoyed shooting a custom-built chassis rifle with a Schmidt Bender sniper optic set in place to the almost 1,000-yard mark. Overall, I worked with three retired U.S. Army and special operations snipers on three stations with 308 and 338 Lapua chassis rifles when going long. Within an hour's time of the range opening for live fire you couldn't get near a long-range rifle until lunch was served.
In terms of specific rifles being illustrated, the new Winchester chassis rifle in 6.5 Creedmoor was such a new turn-bolt long-range system that it didn't even make the hard copy being handed out at the Winchester display this year. Little is known about the heart of this beast, but it would appear to be built along the lines of its competitors out there, and as is such with the Winchester brand, attached to it is a solid future ahead—my only question was, why so late in the game?
Weatherby, the fine high-quality rifle builder has introduced its second entry into the long-range rifle market by way of the Vanguard action in a suppressor-ready target/sniper-stocked barrel and receiver. I shot an early series of Mark V in 338 Lapua for my third long-range shooting book Rifleman's Tool Box—due for a spring release date—and the new Vanguard series looks a great deal like the basic Mark V setup save for the core action design and being chambered in .308 Win and 6.5 Creedmoor, with those cartridges being respectively 800- and 1,000-yard rounds.
Savage could be the ultimate leader in terms of ultra-long range rifles (1-mile systems) in that this company is now offering four models of turn bolts in 338 Lapua with several others built in variations and different chamberings of the base models. I've been shooting everything from the Model 111 Hunter/target, 110 Tactical, .300 win Mag, 110 Hunter in 338 Lapua, and 112 Heavy Target in again the Lapua cartridge. Currently, most shooting has been between 1,400 yards and a full mile downrange (1,760 yards). Basing most of my downrange applications in Federal American Eagle and Hornady 338, the results have been very positive and it keeps me in the game in terms of improving my skill set.
It was stated during the Shot Show that long range alone is responsible for massive amounts of product innovation and change. Optics are built this year by almost everyone that is anyone with open, fully adjustable turrets, zero stops, both first and second focal plane optic tubes and a host of reticles. As previously stated by me many times both in articles and books, the day of the basic deer riflescope is rapidly taking a backseat to far more advanced optics. Companies like Vortex, Bushnell, Steiner and Leupold, by way of example, are systems I use on all my big, long-range rifles and are pressing the development "button" while reaching for the ultimate long shot. "If you can see it, you can hit" it seems to be the phrase of the day in "rifle country."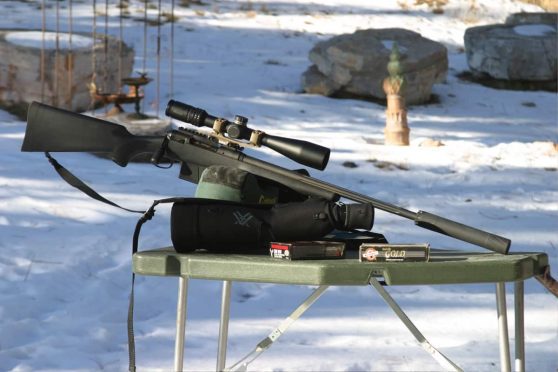 Even running ranging equipment in link (Bluetooth) with a riflescope system and your smartphone is a solid reality. When once only the very elite military units used such equipment, today the price has come down and made these systems more affordable for the average Joe that wants to hit targets in the next zip code. SHOT 2017 was jam-packed with these kinds of optics and more new rifle platforms than could ever be included in a single article.
In the final drive of big long-range rifles, CZ America has come up with the custom-shop hand-built 550 338 Lapua in a fully custom rifle from the bottom metal to the muzzle. Shooting this rifle on my 1,000-yard range against steel produced some very welcomed results. The bottom line is simply that I want one.
Are you enjoying this post?
You can be among the first to get the latest info on where to go, what to use and how to use it!
Right alongside the big CZ turn bolt is the bolt gun creation built in Montana, by Montana Rifles Inc. After shooting three good bucks with CZ's Model 1999 Sporter in 300 Norma Mag, I now understand how you can be in love with two women at the same time. Montana Rifles builds the 1999 in a scaled-up " Professional" 338 Lapua or 338 Norma Magnum. I would take a guess and state that this company would chamber about anything in the rifle to your liking. Also, these are tested for perfect operational performance, and dead-on accuracy. I have pressed these two fine examples of the New Age in ultra-long-range performance equipment because in this case I've observed them and have had some real-time experience afield with both at the same time. These are rifles that will see additional 1-mile and better work in spring.
In ultra-high-performance cartridge introductions, Weatherby has introduced the new 6.5/300 Magnum that is in keeping with the complete line of Roy Weatherby innovations in super-magnum options for big rifle functions. Nosler Bullets has also come up with a new souped-up .223 to add to their extensive line of preparatory cartridges. Coupled with Nosler-chambered rifles and the varied number of new rounds, it would seem as though Nosler is working toward becoming the new 21st century Weatherby of sorts. The questionable element regarding these new cartridge introductions centers on the rifle to shoot them in, and basic availability of ammo. Here in western South Dakota, several 6.5/300 Magnums have been already sold, but ammo has had to be custom ordered and in small amounts. Even so, being a Weatherby fan, and as in my flat-shooting Back Country 257 magnum and my old, trusted MARK V in 300 Weatherby, a pile of big game has come to detest the fall. And, I will try very hard to get the 6.5/300 in my hands this summer out here in the Wild West for some distance-stretching test shooting.
Leaving the high-priced hot stuff for a while, what about guys or gals who want to stump-sit or hang out in a treestand for whitetail deer? Believe me, Shot 2017 didn't forget about you folks at all. Savage has gone into the totally new line of AR rifles with Bushnell optics that rate right along with some of the best in the business. Also, Mossberg has continued to produce the "Patriot" turn bolt with a cartridge addition in 6.5 Creedmoor. These rifles are offered in carbine-length brush rifles, chassis rifles for static shooting and fully worked over rifles like the MVP-LR and MVP Predator. Again, as previously noted, the long-range bug is drifting into all brands including Mossberg, as they are even offering package rifles in their upper, but also affordable line-mounting Weaver bases and Vortex optics. I have been shooting the Mossberg "Scout" rifle and mounts and their standard turn bolt action in .308 for several months on open-prairie grass rats and I've not found a single issue with this nicely built, bolt-action, police tactical-style rifle.
Ruger is again standing tall with the whole American turn-bolt rifle line, and these are again accurate, well made, and are affordable stump-jumper or Dakota-style, pickup-truck-field, mobile-hunter rifles. The American is accurate, tough as hell and perfect for the backcountry adventure requiring a rifle that's waterproof, damage resistant and able to function in adverse conditions when called upon. Ruger's big news, however, is the new MARK V 22 Auto with the fast takedown configuration and the new in-the-box suppressor-ready Ruger Standard Auto. Tack on a new five-shot .44-Special snub- nose wheel gun—again, there's always something to check out when taking a look at a Ruger.
While on the subject of "suppressors," things could be changing for the better in this area of firearms product development. This year, I met with no less than two different outfits that will offer the rifle or handgun suppressor for under $500. Tack on the very possible elimination of the $200 Federal tax stamp that had never made any sense to me, and your in the budget realm of sound suppression for shooters.
In a meeting during the Show at an off-site location (a different hotel), CapArms, the Sibley, Iowa-based manufacturer, put its money where its mouth is and showed off a series of budged-based titanium rifle and handgun suppressors. The big-rifle system was in face exactly $500 less tax direct. While I'm suppressor-heavy at this time, shooting Gemtech, Dakota Silencer, Metro Gun/724 Orion, and having just received Mack Brothers' outstanding dual-purpose 30-cal/22-cal Varmint system, if that tax stamp dies in Washington, count me in for an additional CapArms special.
During a short meeting with Dale Mack, the builder of some very high-end mil-spec suppressors in Sturgis, I was interested in Dale's take on the whole idea of a budget-based suppressor. Dale informed me that coming from his side of the fence a great deal will change the vey first year the federal restrictions are lifted and suppressors go on on sale, lacking the federal money-pit guidelines.
"It will be crazy for a while," stated this gunsmith rifle builder. "After about a year, everything will slow down," he said.
In the small handgun market, again, there were several additional things that caught my eye beyond the new Ruger previously discussed. The big show in handguns is the comeback of the Colt Cobra .38 Special +-P .Yes—the Colt "snake guns" are returning, and this is the first of that old-school breed. A Colt rep said the new Colt Cobra is a classic wheel gun stainless steel shooter that uses the classic snub-nose design, which is great for concealed weapons carry, and that the gun has a trigger both double and single action to die for.
The final element to all this includes the steel targets the long-range boys use. But more and more general training operations and individuals have turned to hardened-face steel gongs and plates for both close-range handgun work and ultra-long-range rifle applications. As I wrote about, I worked a police-training event in the Salt Lake City area that was hosted by Action Targets TM. This outfit uses as much steel each year as would go into a full-sized Navy destroyer for steel target applications. At Shot this year on Writer Day we were pounding rounds downrange on Action Target TM long-range and torso steel regarding many of the writer-event-shooting stations. Currently, I shoot the oversize 40-inch steel gong on my 1-mile range re long-range rifle and bullet testing. And even with the heavy 338 Lapua, this system is holding up quite well. For short-range and medium-distance work, the smaller life-sized torso target gets the job done in spades.
As a totally new steel-target operation, the folks at Birchwood Casey and the major paper target folks are moving into the production and sales of steel targets that run from small units to the big-league, heavy, long-range rifle-shooting systems. Again, feeding the long-range and precision-shooting beast is evident once more in 2017. This shooting-sports advancement just won't end it would seem.
You can be among the first to get the latest info on where to go, what to use and how to use it!
---

Writing on outdoor subjects for over 40 years, L.P. Brezny has written four books on shotgun and rifle (ballistics and performance). He's an expert at smoothbore, and high-power, ultra-long-range shooting. He's a specialist, producing reviews covering general products used in the outdoors industry.
All author posts
---