Shot Show 2017 part two: American Firearms Alive and Well
In keeping with the sporting line of Shot Show products, the smoothbore firearms had new and interesting developments and new entries for 2017. Double guns in stack barrels and triple-tube systems came up with some innovative ideas in both new and upgraded current shotguns. Stevens, the bargain-priced outfit that has been bringing guns in from Turkey, is now offering the new Stevens 555 Enhanced version of the last year's over and under. The gun has done so well that this new upgraded gun, in both walnut stocking and engraving with a complete set of ejectors thrown in, has hit the deck running.
During the classic Shot Show, I got the chance to get behind the new Stevens 555 Enhanced. While I have never led anyone to believe I'm some kind of clays master, I must say I looked darn good behind the 555's receiver while crossing high-angle clays that just turned to black vapor over the twin-pipe barrels. With ejectors now added to the barrels and a retained, well-measured drop and pull, the gun shoots very well.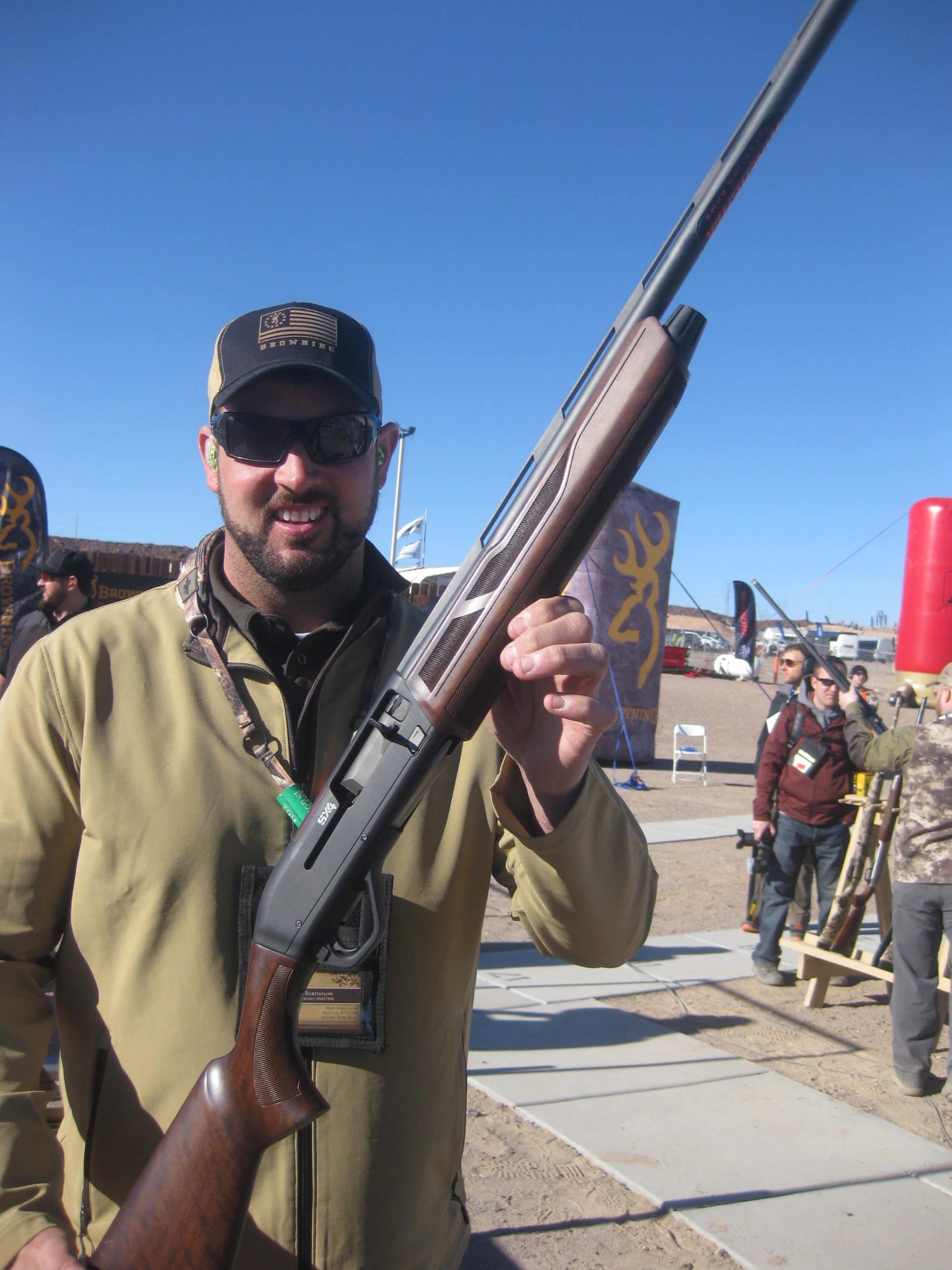 With a walk over to the folks at Caesar Guerini on the main show floor, the first thing I found out is that I was among shooters that I had done some sporting clays with in Mississippi. Right off we were on the same page when I questioned them as to what was new about their very upper-end shotgun line. This year, Guerini has moved off the mark a bit and is offering a set or series of ladies-designed over and unders. These are a middle-grade gun, and even one gun using a box-lock design on what would seem like a black anodized finish on the guns receiver, is offered. Save for some redesigning of butt stocks, the main frame Guerini shotgun has not changed. With some new wood design and new receiver metal work, the Caesar Guerini line of clays guns is a cut above most offered out there today.
Over the past two years, some of the big news was the Chiappa Triple Crown 12-gauge shotgun. There are some additional changes that Charles Daly has seemed to have entered at least in terms of what was set up at the Shot Show booth. This year, the three-barreled hinged gun is going to be offered in a nice set of short- and long-barreled .410-bore shotguns. Make no mistake about it—I love the .410 bore and with luck I will be pressing the new mini-triple bore into the field on both game and varmint this year. Built much lighter in weight than the previous 12-bore model, this gun's longer barrel and a special sort version are faster to handle and are better suited to take afield on a long walk for small game or camp meat.
While not totally new, Browning is still moving forward with their Cynergy Field stack barrel as a dedicated turkey gun. Dressed in Mossy Oak Break-Up Country or the new A-Tacs Foliage/Green and using a Dura touch metal treatment, the surface conditions of this gunning system is extra tough for ground-pounding, big-bird action. The ultra-tight long-range turkey choke tubes bring everything into line when Mr. Big walks into your kill net. When equipped with red dot sights on a wide vent rib, this two-shot gobbler killer stands out. I would like to get this Browning twin-shooter on spring trophy birds, and the company has indicated it will try and cut one loose for some field trials soon. The Cynergy turkey gun is a limited production model and is treated much like a custom shop rifle would be in the centerfire world. While I've hunted these grand birds for better than 60 years and harvested more of them then I can remember while shooting dozens of different smoothbore systems, I'd consider this shotgun as a dedicated turkey-harvesting system for personal use.
During last year's Shot Show on Media Day at the range, I did get the chance to shoot full-sized head/neck targets with the new stack barrel-designed turkey cannon. It was a system that totally obliterated a gobbler's head at 40 yards when touching off Winchester Long Beard 3-inch turkey loads. But not only have the stack barrels come alive this year at the Shot Show, but gas guns and recoil-operated systems have again made progress in terms of additional, advanced-development concepts. Some of the equipment I observed was so new that I was wondering if last year's election and gun-grabbing being less of a problem now had driven some of these very new shotgun models out of the R&D overnight with no announcements, hard copy or other normal industry trappings.
Fabarm has come out with a new gas autoloader that will take the recoil out of even heavy loads based on a new system of gas control and recoil absorption. The new LIS Black Sporting, and XLR Gryphon both retain this system, and when taken down, the gas system seems to be about as robust a unit as I have ever seen in a gas-operated shotgun. Even the forend grip cap is designed to never loosen and cause enough excess play in the forend to cause it to recoil against a receiver's front and crack. I've faced this problem over the years on no less than three different autoloaders, and it would seem that Fabarm has addressed the issue with success. The gun was also tested for thousands of rounds of continuous fire and it never gave up.
Winchester has offered the outstanding X-3 gas auto, and now has moved forward and offering the new Super X 4. I got a chance to shoot clays with the new gun and was hoping that no change had been made to the shotgun ergonomics. With the first bird rising, I was pleased to see a clays bird turn to black dust. Several additional targets followed, indicating my old, faithful X-3 stock dimensions had not been messed with the new X-4. The shotgun I tested was a wood stock field model, but rest assured as this gun will be offered in special waterfowl and target versions eventually.
Benelli has again upgraded the Super Black Eagle (SBE) by building the SBE III. The SBE III has retained some additional recoil-reducing elements in the butt stock and internal action modifications are there to make the gun function smoother.
On the Shot Show floor, I realized that over my 35 years of chasing new guns and loads around the world that I had worked through about every major development in both shotgun design and load applications by way-of-hands field experience. In effect, Ballistics Research & Development had been involved in about 185 events over 30 years that have been all about turning loose new firearms and loads against warm or cold targets.
Browning, as always, has been a major player in this quest for excellence in field-gun performance, resulting in the gas-operated Maxus Wicked Wing. The new shotgun has seemed to hit the primer on the head. I worked this basic gun as a prototype on the spring muddy stubble cornfields of central South Dakota when there were only eight of these guns in existence, and these guns didn't look at all like what was being offered at the Browning Shot Show display in 2017. The Wicked Wing is a classic waterfowl shotgun with a Mossyoak Shadow Grass Blade cover, a burnt bronze Cera Kote receiver and custom Briley extended operating controls. With an oversized bolt release—which was a long time coming—fighting the shotgun's action at 15 degrees below zero in a goose layout blind or dirt pit, was easier. With its heavy-chromed bore (back-bored, of course) and the new Invector Plus Blended choke, trigger and Power Drive gas system, the best of the best in a Browning Maxus has come of age.
Are you enjoying this post?
You can be among the first to get the latest info on where to go, what to use and how to use it!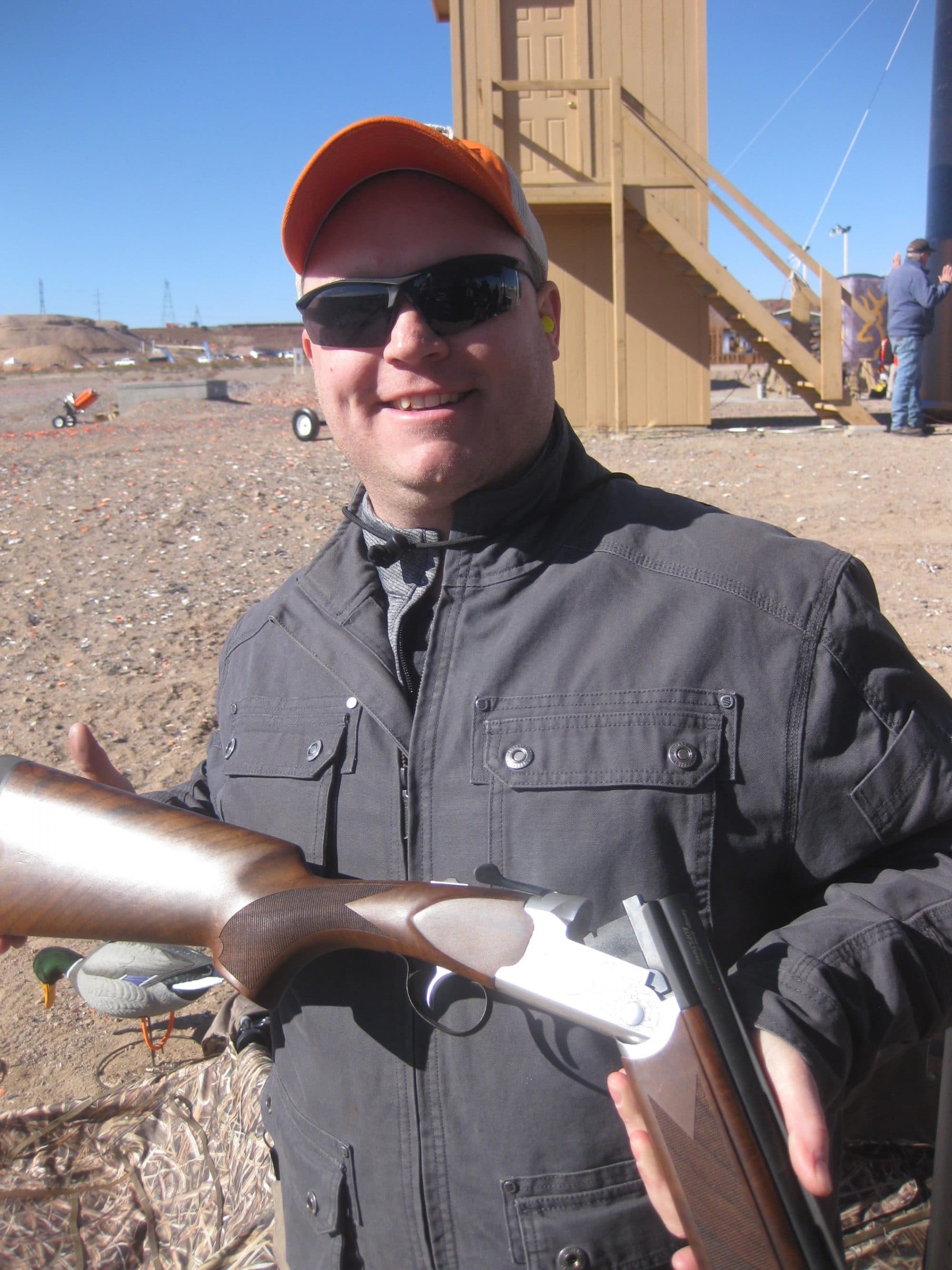 Also in the class of the Maxus, is the brand new A5 offered again in the Wicked Wing configuration. Prior to this, the early A-5s were black-coated aluminum and had a very nice gloss walnut that took a pounding in a duck boat or blind. That has now changed with the introduction of the A-5 setup with a tough Wicked Wing package with a receiver finish and camo-coated forend and butt stock, yet still retains the very workable elements of the first-released, gloss-coated, high-grade Browning A5.
While I've been leaning on advanced designs, without question, Remington has those in spades. Remington is taking a step toward the future. The well-received Model 552 autoloader and Model 572 pump-action rifles date back to my youth for the most part. Remington has resurrected the past and will continue to do so by revisiting other well-liked liked models that could include a few shotguns.
Along with a full line of Versa Max gas guns, Remington is also moving into the high-capacity three-gun competition shotguns. The Versi Max Competition Tactical and the 870 are being dressed in 12- and 13-round wonders for run and gun (three-gun) competition. I have little use for a gun shooting more than three rounds, but then there is the snow goose season.
In the arena of three-gun development, Mossberg has come up with several new 12-bore models. The Mossberg 930 field and Flex 20 gauge are among the newer high-capacity offerings. Currently, Mossberg is a leader in competition high-load-volume shotguns and I have the big 13-round "Saw," as I call her, or Model 930, in a camo white as part of a spring snow goose-welcoming committee. In the small bore market, Mossberg again jumps forward with a pair of pump-action .410s. The new 500 in the sub-gauge offering stands right alongside the 510 Super Bantam. Lightweight, adjustable butt stocks as a young shooter grows, as well as an easy delivery of a .410 bore, make up these starter-kit smooth bore shotguns. Be advised my fellow shooters, OF Mossberg offers a broader line of shotguns on the world market than any other maker. My personal wish is that we could see another side by side come out by 2018, but that is not my call.
You can't shoot a shotgun without ammunition. And after a somewhat slow-development phase of new shotshell loads, there'll be some changes taking place for 2017 with Federal redesigning their Black Cloud waterfowl loads to shoot in both smooth choke shotguns and vented models. I liked the "air-break" model wads that have been used in the past, but some people just don't seem to know how to screw in a standard modified choke and get patterns for the original Black Cloud used for waterfowl.
Federal has released a new field load Hi-Bird that makes use of a two-piece wad, making for better pattern control at long range and softer recoil against a hunter. Federal has also introduced the new Gold Medal Grand. This clays load makes use of an all-steel case head that will not constrict against the primer, allowing any possibility of failure with primer ignition. The primer lock system is also surfacing in the new load for this two-piece wad.
Browning is still advancing its complete line of in-house shotshell ammunition and will be offering a new BXD turkey-buster. These include a 12 gauge, at 1 5/8 ounces in the number 4s, a 3 1/2 inch, at 1 7/8 for the 4s, and a 20 gauge, at 3 inches, 1 1/4 ounces in a number 5 shot. All loads will leave a shotgun barrel at 1,200 fps. It would seem that Browning and its venture into the world of shotshell ammunition has been a success, judging by the increase in additional product.
This year, Winchester is bringing out a 20 gauge at 3 inches and 1 1/4 ounces in a number 6 load as a turkey-buster. This shotshell will carry the payload system designed around Long Beard—the established 12-bore turkey-harvesting system introduced two years ago. Long Beard uses a locked payload that is again something a number of us produced for long-range pass shots with geese back in the day. Locked shot in a capsule will fly straight and with a very tight, slow, opening pattern. I shot the load on Industry Day at the range, and yes, it will place more shot on a turkey's head and neck than the 10-gauge 3 1/2—it's a fact that loads of old back in the day could do this. Winchester has done a good job on the special sub-gauge offering.
Another newcomer still going strong is Norma Ammunition. Norma has continued to stay in the shotshell market. According to my sources, their sales are up about 25 percent over the previous year. It would seem that diversifying into rimfire cartridges for rifles and shotshells has been a good thing for that company.
Finally, Cabela's has come out with a line of low-recoil, sound-suppressed Herters shotshells that "make my day" with my Metro Gun Systems. Again, this is a new choice for purchasers of the no-federal-tax-stamp- required, suppressed, 12-gauge shooting system. Training ammo is big today with all the individuals with smaller-bodied frames who are taking up shotguns. I attended no less than three meetings as Shot that dealt with sound suppression for every type of firearm. As with rifles, getting the noise out is becoming important, and if passed, the elimination of the totally crazy regulations against suppressed systems will have a major effect on the industry's bottom line in 2017. Let's hope for the best in this area of shooting sports.
This review has been massive, and covers only a small portion of I observed at Shot Show 2017. The thing to remember is that the American firearms industry is very much alive and well. If you want it, someone is definitely building it, and you can take that to the bank.
You can be among the first to get the latest info on where to go, what to use and how to use it!
---

Writing on outdoor subjects for over 40 years, L.P. Brezny has written four books on shotgun and rifle (ballistics and performance). He's an expert at smoothbore, and high-power, ultra-long-range shooting. He's a specialist, producing reviews covering general products used in the outdoors industry.
All author posts
---