Ray Eyes Dishes up his Favorite Turkey-hunting Destinations
As a traveling professional hunter on an annual whirlwind schedule, I get a chance to visit with turkey hunters across America. They ask a ton of questions, but two stand out as the ones most often asked: "Where is your favorite place to hunt turkeys?" and "Could you please recommend a good, fair and honest outfitter?"
I'm asked these at sports shows, seminars, outdoor industry shows, the National Wild Turkey Federation convention and hunting camps. I always feel prepared to offer up suggestions. I should, after all I've hunted turkeys in 47 states, "old" Mexico and the Yucatan.
So, as a service for our MidWest Outdoors readers, I've decided to answer these two questions with not only the why, when and where, but additionally, I'll break down my recommended outfitters per wild turkey subspecies. I'll focus any extra information on my top two hunting locations.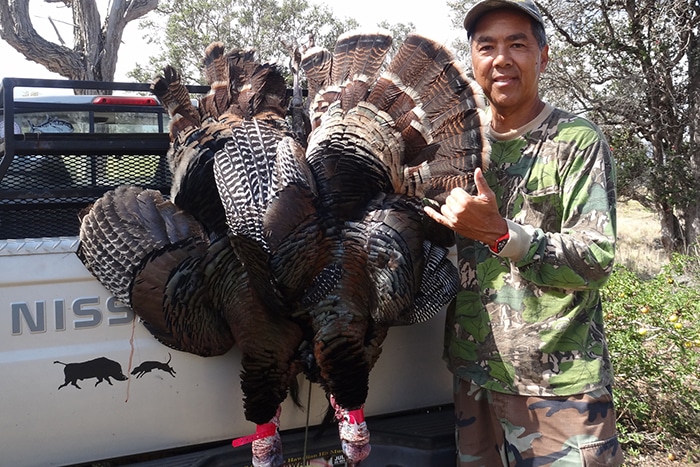 Eastern wild turkey
Missouri Ozarks is my choice of location, with millions of acres of public land, and a great outfitter there is Devils Backbone Wilderness Outfitters. If you book a hunt with Joe and Chance Hollingshad you'll have wonderful Ozarks opportunities for turkeys.
Rio Grande wild turkey
My favorite place to hunt Rio Grande turkeys is on "The Big Island," known as Hawaii. I have hunted Hawaii since 2003 with my great friend and guide Jon Sabati at Holo Holo Hawaii.
Merriam's wild turkey
My favorite place of all to hunt the Merriam's turkey is in Wyoming with Mike Schmid and his Solitude Ranch & Outfitters.
Florida (Osceola) wild turkey
My guy in Florida is Jeff Bydz at Tag It Worldwide.
Gould's wild turkey
I turn to a good friend I've hunted with a number of times down in old Mexico, Manuel Enriquez, to go Gould's hunting in the magnificent Sierra Madre mountains. His biz is called EL Halcon Lodge & Outfitter.
When you're ready
To book a hunt with any of the above, contact my friend and frequent hunting partner Tony Caggiano. He runs an awesome service that specializes in helping turkey hunters experience new places and new birds. Tony also provides extras that are definitely worth it. His company is World Slam Adventures, and his email is: emailtony@worldslamadventures.com. Or call them at 914-204-0405.
Are you enjoying this post?
You can be among the first to get the latest info on where to go, what to use and how to use it!
My favorite turkey-hunting locations
My all-time favorite turkey-hunting location is Hawaii. How could it not be? It is a long plane ride, but I'm one happy camper when I get there and see my aforementioned friend Jon Sabati.
Hawaii is turkey hunting's biggest secret, with a huge population of Rio Grandes and practically no hunting pressure. The scenery is beautiful with its breathtaking views, and you'll hear tons of gobbling. Take a vacation with your family, take a day off from the beach and get in some quality hunting. I have a Hawaiian turkey hunt video on MidWest Outdoors' website for you to experience a little of what a hunt here is all about.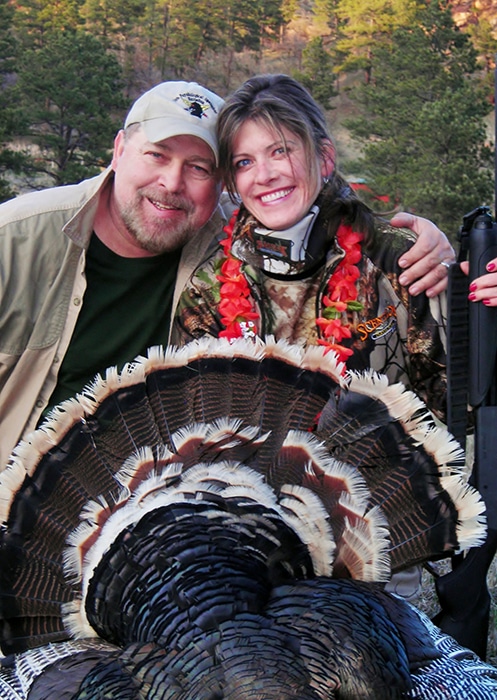 Second favorite: Ozarks
My number two destination is the Missouri Ozarks, the home of the original Eastern wild turkey, the most-hunted subspecies in America. Ozark country is rich in history, has beautiful scenery including old mills, springs, and fish-filled streams, and is where I grew up and started my turkey-hunting career. The return of the wild turkey to Missouri is one of the greatest success stories in American conservation history. With the state's turkey population approaching 800,000 birds, hunters harvest 50,000 each spring.
According to the Missouri Department of Conservation (MDC), more than 5,000 Eastern turkeys that were trapped in Missouri have been relocated to other states and Canadian provinces; they are the seed stock for flocks that have grown to numbers in the tens of thousands. The relocation program started in 1958 with turkeys trapped at Caney Mountain in southern Missouri and then being released in Ohio.
Missouri's Peck Ranch was also a major trapping location, boasting birds that were relocated to northern Missouri, Iowa, Wisconsin, Minnesota, Illinois and Tennessee. The transplant operation ended in 1984 when nearly 900 Missouri turkeys were released in Kentucky, Arkansas, Indiana and Ontario.
The creation of the MDC in 1937 was indicative of the citizens' desire to have the state's legendary fish, wildlife and forestry resources managed professionally. In the ensuing half-century, MDC has greatly increased the number and size of public land preserves in the Ozarks.
The U.S. Forest Service has 22 designated walk-in turkey-hunting areas on the vast Mark Twain National Forest. In addition, eight federally designated wilderness areas, totaling another 70,000 acres, are available on U.S. Forest Service lands in eight counties.
The Ozarks experience
To book a quality Ozarks turkey hunt well off the beaten path, Devils Backbone Wilderness Outfitters represents an opportunity to enjoy the rugged solitude and a chance to take a wild gobbler. This area is a unique blend of Missouri Ozark flora and fauna, characterized by hills, springs and the North Fork River. Joe and Chance Hollingshad are guides, and both have an intimate knowledge of the terrain and the turkeys you hunt. Call Devil's Backbone Wilderness Outfitters at 417-261-2606 or check out their website dbwo.net. If you book with them be sure to take fishing gear, too. The North Fork River flows through the wilderness and huge rainbow trout live in Spring Creek just outside the front door of the Osborn family cabin on the property.
You can be among the first to get the latest info on where to go, what to use and how to use it!
---
Ray Eye is an award-winning outdoor communications giant. Eye has a huge following with writing, radio, television and national seminars. This Missouri native is a Missouri Conservation Communicator of the Year, NWTF national Communicator of the Year and was inducted into the "Legends of the Outdoors" National Hall of Fame.
All author posts
---