Legends of the Fall: Ozarks Turkey Hunting on Public Land
Soft yelping is barely audible over the sounds of boots scurrying in the fall leaves. At first, I only catch movement, but suddenly multiple floating blue noggins appear within the orange and yellow understory. Setting my glass call on the ground, I push my video camera zoom to the approaching flock. As I slowly raise my gun, my partner in crime shifts his gun toward the fast approaching herd of fall turkeys.
This is not only my favorite time of the year, but also my favorite hunting season.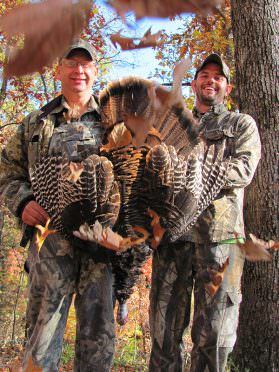 During the heat of battle of the fall turkey season in 2012, Pat Leonard and I were hunting our old haunts in the Ozarks National Forest—the same area we hunted turkeys more than 30 years prior. It is amazing to me that we killed a fall double on our second setup on our first afternoon hunt after preparing the turkey camp. The particular camp was set up exactly where we had it in the 1970s and 1980s for spring and fall.
While it was an exciting, fun, nostalgic event shared with my lifelong friend and hunting brother, Pat, I have to tell you, the best part is always our time together. The planning of this hunt, the careful selection of our campsite setup, the outdoor cooking and sharing a campfire means so much more to the both of us than killing a fall turkey.
The 2012 season in Missouri was a wonderful time, sharing the two camps and experiencing the cool weather and autumn's beautiful colors. Our first camp was where I roamed the hills as a boy, and our second one was on the Big Piney River during an annual fall media camp.
Well, once again it's fall turkey season and I plan on returning to the Ozarks. Maybe many of you will take the opportunity to share a fall turkey hunting camp with your friends and family.
I hope you enjoy this accompanying photo story of our fall turkey camp. Remember to have a great, fun season and to be safe out there.
Ray Eye is a MidWest Outdoors hunting instructor. He was raised in the turkey-rich hills of the Missouri Ozarks, and is considered the dean of America's professional turkey hunters. It's less widely known that he is an expert hunter for many other species. Eye has produced an online course, "Calling is Everything," that details how to call turkeys at any season of the year. Find it at eyesontheoutdoors.com.