Fall Turkey Hunting: Great Times, and Thanksgiving Dinner
Fall turkey season—beautiful fall colors, frosty mornings, unmistakable sounds of turkeys waking on the roost, the calling to a flock of gobblers and the crunching of leaves as a flock runs toward your setup.
Here is little-known information about turkeys and hunting in autumn: Forty-four states and two Canadian provinces host fall turkey-hunting seasons; we have approximately 7 million turkeys in America today; turkey hunting later in the year has no negative effect on spring turkey hunting; states can kill up to 10 percent of the flock in the fall without affecting the state's turkey flock; Missouri has more than 600,000 birds at their highest peak in the fall; and hunters only checked in 13,000 turkeys during a recent Missouri fall season.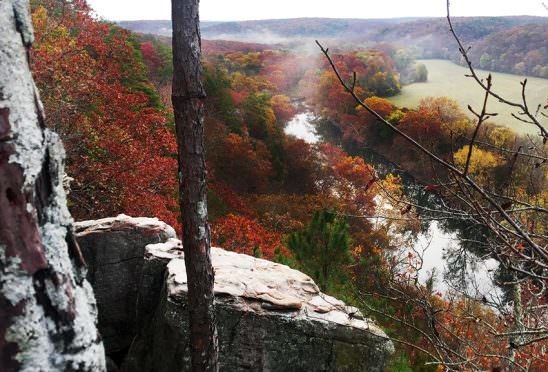 Fall turkey hunting is one of my strongest passions; it's because of my love for the Missouri Ozarks, strengthened by all those seasons every year since 1975. Certainly, it comes from the early years hunting the area as a little boy. Some hunters look at the fall season as the boring little stepsister of the sport, claiming it lacks the exciting calling and gobbling of spring hunts. Oh, if you only knew the truth you would then know why I like fall turkey hunting even better than in the spring.
A large percentage of Missouri turkey hunters only chase the birds in spring, so if I had to choose, I would pick fall gobbler hunting, hands down, over spring hunting. It's also important to note if you become a good fall turkey hunter you will be a vastly improved spring turkey hunter—you'll be able to call gobblers no matter what approach is needed. If you learn to these birds in the fall, you'll improve your odds in spring.
To me, and to the old-time turkey hunters I grew up with, autumn is the time for real turkey hunting. The social structure of turkey flocks function about the same year 'round, with one small window of opportunity, which is the exception when gobblers become preoccupied with breeding hens. At all other times of the year, including the so-called "spring mating season," hens are with hens, and toms are with toms. Jakes and toms will mix with each other; they separate according to age and social status and challenge each other constantly.
So, during fall (and spring), calling up any given bird is all about imitating that same bird. That's why I call it "bird-to-bird" communication. If you want to call up a gobbler, you'll have to sound like one. By challenging the dominant gobbler in a flock, you can then call those birds to you. By making turkey sounds, you can bring curious birds to you—the turkeys that are wondering who that new bird may be in their area.
Through gobbler yelping, cutting, using aggressive putting and purring, and other sounds, you can call up longbeard gobblers any day of the year.
The volume of calling and level of excitement you can stir up in the fall is unreal. When you get groups of big toms yelping, cutting, gobbling, strutting, running to you or bumping each other on the way in, you can then challenge yourself to hold still and get ready to make a good shot.
Find food, and you'll find fall gobblers. Unlike in the spring, turkeys are driven by food in now rather than earlier in the year, with the need to reproduce. Therefore, scouting food sources is one of the best ways to find the fall toms. Early in the season, look for soft-mast foods such as hawthorn, dogwood berries, wild grapes, persimmons and crabapples. Rounding out the smorgasbord are a variety of insects, assorted seeds, grasses, cherries and agricultural crops of clover, beans, small grains and waste grain left on the ground in freshly harvested fields.
Later in the autumn, turkeys feed primarily on hard mast dropped by a variety of oaks and maples, as well as other trees that produce nut-like seeds. However, the trick is to know the foods turkeys prefer and to find which foods are available in your hunting area at the time of your hunt.
Ray Eye is a MidWest Outdoors hunting instructor. He was raised in the turkey-rich hills of the Missouri Ozarks, and is considered the dean of America's professional turkey hunters. It's less widely known that he is an expert hunter for many other species. Eye has produced an online course, "Calling is Everything," that details how to call turkeys at any season of the year. Find it at eyesontheoutdoors.com.