Phenomenal South Dakota Pheasant Hunt
by Jim Quinn
I had always wanted to hunt wild pheasants in South Dakota—the stories you've heard over the years are true. The hunting we enjoyed in Huron was phenomenal. And it's a good sign when driving into town that you're greeted by a statue of the world's largest pheasant. We were hunting with Laurie Shelton, the president of the Huron Chamber and Visitor's Bureau, and her husband, Kent.
Our intentions were to hunt the birds three different ways: First, with a hunting group at a luxurious hunting lodge with open fields and woods, at another lodge by a large lake in cattails and thick cover and on local farms with mixed fields and cover.
Day one
The day broke clear, and we started with a large breakfast at Bucky's downtown, and then drove to Pheasant Phun, a top-of-the-line hunting lodge with lots of land.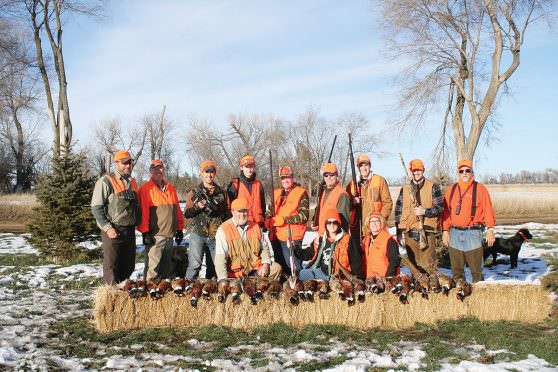 Hunting opens at 10:30 a.m. so we checked out the lodge with owner and host, Dave Olsen. When one enters, there is a large room and a long bar with overstuffed leather couches and chairs. As you continue in there is a hall with changing areas and top-notch sleeping rooms adjacent to the dining hall and a relaxing room overseeing fields on three different sides.
Our group of 12 hunters and six dogs started at an open field with low cover and harvested cornrows. We had 4 inches of snow on the ground, but temperatures were in the 50s and comfortable.
Dave lined us up about 60 feet apart and waved us to begin. We moved at a brisk pace with the dogs working 10 yards out in front. Then, the birds started flushing. When one went up we'd call out "rooster!" or "hen!" to help each other out. The action was very steady, with many more roosters than hens.
Later, we took lunch back at the lodge. Dave's mother Annie treated us to a home-cooked local beef meal, Alaskan salmon, and wonderful sides and her fresh-baked pie. Afterward, we hunted another field then regrouped to hunt a stretch of woods about 100 feet by 800 feet. Drivers and dogs worked the width of the woods with hunters flanking both sides.
Just as we started, an owl blasted out and flew 6 feet right over my head.
"Owl!" I hollered.
Most of the shooting was in the woods, but several roosters were nearby some standing corn—we dropped them.
Later, we thanked Dave and Annie for their hospitality and left for Lakes Byron Lodge.
Once at Lake Byron, we saw a flock of snow geese flying overhead then joining the others in the lake. Mike Lohr showed us the lodge and signed us in at the well-appointed lodge. The group included six persons with two dogs.
Are you enjoying this post?
You can be among the first to get the latest info on where to go, what to use and how to use it!
After posting two "blockers" at the area corners, we started into the heavy cattails and cover nearshore. This was "heavier" travel, but just as fun.
Kent spooked a doe that bounded for the corner and would've run over Danny if he hadn't clapped his hands when she was 25 feet away. In just four hours of hunting, we shot 29 roosters, all recovered by our dogs. And of the birds flushed, roosters outnumbered hens by 2:1.
Day two
After rising at a reasonable hour, we stopped by Manolis grocery store to pick up some of their well-known meaty sandwiches for lunch. We joined the local "coffee crew" for some hot brew under the old stamped tin ceiling.
Hunting would be on Danny Hofer's farmland and his neighbors' land, Eric and Windy Zell. Danny had an old, short bus with a high roof for transporting hunters, guns and dogs. It was white with hundreds of signatures all over the inside; if you hunt with Danny, you sign the bus. With our hosts, we totaled 12 hunters with six dogs, rotating four hounds at a time.
We hunted a variety of fields: harvested corn, sorghum and other great pheasant habitat. One field had 10-foot, wide rows of sorghum. Other sections were 9 or 5 feet tall. This was ideal for pheasants. At each area, Danny would drop off nine hunters for drivers and flankers, and then go to the end with two or three blockers. On his signal, the drivers would start at a measured walk. Calls of "rooster, "rooster!" went up as birds flushed, sometimes two at a time. Spaced as we were, we got shots off at nearly every bird.
This was pheasant hunting you dream about—wingshooting from every angle. It was a real joy hunting over these well-trained dogs. We all lost one bird in very thick tall cover, but Kent took his dog and doubled back and found it. When we were done on day two, we had harvested 35 roosters in only a few hours of hunting. Like yesterday, we flushed over 100 birds, with roosters over the hens at a 3:1 ratio.
Huron has a Midwestern family feel, and is surrounded by 26,000 acres of public hunting grounds. All budgets can work here, with five-star lodging to family farms, hotels, campgrounds and self-guided hunts. All cater to the hunter, are dog-friendly, have many with bird-cleaning stations or local drop-off bird-cleaning services.
Huron is home to the South Dakota State Fair and Splash Central waterpark and is situated on the Missouri Flyway, featuring excellent waterfowl and whitetail hunting to go with the abundant pheasant. The area has great mid- and late-season pheasant hunting and is easily accessible. Huron even has a regional airport with a runway of over 7,000 feet if you want to come in by plane.
If you've never experienced this type of pheasant hunting, you must give it a try. Once you do, you're likely to return again and again. These lodges and farms mentioned are just a few of the many great places to stay and hunt.
For more information…
Huron Chamber & Visitors Bureau, Hunthuronsd.com or 605-352-0000. For Pheasant Pfun Lodge, contact Dave Olsen at Pheasantphun.com, 605-266-2848 or 605-450-0501. For Lake's Byron Lodge contact Mike Lohr Lakesbyronlodge.com or 973-670-2331. For Danny Hofer Farm contact Danny Hofer at Danny@skywaysltd.com or 605-352-9262. For Zell's Farm Hunting contact Eric and Windy Zell at Zellfarmshunting.com or 605-350-4125 or 605-350-4189.
You can be among the first to get the latest info on where to go, what to use and how to use it!
---
We believe being outdoors is good. With more than 1,000 articles each year, MidWest Outdoors magazine is all about sharing outdoor experiences with you—where to go, what to use and how to use it… whether you're close to home or on that trip of a lifetime.
All author posts
---