Legends of Outdoors Hall of Fame
Meet your favorite hunting or fishing hero
Every August in Nashville, Tenn., there is a great event called the Legends of the Outdoors National Hall of Fame. While myself and other hunting and fishing professionals feel we do not require awards or recognition for what we love doing, saying it is an honor to be inducted into the class of 2013 is a huge understatement.
Without question, this is my favorite event of the year. The legends are easy accessible to the public and you can enjoy great food and fellowship with outdoor industry giants.
During last year's meet and greet at Nashville's Bass Pro, I interviewed several of the fishing greats from the class of 2015 (a video is available at midwestoutdoors.com/legendhall). The interview further explains the Hall of Fame. Also, Denny Brauer and Hank Parker's interview on what the Hall means to them is available on the website.
Legends of the Outdoors National Hall of Fame founder, Garry Mason, has released the 15th Annual Legends of the Outdoors National Hall of Fame's event date and venue for 2016.
A couple of my favorite inductees include Terry and Mark Drury, founders of Drury Outdoors, and Fred Bear (posthumously), who is known as "The Father of Modern Bowhunting."
Fred Bear is frequently referred to as this for good reason. No single person has done more to popularize bowhunting than Fred Bear. He was a great craftsman and inventor of archery gear.
Are you enjoying this post?
You can be among the first to get the latest info on where to go, what to use and how to use it!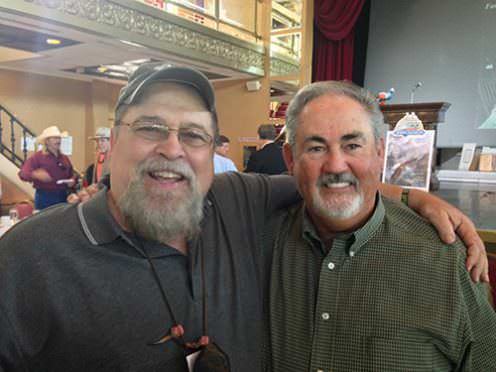 Bear started making archery equipment in the '30s, and founded Bear Products Company (which later became Bear Archery) in 1933. He received patents on numerous archery products until his death in 1988. One of the largest and oldest archery companies in the country wears his name today.
Mark has dedicated his life to bringing the outdoorsman the highest quality products available. His competitive edge comes forth whether he is in the field hunting trophy whitetail or the elusive wild turkey. It can be said, however, that his truest passion lies with land management and ensuring the quality of a healthy animal population on his farm.
Laying down a successful deer harvest on videotape with his daughter Taylor may be his biggest thrill of all. He and brother Terry have dedicated their entire careers to bringing that excitement into the viewer's living room year in and year out.
This year's inductees and guests will again be boarding one of the largest paddlewheel showboats in the country—the General Jackson Showboat/Music City Queen in Nashville, Tenn. On Saturday, August 27 dockside along the Cumberland River, boarding will begin at 9 a.m. and then followed with a banquet and induction ceremony at 10 a.m.
Ray Eye is a MidWest Outdoors hunting instructor. He was raised in the turkey-rich hills of the Missouri Ozarks, and is considered the dean of America's professional turkey hunters. It's less widely known that he is an expert hunter for many other species. Eye has produced an online course, "Calling is Everything," that details how to call turkeys at any season of the year. Find it at eyesontheoutdoors.com.
For more information…
The event is open to the public with an individual ticket price of $100. Sponsorship information and individual ticket reservations may be obtained through the "Legends of the Outdoors" website at legendsoftheoutdoors.com, or by calling 731-593-0171 or 731-693-7770.