Staying Warm on the Stand: Dressing, in Detail
When temperatures take a plunge, deer hunting November through late season in the Midwest can be tough. If you haven't prepared, freezing temperatures can mean a cold body core, chilly hands, and freezing feet.
Staying warm on the stand will keep you in the hunt. The longer you can stay put during frigid weather, the more likely you'll tag your buck. Deer have to move during extreme cold at some point and you need to be in the stand waiting. You can have all the patience a person could ask for, but if you get too cold, your hunt will be over.
It's time to gear up and put together a cold-weather system that will keep you comfortable on your deer stand. Proper layering and clothing for the body core, head, hands and feet will make your hunt more enjoyable. Here's some tips and information that will keep you warm and in the game.
Base layer
This is the first layer of clothing that you'll start with and probably the most important to get right. It should be tight fitting and compress next to the skin. For best results, use a material that wicks sweat away, and at the same time, keeps heat close to your body.
It's easy to work up a sweat walking to a stand. That's why it's important this layer is breathable and able to take moisture away from your skin. Good base-layer choices are made of medium to heavy weight polyester, polypropylene, merino wool, or silk. These will all keep you dry and provide a good first layer of insulation.
Don't use cotton for this layer. It'll absorb perspiration and become wet. When cotton gets wet, it no longer insulates because all the air pockets fill up with moisture. It will turn cold very quickly, and being wet while it's cold is bad.
Middle layer
Worn directly over your base layer, the mid-layer should be made of a different type material than the base next to your skin. It should also be a little looser fitting than the first layer—yet still snug. An excellent choice for this is nylon, military fleece thermals, or polyester and merino wool blends. Even the "long john"-type thermals are good for this layer, as long as it's somewhat loose fitting and synthetic. Cotton should still be avoided.
Insulation layer
Your insulating layer should create a loft (dead air space) between other layers. The higher the loft, the better it insulates, and the warmer you'll stay. It helps retain heat by trapping air close to your body. This layer can be optional depending on the temperatures and your tolerance of cold weather. But, if you don't wear it, it should be packed and carried.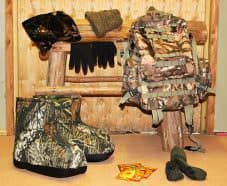 Good choices for insulation layers are natural fibers such as goose down or wool. You'll have to keep down dry to maintain its insulating abilities. Heavy classic fleece or wind-resistant fleeces are also good options.
PrimaLoft is at the top of the list for this layer. Being a down-like synthetic insulation, it continues to insulate even if it becomes wet. Ounce for ounce, it's as warm as down. It's also lightweight, compressible and very packable.
Fourth layer
This layer is a very important piece of your cold-weather system. It's your normal hunting jacket and pants—probably your typical cool weather outer layer and is usually your camo clothing.
The fourth layer can be a heavy or medium weight; it's your personnel preference. It should be loose fitting and allow room for the insulation layer. This layer should also be heavy enough to serve as a temporary outer layer when making long walks to your stand, packing in your outer cold-weather layer.
Outer layer
Your outer layer is the "shell" that protects you from wind, rain, and snow—while also providing the last insulation from the cold. Look for an insulated jacket and bibs, or coveralls with an attachable hood. They'll need to be windproof and water-resistant to protect you against the elements, yet breathable to allow some perspiration to escape.
Are you enjoying this post?
You can be among the first to get the latest info on where to go, what to use and how to use it!
Whichever you go with, they'll need to be roomy enough for all your other layers to fit and not constrict your movement. I prefer bibs with a parka for the jacket. The bibs provide an extra layer for your body's core and allow a little more mobility around the shoulders than coveralls.
Keep in mind that the outer layer should be carried or packed for long hikes to and from the deer stand. You can work up a sweat even walking short distances when you have all your layers on. So it's important that the outer layer is easy to put on and easy to take off. A full-length zipper on the legs of bibs or coveralls will help when pulling them over your boots.
Head, neck, hands and feet
Head: Body heat will escape through your head if it's not properly covered. You'll also want to protect your face and ears from any cold and wind. Pick a snug-fitting beanie made of fleece or polyester that'll wick away sweat. Add a wool balaclava over the beanie—this will also protect the face. Hopefully, you've planned ahead and your outer shell has an attached waterproof hood for any precipitation.
Neck: Don't forget about covering your neck. You can go with a base layer or middle layer that's a turtleneck. Combine that with a good fleece neck gaiter and you won't have any heat loss to worry about here.
Hands: Cover your hands; they're the first thing to get cold and the hardest to keep warm. Pick thin pairs that are not cotton—such as smart wool, polyester spandex combos, or Gore-Tex insulated. Add a fleece hand muff that can be strapped outside your outer shell at the waistline and your hands will be ready for bitter cold conditions.
Feet: You need to keep your feet warm and dry. If you can't, sitting for long periods of time is out of the question. Start with moisture wicking socks; this is absolutely necessary. Then add a layer of thick wool socks for insulation. Top that off with a good waterproof insulated boot, 1,000 grams of insulation at a minimal.
If you get sweaty feet while walking to the stand, here's a tip that can help: Buy a spray can of scent-free antiperspirant deodorant. Before you put on the first layer of moisture wicking socks, spray down your bare feet. Let them thoroughly air dry. Put your socks on and you're done. This will help keep your feet from sweating on your walk to the stand.
One more thing that will really help in the fight against cold feet is boot blankets. These are insulated over-the-boot covers for cold weather protection and will have to be packed to the stand. They have heavy-duty zippers making easy placement and removal. They're worth their weight in gold.
Pack it in
If you're hunting during really cold weather, you should have a good backpack with plenty of space for packing and spare pockets for storage. You'll need the space to pack boot blankets and maybe a spare insulating layer of clothing. Throw in a hot thermos of coffee or soup—this will get your body warm if you start to get chilled. Stuff in some HotHands hand warmers. Pack extra gloves, socks and headwear.
Choose a pack that you'll be able to add straps and tote your outer shell. Roll-up and tie your outer shell. Strap it to the outside of your backpack. This will make for easy carrying.
Wrapping it up
Some of the best post-rut hunting opportunities for whitetails are food sources on late season bitter cold days. Now is the time to gear up and be ready when the arctic blast covers your hunting area.
Dressing for the cold and layering up takes a lot of thought and planning. It's usually learned the hard way through trial and error—but taking these tips and combining them with what works best for you will ensure that you're able to weather the elements. You'll be up for longer sits on the stand, greatly increasing your chances for success.
You can be among the first to get the latest info on where to go, what to use and how to use it!
---

Andy Douglas is an avid hunter, outdoor writer, and photographer. He has been chasing whitetails, big toms, bass, and most game that can be had for over 35 years. He lives the outdoor lifestyle and is passionate about sharing with others through stories and photos. Email him at [email protected]
All author posts
---