Calling is Everything
If there is just one thing I've learned from my years of turkey hunting, it's that "calling is everything."
For me, it's the most important factor of turkey hunting, and realistic calling has more to do with my success than any other element. After years of hunting all across America and Mexico, calling is what makes it happen for me year in and year out and why I stress that calling is everything in turkey hunting.
I've dedicated investing 12 months out of the year following turkeys with my video camera, documenting all phases and seasons. Calling in the turkey world has reinforced the importance for me on how valuable good, realistic calling skills are for consistent success. From my research, my approach to calling in the turkey woods is dependent on what these birds are doing at the time I'm hunting them, how they feel and how they communicate with other turkeys during that particular time. I firmly believe that if more hunters would just pay closer attention to the turkeys at the time they're hunting them, and simply watch, listen and learn, turkeys will actually tell them how to call to and hunt them.
After years of guiding the media and shooting TV shows, without question, calling is a critical factor. In today's professional hunting world, myself and other pros hunt and call turkeys 90-plus days in spring from Florida to Hawaii to Mexico, in the West to New England and everywhere in between. With limited time per hunt, and to many places we've never been before, regardless of the weather or seasonality of turkeys, we have to produce results for TV shows, websites and national magazines. There is a huge difference between someone turkey hunting only a couple times a year and what professionals have to accomplish. It's easier for a new turkey hunter to think hunting is easy when alone on a perfect morning, the weather is good, gobbling is at its peak while most hens are on the nest and 2-year-old gobblers are running wild. But for pros, there's only a very narrow window of opportunity, as one's turkey season doesn't always fall into place during this phase. This is what separates part-time turkey hunters from the experienced hunters.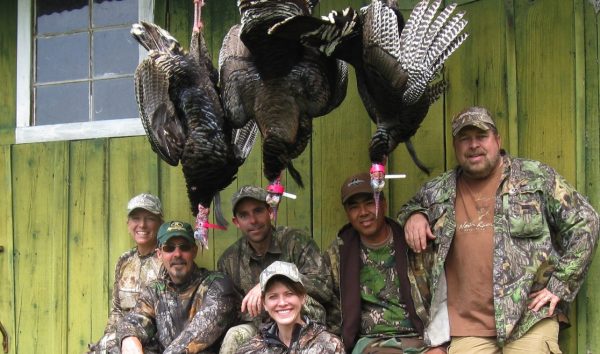 Wild turkeys communicate year 'round; we as hunters communicate directly with turkeys and lure them into a gun, bow or camera. And calling is what makes turkey hunting what it is. Hunters utilize calling for locating, scouting, roosting, and, of course, calling turkeys to the gun. The wild turkeys' survival is dependent on calling, communication, pecking order, hens with poults, fall and winter flocks, the mating season and recognition of danger, so how could it be possible that calling is not important to some? Calling is "overrated" and calling is "not that important" are statements I have had to contend with for many years, and even more so today.
Are you enjoying this post?
You can be among the first to get the latest info on where to go, what to use and how to use it!
During a spring season I was up in a New England camp at the last leg of a very long spring in early March in Florida. The age-old argument of "Woodsman ship is 90 percent, calling is only 10 percent, and calling is not important" went on late into the night. The next morning long before daylight, I'm hunkered down against the back of a huge oak, and my late-night arguing partner is sitting at the front base of the tree facing two roosted gobblers. The birds started gobbling like no tomorrow at first light. I didn't make a sound and never made a call—even after both toms made a fly-down and really blew it out. As the first gobbler turned to walk away, I still didn't make a sound.
My hunter friend turned toward me and whispered, "Why aren't you calling?"
I told him, "Calling is not important. Calling is only about 10 percent of turkey hunting."
Just as the second gobbler begins marching away, gobbling as he goes, my hunting partner finally relented and said, "You'd better hurry up and put some of that "woodsmanship" on 'em—they're fixin' to leave."
As pros or part-time turkey hunters, it's important to achieve the same reaction from turkeys with your calling as turkeys accomplish from their interactions with each other. And, that will only happen when hunters sound like a turkey. I or other pros are not trying to say anyone not calling is wrong, or when they do so they are performing it wrong. But if you do have success with how you are calling, that is great. I assure you, as a turkey hunter, if you call with more realism and are not afraid to call, and are willing to learn from the turkeys, you will consistently call and kill more turkeys. Calling is everything during all phases and weather conditions anywhere in the country.
You can be among the first to get the latest info on where to go, what to use and how to use it!
---
Ray Eye is an award-winning outdoor communications giant. Eye has a huge following with writing, radio, television and national seminars. This Missouri native is a Missouri Conservation Communicator of the Year, NWTF national Communicator of the Year and was inducted into the "Legends of the Outdoors" National Hall of Fame.
All author posts
---