6.5 Creedmoor: Function as a big game rifle
Although I have reviewed the 6.5 Creedmoor cartridge in two previous issues of MidWest Outdoors, I can't keep up with the flow of new ammunition and firearms associated with this Hornady chamber design.
Neal Emery, one of the Hornady guys who developed this round, informed me about current marketing figures. The 6.5 Creedmoor cartridge and paired .308 Winchester are neck-and-neck in a race across the counter at sporting goods dealers. While it took the .308 Winchester a couple of wars and about 30 years to achieve its current demand, the 6.5 Creedmoor has hit that mark in two short years. That says a lot about this new cartridge.
In its beginning, about the only available ammo for the 6.5 were 120- and 140-grain loads designed by Hornady. This ammo was primarily for punching holes in paper. Hornady A-Max bullets were game-getters, but hard to find. They were hole-drillers in steel and paper. Unfortunately, they just didn't have the right stuff to drop a big male coyote, pig or badger. They drilled pencil holes in warm targets. Long blood trails and long retrieves were the net result of most shots downrange. Now, a year later, the industry has exploded with load offerings for this marketing landslide cartridge. With that background, let the fun begin.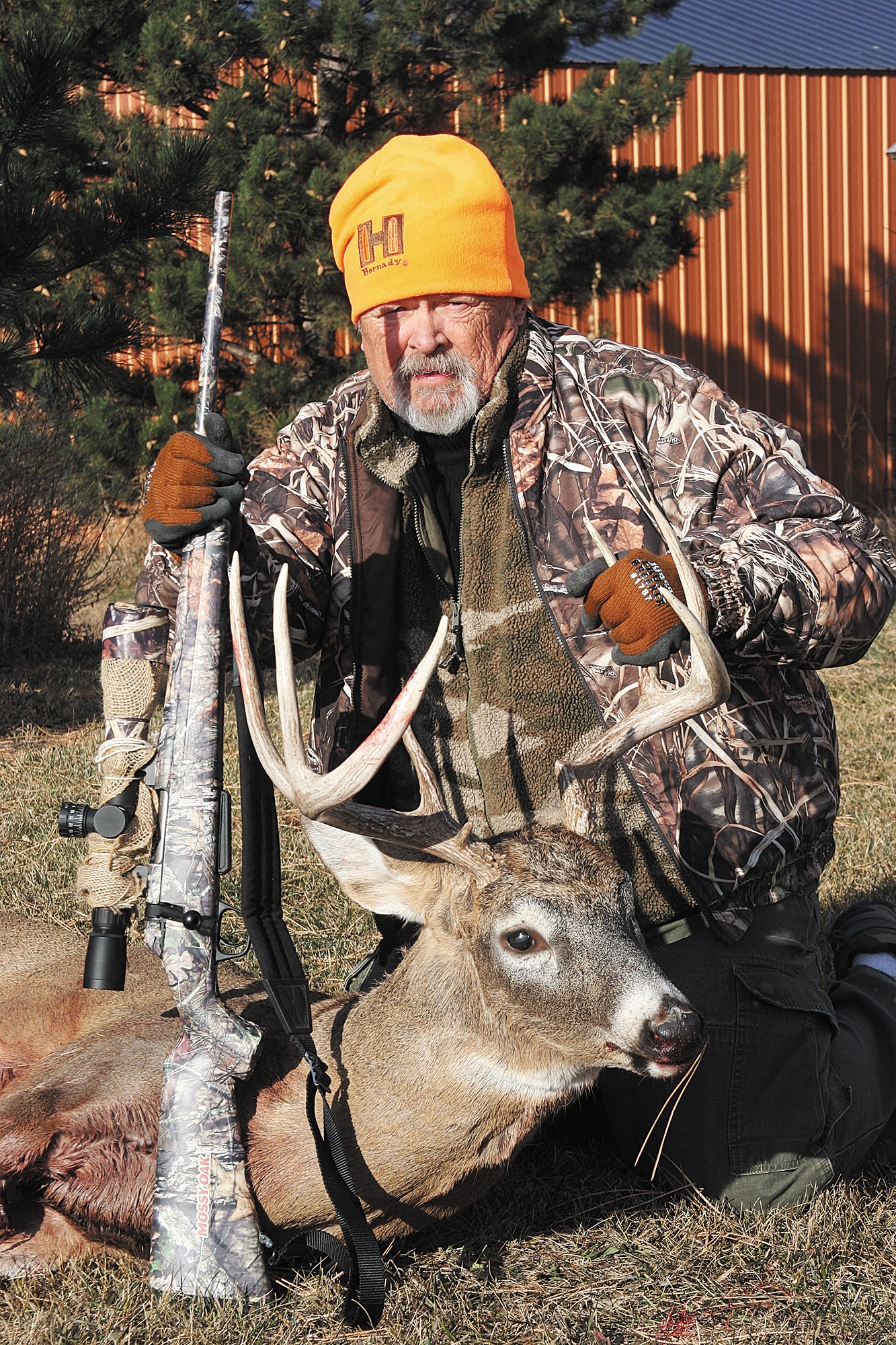 Coyote clipper
First targets up for the 6.5 were early spring song dogs in the White River, South Dakota area. All I had in house for shooting, at the time, were some factory Federal American Eagle, and Winchester Match target loads. I gave the first called coyote a standing shot at 75 yards. The bullet hit behind the first rib and returned a pencil pinhole strike and a wounded, running dog. My first three coyotes all required long tracking on blood trails and multiple hits. I am here to tell you that the coyote can take more punishment than is imaginable. I have tracked these critters as far as three miles in fresh snow, due to a poor hit, only to lose them.
Clearly, match-grade target ammunition was out of the question. This was a lesson learned about the new 6.5 mm round's performance as a target bullet. The industry had caught on that a pile of riflemen were about to go afield with 6.5 Creedmoors. Sales and performance potential was written on the wall. With a switch to 127 grain VOR-TX Barnes bullets, several weeks later, field performance totally changed. Even several poorly shot coyotes with the VOR-TX loads generated fast stone-dead results.
Deer dropper
Last fall, I received six new offerings in 6.5 Creedmoor for big-game applications. First up was the Barnes VOR-TX, followed closely by the Federal Trophy Copper bullet load. Third was the Winchester Expedition Long Range, pushing a 142 grain Accubond projectile. It illustrated 500 yard effectiveness on the box. Fourth to arrive at my door was the Winchester "Deer Season" 6.5 Creedmoor in a 125-grain new "Extreme Point" bullet design. Hornady's new ELD-X bullet in a 140-grain variant came next. The sixth and final cartridge was Hornady's 140-grain A-Max bullet, which should require little introduction. All of these rounds stretched applied ballistics profiles out to 500 yards or more. I was road-ready for deer and big game season.
Cornfield cover
After three days of hard-nosed hunting, I was the last hunter in our party to take an animal. It was a true test for the 6.5 Creedmoor. A local farmer and rancher said he had seen two massive whitetails go into a small strip of corn while he combined. They had not come out the other side. At that, I set up a small hide along a treeline, positioning myself so I could cover about 800 yards of the cornfield's edge. The field was more than a half mile long, but the rows came off fast as the big John Deere rolled.
Are you enjoying this post?
You can be among the first to get the latest info on where to go, what to use and how to use it!
My Winchester XPR rifle was zeroed at 200 yards, but I had developed some ballistics, printed them out and pasted it to my rifle stock. It was in a range card format that allowed me to stay point-on using m.o.a. graduations to 500 yards downrange. In effect, I designed a kill box from the muzzle to 500 yards that covered every angle that the target would possibly present himself.
Far downrange
Glassing by way of the just-released Nikon LaserForce binocular and rangefinder unit, I picked a bail of straw that was 555 yards from my extended-range mil dot. The Leupold scope was sniper-grade in m.o.a. configurations. It mounted open turrets for quick elevation and windage adjustments. After three hours of glassing and waiting, the buck emerged. He sent his doe out ahead of him, which almost screened the shot. My partner, Tom Hanson, was locked into his rangefinder and had indicated that my shot would be a bit over 400 yards. Within minutes of sunset and the end of shooting hours, the buck cleared the doe. It was now or never.
After the shot came a time lag, then a sharp crack returned. Tom indicated a hit. After going down hard the deer regained its footing as I pulled an additional one half mil in elevation. With the second shot, as it turned to leave, my bullet caught him in the vitals. The shooting was over as fast as it had begun. My first shot hit the mature 4X4 whitetail's shoulder, and had completely immobilized his left front leg. The second shot hit the lung area, taking out both lungs and damaging the top of the heart. A second ranging with the Nikon binos recorded the final distance at 451 yards. Later on, after completely examining the wound channel, I determined that the Winchester 142-grain Accubond had indeed done well, as designed for the 6.5 Creedmoor cartridge.
More to the tale
That first whitetail harvested with the 6.5 Creedmoor was far from writing the total story regarding the cartridge's performance. My outdoor friends on Facebook added to my database quickly. Gun writer friends knew I was headlong into the new cartridge. Since several of them were also shooting it for the first time in deer country, I obtained additional data regarding the cartridge's ability to bring down game.
Big game results:
Hornady 140 grain A-MAX: Whitetail shot through chest, head on. Bullet took out both lungs and cut up liver extensively. The bullet fragmented, leaving no recovery. Range: 115 yards.
Hornady ELD-X 147 grain: Crossing shot, deer close range on vitals. Lungs gone and shot through; no bullet recovery.
Hornady 140-grain Interlock handload: Cross vital shot deer at 228 yards. Lungs gone, liver in pieces with no bullet recovery. (This deer dropped in its tracks.)
Author's deer, two rounds: Lung, vital shot, total pass through at 451 yards. Accubond bullets not recovered.
Hornady ELD-X mule deer buck: Crossing shot, vitals, total pass through at 170 yards.
Hornady ELD-X elk bull: Vitals, lungs, top of heart. Bullet recovered, 90 percent intact.
Final points
At this juncture, I won't call everything about the 6.5 Creedmoor all good. For the most part, anything bad about the cartridge has been shared by hunters who put down hard-earned money on something else prior to the release of this new round. If sales, results, and flexibility are considered, the cartridge could well become the poster boy for new load development for some time to come. However, as in all new cartridges, only time will tell.
L.P. Brezny has worked in research and development across the shooting industry for 37 years. He has developed and marketed systems for 12 gauges, designed ammunition for Winchester and Federal Cartridge, designed separator quiet slugs, shotshells and one-choke do-it-all systems. Brezny was the first ballistics writer to measure shotgun pellets in flight to ranges as great as 100 yards. He has published three books on shooting (Gun Digest Books), and is completing a fourth on long-range rifles.
Get more from Brezny, long range ARs!
You can be among the first to get the latest info on where to go, what to use and how to use it!
---

Writing on outdoor subjects for over 40 years, L.P. Brezny has written four books on shotgun and rifle (ballistics and performance). He's an expert at smoothbore, and high-power, ultra-long-range shooting. He's a specialist, producing reviews covering general products used in the outdoors industry.
All author posts
---