Pheasant Leg Stew & Bacon-fried Squirrel
Pheasant Leg Stew
Don't throw away those pheasant legs and thighs. Try braising them. It's the same process as using your slow cooker. This is a great way to turn pheasant legs and thighs into tender vittles. Best of all, braising can be done in advance as in mass quantities. Save the legs and carcass in the freezer (vacuum sealed) and do a whole batch at once.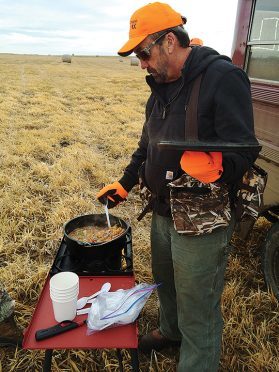 For Pheasant:
12 pheasant legs/thighs
1 onion, diced (can use cut ends of onion; throw no parts away)
1 cup celery, diced
1 cup carrots, diced
cooking oil
For Stock:
1 cup celery, diced
1 cup carrot, peeled and diced
1 cup yellow onion, diced
3 garlic cloves, minced
Bay leaf
Fresh herbs (rosemary is my go-to)
For Stew:
5 cups pheasant or chicken stock
celery, carrots, onions (remaining amounts from above)
1/2 cup flour
1/2 cup butter
2 cups mushrooms, thinly sliced
2 cups whole milk, optional (if omitted, add 2 cups stock)
1 cup cooked wild rice
2 cups cooked pheasant, shredded
Salt and pepper to taste
Pheasant:
Brown the pheasant legs/thighs in a large, lightly oiled, heavy-duty, oven-safe stockpot. Add diced onion, celery and carrots (saving some). Brown until the onions are translucent. Remove the legs. Add 1 inch of water and stir to deglaze stuck bits left on the bottom of the pot. Return the browned pheasant, cover and place in a 325-degree oven, ensuring there is always 1 inch of liquid in the pot. After 3 hours, test for doneness. Meat will fall off the bones when done. Cool the cooked meat.
Stock:
Return picked leg and thighbones to the braising pot. Add additional celery, carrots and onions (saving some), along with the minced garlic cloves, bay leaf and fresh herbs. Cover the contents of the pot with COLD water. Bring to a low boil. Reduce heat to low and simmer, uncovered for several hours. Strain liquid through colander lined with cheesecloth to clarify the liquid.
Are you enjoying this post?
You can be among the first to get the latest info on where to go, what to use and how to use it!
Stew:
Melt half the butter in a large pot over medium heat. Add remaining celery, carrots, yellow onions and cloves left over from steps above and cook until onions are translucent. Add the remaining butter. When melted, sprinkle flour over the vegetables and stir often for 3 minutes. Stir in 1/2 cup pheasant stock and continue stirring until smooth. Add remaining stock a little at a time with a ladle, while stirring. Add mushrooms and milk (if you want it a little creamy). Bring to a boil, then lower heat and simmer for 10 minutes. Stir in wild rice and shredded pheasant. Cook until rice is done. Season to taste with salt and pepper.
Bacon-fried Squirrel
Anything fried, squirrel included, tastes pretty good. The squirrels are first fried and then simmered in liquid until tender. Young squirrels taste much better than old ones. If you are worried about fat and cholesterol, eat a carrot.
4 young squirrels, each cut into
6 to 8 pieces
1/2 teaspoon salt
1/2 teaspoon freshly ground
black pepper
1/2 teaspoon garlic powder
1/4 cup all-purpose flour
8 slices bacon, chopped
1/4 cup onion, sliced
2 celery stalks, sliced
1 tablespoon fresh rosemary leaves, minced
2 teaspoons lemon juice
2 cups chicken broth
4 cups warm cooked rice
Combine salt, pepper, garlic powder and flour. Dredge squirrels in flour mixture. Cook bacon in a heavy skillet over medium heat until browned. Fry squirrel pieces in bacon grease until medium brown. Add remaining ingredients except rice. Reduce the heat and simmer. Cover and cook for about 1 1/2 hours or until squirrel pieces are tender. Serve with cooked warm rice.
You can be among the first to get the latest info on where to go, what to use and how to use it!
---
Known as "The Sporting Chef," Scott Leysath has been an executive chef for more than 20 years, and is a leading expert on cooking fish and game. Author of multiple cookbooks, including "The Sporting Chef's Better Venison Cookbook," he hosts "The Sporting Chef" and "Dead Meat" TV shows on Sportsman Channel. SportingChef.com.
All author posts
---