Pheasant Street Tacos & Roasted Quail with Pheasant Sausage Stuffing
Pheasant Street Tacos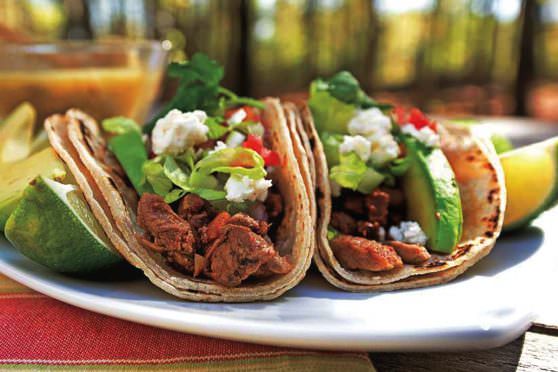 Americans named the handheld food "street tacos" after they were discovered being served by the street vendors across Mexico. The smaller-sized corn tortillas were doubled-up to keep the filling from falling onto the street while eating them. What you put in your street taco is a matter of personal choice. If pulled leg and thigh pheasant meat is unavailable, cooked and shredded breast fillets will do the trick.
1 2/3 cup shredded cooked pheasant
leg and thigh meat
1/4 teaspoon kosher salt
1/4 teaspoon ground coriander
1 pinch ground cumin
1 pinch cayenne pepper
1/4 cup fresh cilantro leaves, chopped
2 tablespoons olive oil
1/3 cup sour cream
2 tablespoons lime juice
1 pinch sugar
24 small corn tortillas
1/4 cup Cotija cheese (or any other preferred cheese)
3/4 cup pico de gallo (or a favorite salsa without peppers)
2 cups shredded lettuce
Are you enjoying this post?
You can be among the first to get the latest info on where to go, what to use and how to use it!
2 radishes, julienned
In a bowl, combine cooked pheasant with salt, coriander, cumin, cayenne pepper and fresh cilantro. Mix well. Heat oil in a large skillet over medium heat. Add the pheasant mixture. Cook, stirring often until hot. Whisk together sour cream, lime juice and sugar. Arrange warm tortillas, two stacked per serving, on a work surface. Top each with pheasant mixture, pico de gallo, shredded lettuce, cheese and radishes. Drizzle the sour cream mixture over each.
Roasted Quail with Pheasant Sausage Stuffing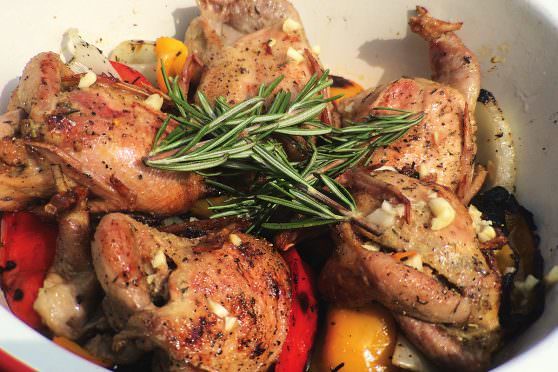 This is a great way to stretch a few upland birds into dinner and makes good use of an older, "toothier" rooster for the stuffing. If you are adept at boning out a quail while keeping the body intact, it will allow for additional stuffing.
1 1/2 cups pheasant breast, minced
1/2 cup smoky bacon, minced
1/4 cup red onion, minced
1 medium jalapeno pepper, seeded, minced
1/4 teaspoon kosher salt
1 pinch freshly ground black pepper
1/4 teaspoon dried oregano leaves
1 large egg
8 quail
Kosher salt and pepper
8 lemon slices
Preheat oven to 350 degrees. Season the quail liberally with salt and pepper. In a bowl, combine stuffing ingredients. Mix well. Divide the mixture in half, then halve once again, and finally halve it again once more for 8 equal portions. Roll each into a ball. Place one ball inside each quail for roasting. Place stuffed quail breast-side up on a lightly greased baking sheet. Place a lemon slice over each quail. Roast for 15 minutes or until golden brown.
You can be among the first to get the latest info on where to go, what to use and how to use it!
---
Known as "The Sporting Chef," Scott Leysath has been an executive chef for more than 20 years, and is a leading expert on cooking fish and game. Author of multiple cookbooks, including "The Sporting Chef's Better Venison Cookbook," he hosts "The Sporting Chef" and "Dead Meat" TV shows on Sportsman Channel. SportingChef.com.
All author posts
---