In his own words…rob keck: raising turkeys and responsible hunters
When you trace hard-earned successes in conservation, it's often a simple matter to spot leadership, personal passion and influence used for the good purpose of motivating co-workers and volunteers. A willingness and confidence to be out front, to be a clear voice that calls up a legion of critical mass on behalf of an important cause.
Such is the story of Rob Keck, for many years the face and voice of the National Wild Turkey Federation, who asked us all to answer the call, week after week, on television, in the pages of NWTF magazines, in sports show halls, and anywhere else hunters gather.
Over the years, Keck has not only helped drive the growth of turkey hunting; as his influence grew and he found receptive ears among national and world leaders, he has often been our voice in private moments that can tip the odds in favor of wildlife and wild places. Comfortable in the spotlight, ready for each new challenge, he is now Director of Conservation for Bass Pro Shops, a stump that showcases his desire to support habitat work, forward-thinking legislation, and help citizens understand the vital role hunters play in the North American model of conservation.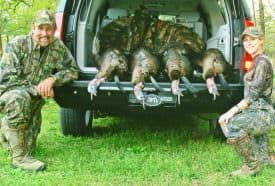 He raises awareness by simply stepping into the room. He chooses to use his influence to leave our country better than he found it, something we can all help with. So in the spirit of conservation, we present Rob Keck, in his own words…
MidWest Outdoors: We all think of you as a turkey hunter, so it comes as a bit of a surprise to learn that you actually got your start hunting pheasants.
Rob Keck: Well, I did, because when I was a youngster, we had lots of pheasants, but there were no turkeys in the southern part of Pennsylvania. The career that I had with the National Wild Turkey Federation took me all over North America and beyond, but as a young boy, we didn't have turkeys to hunt.
MWO: Among the many places NWTF helped plant turkeys, your home area is on that map, right? You eventually hunted turkeys near your childhood home.
Keck: That was something important to me on a personal level. I was there to help release turkeys in the county that I grew up in. It was ringneck country, but now there are virtually no pheasants. To be there for the first wild turkey release, to help get them established, then go back and take a turkey on public land, on a hillside right above a ball diamond I played Little League baseball on, you talk about satisfaction. To be able to go from having no turkeys to hunt, to that, was something special.
The story of my home area is something most everybody across the country experienced, back when turkey numbers were low. In many states, turkeys were completely gone; you look at the Midwest, and by the late 1800s, most of those turkeys were gone. During my years at the Federation, I was privileged to work with volunteers, and wildlife professionals, to release turkeys into good habitat, to see the thrill on so many faces, young and old, as they helped bring back something that was there for centuries, was lost, and is now back in great numbers.
MWO: Today, there is great hunting in places that featured, as the saying goes, "empty but suitable" habitat, including areas where, historically, turkeys never existed.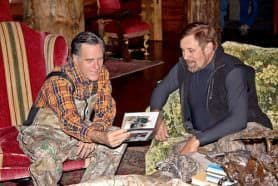 Keck: Yes, the wild turkey taught us a lot about what they want and need in order to thrive. Early in our restoration program, the biologists went on the best information they had, and the conventional thinking was turkeys needed at least 10,000 acres of contiguous mixed pine and hardwood forest.
When we released the first turkeys in Iowa, I remember the turkey project leader wrote in Iowa Conservationist magazine that he thought, at best, one day we might have 1,500 turkeys in the state. Now, there are places in southern Iowa where they've counted over 100 turkeys per square mile. And less than four percent of Iowa has much in the way of timber. The wild turkey continues to change our thinking on what ideal habitat for them is all about. And as more and more turkeys were in more places, that grew hunter numbers in the spring. Many people didn't hunt anything in the spring until the growth of wild turkey numbers. Now, they can extend their time outdoors with a gun in hand, and can take a youngster along, and enjoy the outdoors in the spring.
MWO: As we grapple with the challenge of helping newcomers discover the fun of hunting, it seems like spring turkey hunts, on nice days, are perhaps the ultimate experience to start someone with.
Keck: Absolutely, it's a nice time of year to be out. Obviously we get bad spring weather, but generally you see Mother Nature coming alive. You see flowers blooming, the dogwoods, the redbuds. To take someone out, even if they don't shoot one, if they get a chance to hear a bird answer with a gobble that's just electrifying, just hearing that gobble makes your day.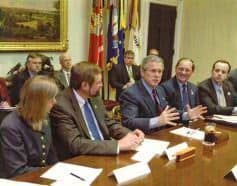 Last year, I took eight kids, all under 10, that all killed their first turkey. To see the thrill, not only with the kids, but with their parents as well, was so satisfying. There are so many great stories of people being introduced to turkey hunting. I heard a story in Illinois, when I was speaking at a chapter banquet. Before it started, the raffles were going on and whatnot, and a lady came up to me, she was in her late 70s, and said, "I just love what you've done; my grandson, who is only 18, took me on my first turkey hunt. I crawled on my knees on the hickory nuts and it hurt, and he said, 'Grandma, stay low, don't scare 'em,' and he got me up against this tree and set up. He stayed right over my shoulder, and he was calling and this big gobbler came in and gobbled in my face and I shot it."
I mean, to hear that come out of somebody who was almost 80 years old, and had never hunted before, pretty much summed up the attraction right there.
And I have another really cool story of meeting a woman in New York. A lot of us don't realize what we, as hunters, have done to improve the quality of life for all Americans. This lady came up to me, it was at a sports show, and said, "thank you for bringing back turkeys to New York. I still live in the farmhouse I grew up in as a little girl. There were no turkeys. Never even heard people talk about wild turkeys. But when you guys released turkeys, it brought something into this country like I've never heard. I can go out to the mail box on an April or May morning, and when I slam that mail box shut, there's a turkey that gobbles up there on that ridge. And you know what? That makes my day."
She doesn't hunt at all, and when you think about how many people out there we've helped make their day, whether it's a flock of geese overhead, or a herd of deer out in an open field, or seeing our nation's symbol, the bald eagle. Most people don't realize how much of the conservation effort we, as hunters, have paid for and continue to pay for. Far more than game species that are hunted.
MWO: Tell that story, for people who don't know it well.
Keck: State fish and wildlife agencies rely very heavily on two sources of funding. One is the license fees that hunters pay. Licenses, stamps, special permits and tags, all generate revenue that goes to pay for conservation work. The other comes from the purchase of firearms, ammunition, and hunting gear. It's an excise tax that started back in 1937, called Pittman-Robertson, that has generated billions of dollars for state fish and wildlife agencies, so they can do their restoration and management work. Managing for trees, brush, and other plants that are important to all kinds of wildlife.
Hunters have carried the weight of conservation on their backs, along with conservation groups that have donated many millions of dollars for habitat work, education, shooting facilities, and other things important to the fiber of life in this country. We used to say, during my time at NWTF, that we didn't take nearly enough credit for all the wildlife we positively impacted. When you improve habitat for turkeys, a whole host of other critters benefit as well.
MWO: What are other elements of the success story, both at NWTF and with other projects you have worked on?
Keck: You know, one of the things that I look back on with great pride is that, when you had this new generation of turkey hunters, you also had a lot of hunters who knew nothing about how to hunt these great birds. They didn't know how to call, and there weren't many stores that sold turkey calls back then. They didn't know about turkey guns and turkey loads and all the things that are available today. Decoys, turkey vests, all the things we don't think twice about now.
To be part of that whole process, all across the turkey's modern range in America, has been so satisfying. We went to shows all over, and people would come up to me and say they had listened to an audio recording I made for Penn's Woods (a turkey call manufacturer) back in 1975, or watched the video series I did with 3M back in the day, to help turkey hunters learn all about this new opportunity that was out there.
I can remember working with Remington to develop a specialized turkey gun, and asking them to make it with a short barrel and extra, extra full choke. They were skeptical that there would be a market for it.
MWO: Turns out there was a market for it.
Keck: Right, and shortly after, Remington started making short barrels you could buy for your 1100 or 870. And the next thing you saw was people camouflaging their guns, and new camo patterns that came about. So to be a part of that, to help people learn how to use that new equipment, it's been a big part of my life.
Are you enjoying this post?
You can be among the first to get the latest info on where to go, what to use and how to use it!
MWO: You were also a driving force in the first television show dedicated to turkey hunting, right?
Keck: A lot of people don't know this, but back when I started Turkey Call Television, I had to go to David Hall, president of the Nashville Network, the old TNN days, and work hard to convince him that a show about turkey hunting would find an audience. Back then, there were two networks, ESPN2 and TNN, really focused on hunting and fishing. David asked me why I thought a turkey show would work. I said I not only wanted to have a turkey show––and had the pilot with me––but that I wanted it to air in the first and second quarter.
At that time, there were no hunting shows in first or second quarter. Everything was fishing. They laughed at me. But I persisted, and tried to get them to understand that the primary season for turkey hunting is in the spring. Finally, I wore 'em out, and they said, "Okay, we'll put you in the death slot." They called 8:30 on Saturday morning the death slot. They said if we survived that, with good ratings, they would continue to air our shows.
What they didn't realize was, being the only hunting show, anybody who was a hunter, they tuned in. We immediately had ratings that bumped us right up to prime time. So I kind of feel like a pioneer in the outdoor television industry, because prior to this, there were no hunting shows on first and second quarter–now look at it.
Listen to more with Rob Keck…There's much more to our conversation with hunting legend Rob Keck, and you'll find it in the Podcast section at MidWestOutdoors.com. On the home page, look for the button that says Podcast, click on it, and you'll find the interview.
Keck through the years:
Sept. 16, 1950: Born, in Columbia, Pennsylvania.
1963: Called in and shot his first turkey, at age 13, in Pennsylvania, on the same November weekend JFK was assassinated.
1968: Shot his first, and second, spring gobbler, on Coosa WMA in Alabama, during spring break from college. Now, that's spring break!
1970: Shot his first Pennsylvania spring gobbler, in Potter County.
1974: Won Pennsylvania State Turkey Calling Championship at Franklin County Fairgrounds.
1975: Began working for Penn's Woods Products, largest turkey call manufacturer in the country at the time. Produced its first cassette tape on turkey calling and hunting.
1976: Won World Turkey Calling Championship, in Mobile, Alabama, beating defending champion and calling legend Ben Rodgers Lee in the finals.
1977: Won U.S. Open Turkey Calling Championship, in Blain, Pennsylvania.
1978: Became Director of Chapter and Membership Development for National Wild Turkey Federation (NWTF).
1978: Inducted into Pennsylvania Turkey Hunters Hall of Fame.
1980: Married Susan Morgan. "She's the love of my life," says Keck. "I could not have achieved my goals without her 36 years of love and support."
1981: Elected to lead NWTF as Executive Vice President.
1983: Hosted and produced the first full-length video on wild turkeys and their hunting, with the NRA.
1995: Completed 5-part 3M Mastery Video Series, Understanding the Wild Turkey, all shot on film.
1997: Became first hunter to take a wild turkey in all 49 states that have turkey seasons.
1998: Pioneered first hunting show to air during 1st and 2nd quarters on TNN, named Turkey Call Television.
2005: Under President George W. Bush, appointed by Secretary of Interior Gayle Norton to the Sporting Conservation Council.
2008: Became a member of Bass Pro Shops Pro Hunting Team.
2009: Became Director of Conservation for Bass Pro Shops.
2009: Inducted into Legends of the Outdoors National Hall of Fame.
You can be among the first to get the latest info on where to go, what to use and how to use it!
---
MidWest Outdoors editorial director Mark Strand is a graduate of University of Minnesota School of Journalism with a minor in Fisheries & Wildlife Science. He has written for nearly every outdoor magazine over the past 41 years, and has written or co-written 14 books. In addition to writing and photography, Strand produces the MidWest Outdoors Podcast, and contributes to MWO digital properties. He is an outdoor generalist who loves hunting and fishing of all types. In 2018 Strand was elected to the Minnesota Fishing Hall of Fame.
All author posts
---