Kevin VanDam: AKA KVD
Unlike most top-tier professional bass anglers, who tend to hail from southerly climes with year-around open water, Kevin VanDam grew up (and still lives) in Kalamazoo, Mich. His first-ever day on the water, at age three, found him standing on top of a frozen lake. But you know what they say: When something is meant to be, ain't no mountain high enough.
As we sit here today, the kid from Kalamazoo is known far and wide, primarily by his now-famous initials, KVD. The initials and the man have become a brand that inspires us to buy the same fishing equipment he uses.
So how did we get here, from that first day on the ice?
It's a great story, and the demands on his time are so intense that the only way we could get it was by phone, as he drove from one tournament to the next. As usual, we begin the conversation here, then pick it up over on the podcast.
At age 14, VanDam fished his first bass tournament. At 22, he was a full-time pro. Over the years, he has become the all-time leading money winner on the Bassmaster tournament trail, with well over $6 million in oversized checks. He has hoisted the Toyota Tundra Angler of the Year trophy seven times, and won the Bassmaster Classic four times.
In 277 Bassmaster tournaments, KVD has weighed in more than 10,000 pounds of bass, finishing in the money 228 times. He has 20 wins in B.A.S.S. tournament series events.
Many of his career accomplishments are all-time records, making him arguably the greatest ever in this highly competitive sport. But, as usual, there is more to the story than stats can tell, so let's go deeper with Kevin VanDam, and hear it in his own words…
MidWest Outdoors: Word is that you started fishing when you were only three years old, caught your first bass, a smallmouth, at age seven, and have said your life was never the same after that. Take us back to your earliest fishing memories.
Kevin VanDam: My dad took me ice fishing when I was three. I don't remember that, so I just go by what he has told me about it. I probably didn't fish much, probably walked around kicking snow in people's holes and looking at the fish on the ice, but he brought me out there, anyway.
MWO: So your first day of fishing was actually ice fishing?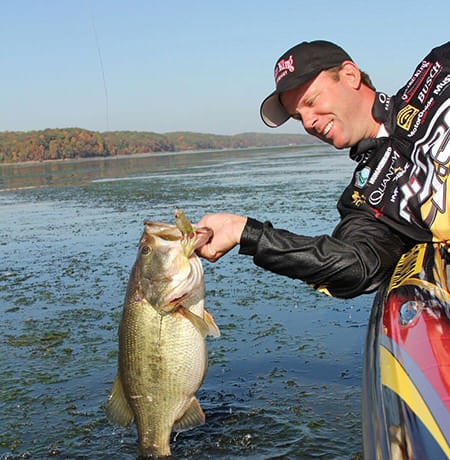 KVD: Yep. But I did all kinds of fishing when I was growing up. My grandparents built a house, when I was very young, on a small lake outside of Kalamazoo, and I'd go there and stay in the summer, and that's all I would do every day, is fish, all day. Just wandering the bank, up and down the lake. Everybody there knew who I was, and I would just walk out on their docks and fish. My grandmother had this bell she would ring at lunch time, and I'd come up and eat lunch, and then I'd be back out there fishing for the rest of the day.
MWO: Sounds like a perfect childhood.
KVD: And I had some friends at home, and we'd do the same thing. When I was home, I'd get up and we'd get on our bikes and ride to a trout stream, or a pond, or a lake. I had pretty good options within five miles of my house, and that's what we'd do, just take off for the day. I'd have a creel around my neck and fishing rod in hand and we'd go wade the creek or wherever we were fishing. If we saw a pond, we'd go to the nearest house and knock on the door and ask if we could fish their pond. When you're six, seven, eight years old, nobody's going to turn you down.
I definitely had a passion for it; fishing was all I wanted to do. It's pretty interesting that my mom would just turn us loose for the day, and not be worried. I would never do that with my kids now.
MWO: That was probably the last simple time, when parents were fairly confident you would show up when you got hungry.
KVD: So that was fishing, but with hunting it was kind of the same thing. One of my best friends, growing up, his dad taught us basic hunter's safety at seven years old. We would do work to earn shotgun shells, and not many of 'em would we get [laughs]. So we wouldn't just go off and waste 'em or anything like that.
MWO: Wow, so you had an outdoors-dominated childhood. Let's talk about fishing. You didn't just go fishing every once in a while; you were out there fishing all the time. What was it about that sport that kept you interested?
KVD: I think a lot of it was the variety of it. I just liked to catch anything. We'd fish for whatever, and as I got older, I kept expanding into different species, and traveling father. And when I got my driver's license at 16, you get a lot more mobile. With a small boat and a car, it was a whole 'nother world, you know. I started salmon and steelhead fishing, pike, muskies, walleyes. Shoot, I fished for carp, dogfish. We fished for whatever was in season or was happening where we were at the time.
We'd go on family vacations to Florida, and gosh, I remember one time we stopped at a hotel on our way down and there was a cow pasture pond out behind the hotel. I went out there and caught almost an 8-pound bass. I think I was 10 years old at the time.
MWO: So wherever there was water…
KVD: Yep.
MWO: So you grew up in what we understand was an energetic, competitive fishing family. But did you take that drive to new heights, even when compared to your family history?
KVD: Yeah, I have four brothers and sisters, and my older brother, Randy––he owns the marine dealership and tackle store in Kalamazoo––he got into tournaments before me. He was in a bass club, and that's how I got my taste of that side of it. But you know, we get it from my mother.
MWO: Wait, what?
KVD: Okay, we were on vacation last week, and it doesn't matter if we're playing cards or whatever it is, we have a very competitive nature as a family. And it's my mother, where all that comes from.
MWO: As you were growing up, did you begin to dream of making a living in fishing? At one time you were a boat salesman and worked at the store, but if you dreamed of making a life in fishing, what did that look like in your dreams compared to what it turned out to be?
KVD: I never really thought of it as a career. I talk to a lot of kids coming up now, and they say, "yeah, I want to be a pro fisherman," but that was never the case with me. I loved the competition, though. I fished my first tournament with my older brother when I was 14, and we ended up finishing second in that tournament. My brother paid for all the gas, paid the entry fee, drove us there, but I caught the most fish. We won $250 or something like that, and I thought because I caught the most fish that I should get all the money [laughs]. He had to explain to me that, in team tournaments, it doesn't matter, you split it.
I loved to bass fish, and I kind of knew about tournaments before that, because Randy would take me along on a practice day for a club tournament. We'd start catching 'em and he'd turn to me and say, "we gotta leave; don't catch any more," and that was never what I was about. I always tried to catch as many as possible, you know, never slow down. So it was an intriguing concept to start with, and I thought it was cool that you could go out fishing and win money, so I joined the Kal-Valley Bass Club, the same club my brother was in.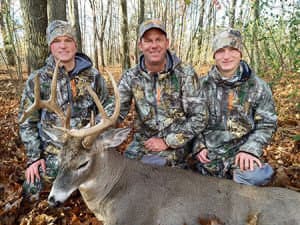 When I turned 16, I started fishing all the club tournaments. The first year, I went as a non-boater. My dad said I should do it that way, so I could fish with a different club member at each different lake. I did not like that, being in the back of the boat and not having control.
MWO: So you didn't think of it, at the time, as a learning period. You were ready to go out there and do it yourself, right away.
KVD: Well, I mean, I learned a lot, but I like to fish my own way, do my own thing, at my own pace, which was different than most everybody else. But I did that, fished in the back of the boat my first year, and fished some other tournaments with my future brother-in-law, and my brother, and a few friends. So I started my tournament career at 14, but only fished with somebody else at the beginning.
I did pretty good, but I knew I needed my own boat. At the time, we had an old bass boat with a 150 Mercury on it that was my dad's boat, so after I turned 16, in the club I got to be a boater in that boat. I won Angler of the Year in the club, and started fishing (B.A.S.S.) Federation tournaments.
MWO: In competitive bass fishing, at the top of the sport, there are a lot of talented and dedicated professionals. Analyze yourself: what makes you so successful?
KVD: That's an interesting question. I don't know. I've always been very motivated, and detail oriented, with every aspect of my fishing career, especially equipment-wise. I love the competition. When I started fishing at the top professional level––I fished my first national event when I was 18––I just wanted to see how good Rick Clunn, and Larry Nixon, and Denny Brauer, and Guido Hibdon, and Hank Parker, were. All those guys I'd watched on TV on the Bassmasters show and read about in the magazines, I just wanted to see what they were all about.
MWO: Were you in awe of them? Or did you get an early sense that you could belong on the same waters with them?
KVD: I was in awe of them to where I couldn't even talk to them. My brother had the sporting goods store there in Michigan, and when he opened it, I was 11 years old. I started working there part-time, so I was around that environment my whole life, growing up.
He'd have guys come in to the store, like Jimmy Houston, Bill Dance, Larry Nixon––all those guys have made appearances over the years. So I had seen them, but it was different when I saw them fishing, and started fishing against them in tournaments. I remember when I was about 17 and just starting to fish upper-level tournaments, Larry Nixon came to the store, and I couldn't even talk to him. I would just kind of hang out to the side and listen to him. I was so intimidated.
MWO: Maybe because you had so much respect for the sport and its best competitors?
KVD: Yeah, I think so.
MWO: Back to what has made you so successful in competition: it sounds like you have the drive to want to be the best, and beat the best, so you work hard at your craft and possess great attention to detail when it comes to keeping your equipment ready.
KVD: Yes, and I also had confidence in myself, even though I felt intimidated by those great fishermen. I didn't think of it that way, but people have told me that I came across as being cocky, but in my mind it wasn't that at all. It was just the confidence I had at the time; I mean, I knew what I could do and how I could catch fish. Not that I was extremely experienced, and I got a really good lesson in the first national Bassmaster tournament that I fished.
The event was in Thousand Islands, New York. I went with Don Stevens, who was one of my team partners, and my brother, Randy. It was our first big tournament, a Bassmaster Invitational, and I was 18 years old. We go to the pairings meeting, and I'm feeling really intimidated by all of it, because all those big-name guys that I have a tremendous respect for are there.
Back then, you fished with another competitor, and you shared half the day on each other's water. First day I drew an established pro who had won some tournaments. Here he's got some snot-nosed kid in the boat, and he's fishing for points, trying to make the Classic. I'm just fishing a one-off event.
We got to talking, and I'm telling him about the pattern that I was on and how I was catching 'em. I said, "hey I've got an area not far away and I'm catching 'em with a Rat-L-Trap," and I'm telling him I'm catching 13 to 15 pounds a day, and back then, 15 a day would win at that fishery. I told him that I was on quality fish and there was plenty of them for both of us, and he says, "if you'll go with me, I've got a spot where we can catch a 4-pounder on every cast." His spot was a long ways away, and I let him talk me out of my game plan and out of doing what I wanted to do at all.
MWO: So the run took up the whole day, right?
KVD: Exactly. And out on Lake Ontario, it got super rough because the wind came up. We were running 18-foot boats with 150s, so it was a pretty tough scenario. It scared the heck out of me; I'd never been in water like that. We beat the heck out of everything, and we never ended up making it all the way there. So we pulled off into one of the bays on the way to his spot, and tried to make it work. We broke his trolling motor, so we just drifted on some shoals, and we each caught one fish that first day.
The next two days I drew other guys, and we went to my fish and caught 'em pretty dang good. Ken Cook ended up winning the tournament with about 45 pounds. I was on the potentially winning fish and just didn't get to fish them on the first day.
It was a really good lesson for me at the time, to better understand the dynamics of the competition. Over the next couple years, I fished a few more events like that, and had some success. I fished one at Bull Shoals and I think I finished something like 17th. Fished one at Guntersville and finished in the 30s, so I was getting checks, and it was enough to show me that I could compete at that level, with anybody. I fished with enough of them, saw how they fished, and so I made the jump and started fishing the whole season.
VanDam through the years
Kevin VanDam and wife, Sherry, live in Kalamazoo, Mich. with their twin boys, Jackson and Nicholas. KVD grew up in Kalamazoo, fishing for trout, salmon, muskies, walleyes, northern pike, dogfish, and anything else he could hook. "But bass fishing is my first love," he says. From January through September, he is constantly on the road fishing tournaments and making appearances. But when he can, he spends time fishing and hunting with his sons.
Oct. 14, 1967: Born, in Kalamazoo, Michigan.
1974: Catches first bass, a smallmouth. "My life," he says, "was never the same after that."
1981: Fishes in first bass tournament at 14, with brother Randy, finishing second.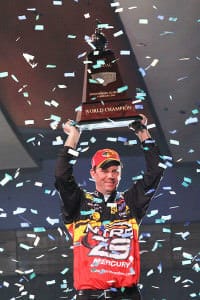 1992: Qualifies for Bassmaster Classic for the first time. Has qualified every year since.
1992: Wins first of seven Angler of the Year titles in B.A.S.S. competition. He also won Angler of the Year in 1996, 1999, and four in a row in 2008, 2009, 2010, and 2011.
2001: Wins first of four Bassmaster Classic championships, tied with Rick Clunn for most ever. He also won the Classic in 2005, 2010, and 2011.
2001: Wins FLW Angler of the Year. He fished FLW events from 1999 through 2003, qualifying for FLW Cup championship three of four years.
2002: Awarded first-ever ESPN Outdoorsman of the Year ESPY award.
2010 & 2011: Wins back-to-back Bassmaster Classics.
There's much more to our conversation with fishing legend Kevin VanDam, and you'll find at MidWestOutdoors.com in the Podcast section. On the home page, look for the button that says Podcast, click on it, and you'll find the KVD interview. Look for it around January 1.
You can be among the first to get the latest info on where to go, what to use and how to use it!
---
MidWest Outdoors editorial director Mark Strand is a graduate of University of Minnesota School of Journalism with a minor in Fisheries & Wildlife Science. He has written for nearly every outdoor magazine over the past 41 years, and has written or co-written 14 books. In addition to writing and photography, Strand produces the MidWest Outdoors Podcast, and contributes to MWO digital properties. He is an outdoor generalist who loves hunting and fishing of all types. In 2018 Strand was elected to the Minnesota Fishing Hall of Fame.
All author posts
---