In His Own Words…The One and Only Mr. Walleye: Gary Roach
Those who know him have come to recognize the sly but subtle grin of a fox who knows he can take every egg in the house if he wants it, offset by the twinkle of pure kindness we might expect from our most trusted friend. His grey beard befits a lifetime of mastery over the puzzle that remains the lifetime sport of fishing, and we are all attracted to him because of what he might teach us next. Gary Roach is perhaps the purest of professional fishermen, a boy who lived on the water and became one of the greatest fish finders of all time, a man who comes as close to perfection as we might ever see, when it comes to triggering fish that need to be coaxed into biting.
He has done many things besides work in the fishing business, from logging to playing in old-time country bands. But his legacy is secured by a talent for catching a certain finicky fish that's perhaps the most highly prized in his home state and surrounding region. There is only one man known as Mr. Walleye, and we are honored to present Gary Roach, In his own Words…
MidWest Outdoors: You came into this world in the summer of 1937, born in a log cabin on Mission Lake in northern Minnesota. Tell us a bit about what life was like as you were growing up.
Gary Roach: Well, my dad did logging; he had an old '36 Ford truck, and we logged. My brothers helped, and I did, too. We all did a little logging. And then he worked in the iron ore mines (common in the Cuyuna Range of north-central Minnesota). Right there in Crosby, that deepest pit. They had pits all around the area.
MWO: That was tough work. Do you remember him coming home all worn out?
Roach: All dirty. Just dirty. They had no insulated clothes or boots or nothing. The first thing I knew of that was insulated was a felt liner in an overshoe. When I started logging I was real young, 15 or 16 years old, and we wore rubber boots, I remember that. We would cut for 7 cents a stick. Cut, trim, and pile for 7 cents. Balsam and popple, stuff like that. Then I got a job working in the sawmill. Hauling slabs up, turning them into lumber.
MWO: Was that in Brainerd?
Roach: No, it was right out here [points outside the window], for one of our neighbors. He had a lot of land, and we cut the trees right on his property. So we did that for a while, and I actually quit school in the twelfth grade. I didn't like school; didn't like the people, didn't like the teachers. When the snow got deep that winter, I went and joined the Navy. Before I left, my English teacher, Mrs. Schwartz, asked me what I was going to do for a living when I grew up. I told her I was going to go fishing, that people were going to pay me to do that. She said, "you can't make a living fishing."
MWO: So did you ever go back and let her know how the story turned out?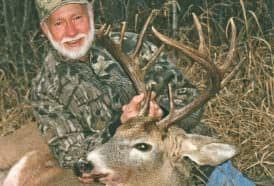 Roach: I don't remember, but Mrs. Schwartz, I did make a living fishing! [laughs quietly]
MWO: At the time you came into the outdoor industry, it was easy to find people who didn't believe you could make a living from something thought of as strictly a leisure activity. Now, tell us about your time in the Navy.
Roach: By January, I was out in San Diego, and I'll never forget the Navy recruiter asking if I wanted to go to Duluth for boot camp or San Diego. I started laughing and said, "where it's warm, man. I just got out of the woods."
I went to boot camp, and it was a snap. There were all these heavy-set kids and they couldn't do calisthenics or nothing. They were hurting, and I'm used to carrying pulp-wood sticks out of the woods by myself, so it was nothing. It was like a vacation, you know.
I did my month of KP duty, like everybody has to do, and then I got assigned to an attack squadron. I took care of the seat ejection, liquid oxygen, and took care of the Captain. I was stationed in San Diego first, then San Francisco, and then from there we caught a ship and took off and went to Hawaii, and then we went to the South China Sea, and we patrolled that whole strait, when the Chinese were evacuating to go to Hermosa. We were watching the mainland, so they didn't get bombed. And it was hot over there. We'd sleep on the wings of the airplane to cool down. So I did my tour, came home on a leave and met Beverly, my wife, in '59.
MWO: So you had not met her before leaving for the service?
Roach: No. She was from Brainerd, and her folks owned the Corner Cafe. So Beverly came out to see me, with my sister, to California, and before you know it, we were married.
MWO: You got married out in California?
Roach: Yeah.
MWO: That's a little-known fact in the fishing world.
Roach: [With the trademark twinkle in his eyes] Yeah, I ran as far as the ocean, and she caught up with me, and I couldn't swim. We've been married for about 57 years now. We call her Saint Beverly.
MWO: She has always done a lot to help with your business, right?
Roach: Always, yes, a lot. I was on the road with Lindy (as a promotional fisherman for Lindy Tackle), 14 to 21 days at a time. She helped with all my business stuff, and she raised the kids. We had a little bitty trailer house out here in those years (on the same land they still live on). We had three kids, and they were just little ones then. The kids slept in the back, and we slept on the couch. We lived in that trailer for four years before we roughed this place (their current house) in.
I was working for Lindy, and Al (Lindner) put me to work, and I gotta thank Marv Koep, because all this time I was working for Marv, guiding. We got a little bit of money, and we started putting this house together, a two-by-four at a time. I had a guy help me rough it in and put the shingles on, then we did it all ourselves. I came home one time and the trailer house was gone. She sold it, and everything we owned was in a pile in the middle of the floor in the house. So that's how it started, and little by little, we finished it.
MWO: Tell us how you got started with Marv Koep and the famous Nisswa Guides.
Roach: I was working as a line cutter, you know, a right-of-way line cutter, and we were cutting a swath through swamps and everything you can imagine, from Riverton all the way to Grand Rapids. I was making four and a half dollars an hour. Those were big wages, but we earned it. Bees, mosquitoes, deer flies, you name it. It was awful.
Are you enjoying this post?
You can be among the first to get the latest info on where to go, what to use and how to use it!
We were seeing all these pictures in the paper of the Lindners, who had just come over here from Chicago, and all these guys, catching all these big walleyes. One day, my brother-in-law Butch says, "Hey, you can fish pretty good, why don't you go over there and see Mr. Koep?" That was after we got done with that job, when we made it all the way to Grand Rapids. So I went over there one day, and Marv handed me an old Lowrance flasher and told me to go give it a try. I didn't even have a boat at that time.
MWO: We really want to hear your version, because Marv tells this story, about how he loaned you the flasher and then you were just gone, for maybe four days. He had almost forgotten about the whole thing, and one day you reappeared and said, "I want to guide for you, but I need this," pointing to the depthfinder. What did you do on that fishing walkabout?
Roach: Well, I had a portable transducer bracket–I still have that bracket–and I rented a boat from a resort on Horseshoe Lake. Three bucks a day. I had a little 7 1/2-horse Johnson. I found out right away that you couldn't go fast with the locator, because there'd be all these lights all over the display. The interference was so bad you had to go slow.
I had fished Horseshoe before, because we had a little boat and we'd row around out there. We'd always go to the weedline, something we could see, or feel with a jig or a rig, and that's how we caught fish. So I got out on the lake with my homemade rigs, with a barrel sinker, and baited up with nightcrawlers, and started finding spots and fish. I think I forgot all about Marv Koep's [laughs]. There were so many fish, and it was so easy. With the locator, it was no guesswork. You go over here and it was too deep; you go here you see all this scattered stuff on the display and it was weeds. It was easy, you just stayed along the edge of the weeds and that's where the walleyes were. Or off a point. There were walleyes scattered all over off the points.
I'd have my limit of walleyes in 45 minutes. So after a few days, I went back to Marv and told him I'd really like to do some fishing for him, that this was really something. Marv says, "yeah, well, you know, we'll try you out." He paid me twelve and a half bucks for half a day. A whole day was 25 bucks.
MWO: That must have sounded pretty good at the time.
Roach: Yeah, and I had this secret little lake that nobody knew about, and nobody could get on it because there was no public landing. So he'd set me up with trips, and I'd be back about 10 or 11 o'clock in the morning, with a limit of 18 walleyes. The word started getting out. After about a week of this, he wanted to try me out on bass, and of course I knew how to fish bass. So that went the same way, and Marv said he would put me on as a guide.
MWO: But in those days there was a vote among the guides, right?
Roach: Yes sir. You had to have the approval of the other guides. They took a vote, and everybody voted for me, and I was a guide. Harry Van Doren, and Max Slocum, Royal Karels, and all the other guys, I had to get voted in before I could go to work.So now, I had to have a boat. I got a boat for $300, my old brown Lund Shell Lake. And I found a motor, an old 18-horse, maroon Johnson motor. I can't remember for sure, but I think I paid about a hundred bucks for that motor. It was perfect. It ran just like a charm. We had the green box depthfinder, and the mud flaps on the back for backtrolling.
And that's how it all really got going. I was doing really good, catching lots of fish, getting lots of customers, and that's what I built off of for everything that came after that.
     There's much more to our conversation with fishing legend Gary Roach, and you'll find it in the Podcast section at MidWestOutdoors.com. On the home page, look for the button that says Podcast, click on it, and you'll find the interview. 
Roach through the years
Over the course of his tournament career, Gary Roach, Mr. Walleye, has won many events. He is known as one of the greatest fish finders, and fish catchers, ever. It has often been said that if you take away modern GPS units, you wouldn't want to bet against Gary Roach. He has a knack for designing fishing tackle and equipment, too; his mark has been left on gear for Pradco, Northland, Pure Fishing, and his line of Mr. Walleye fishing rods. There's even a Lund boat he designed called the Mr. Walleye Edition.
Aug. 3, 1937: Born, at Mission Township, Minnesota, in a log cabin on the shores of Mission Lake, about a quarter-mile from where he has lived most of his life. "I was born in the house," Roach stresses, "not on the shore."
1947: At age 10, started guiding visiting fishermen on Mission Lake. Even before that, he got his start catching frogs and selling them to local bass anglers. "I started out in the frog business, but people knew I was out on the lake fishing all the time, and they knew where I lived. So pretty soon they were paying me to take 'em fishing."
Oct. 5, 1959: Married to wife Beverly, in California, while in the Navy.
1962: Began playing guitar in the "Fitgerland Band" (so named by one of the members, a beer salesman, who happened to peddle Fitger's). He spent many years as a member of The Kingsmen, as a top-flight guitar picker, who could also handle mandolin and piano.
1969: Started guiding out of Marv Koep's bait shop, for the legendary Nisswa Guides League. The Lund 315 tri-hull "Shell Lake" boat he bought soon after, his first true guide boat, was recently found and restored to near-original condition. It will be on display in the Minnesota Fishing Museum after Roach takes one last guide trip in it, with the high bidder during a Minnesota Fishing Hall of Fame fundraiser.
1971: Won the Bass Caster's Association (BCA) tournament on Lake Minnetonka, the first big-time bass tournament held in Minnesota. BCA, headquartered in Florida, was an early competitor of B.A.S.S.
1972: Started traveling the country, teaching fishing at sports shows and in-store events, on behalf of Lindy Tackle.
1985: Started his current company, Mr. Walleye Specialties.
1988: Inducted into National Fresh Water Fishing Hall of Fame.
1989: Won MWC Angler of the Year title.
1991: Won Professional Walleye Trail (PWT) Angler of the Year, and PWT Top Gun Award.
2000: Inducted into Minnesota Fishing Hall of Fame.
You can be among the first to get the latest info on where to go, what to use and how to use it!
---
MidWest Outdoors editorial director Mark Strand is a graduate of University of Minnesota School of Journalism with a minor in Fisheries & Wildlife Science. He has written for nearly every outdoor magazine over the past 41 years, and has written or co-written 14 books. In addition to writing and photography, Strand produces the MidWest Outdoors Podcast, and contributes to MWO digital properties. He is an outdoor generalist who loves hunting and fishing of all types. In 2018 Strand was elected to the Minnesota Fishing Hall of Fame.
All author posts
---