If you've been reading and enjoying MidWest Outdoors since back in 1967, or recently discovered it, you know that this publication is growing in many ways. With the popular television show, and addition of the MidWest Outdoors podcast, we reach out to our audience with helpful information every month. I am happy to introduce myself as the newest addition to the MidWest Outdoors family, as your source for information on how a healthy lifestyle can lead to more success in the field and on the water.
My name is Julie McQueen, and I have been hosting and producing shows on network television for many years. Beginning with a show called Backstage & Backroads, I have been fortunate to work full time in the outdoor industry since 2010. I currently co-host Brotherhood Outdoors on the Sportsman Channel, along with my husband, Daniel Lee Martin. We spend almost all of our time traveling and working outdoors. I co-own one of the busiest production companies in the outdoor industry, which produces television programming, commercials, short films, and many other exciting projects.
You might be wondering how I will bring health and fitness into this conversation. For years, I have devoted my life to chasing animals and documenting all of it for television. To accomplish that, and to be the best I can be at my job, I have to stay as healthy as possible, both physically and mentally. Lifting heavy production gear and running up mountains with it on my shoulders could lead to injuries, and I just don't have time to be injured. Pulling in a 180-pound tarpon could be stressful on my back muscles, and the list goes on.
Because I have a passion for hunting and fishing, I have researched proper stretching techniques and long-term muscle-building programs for outdoor lovers. When I pack an animal off of a mountain, I want to avoid hurting myself in the process.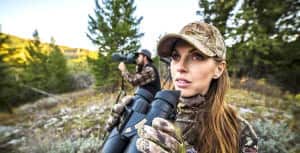 Finding your center
We all have a different set of goals when it comes to what we want to be able to do in the outdoors. Most of us have no interest in competing in marathons or running long distances, but some people enjoy that. It helps them prepare for their style of hunting, and it can be a great outdoor hobby. And, similarly, some people have no interest in going to a gym and building muscle. Will you be a better outdoorsman if you're stronger and have a lower body fat percentage? Yes. If you enjoy lifting weights––or can motivate yourself to do it––there are specific exercises that can make your life as a hunter or angler more productive and more fun.
One of the key ingredients to finding what works for you, and actually sticking with it, is to have people around you who will hold you accountable. If your friends, spouse, or co-workers have a similar interest in the outdoors, you can work toward your goals together. You're more likely to stick to a plan if someone is going to ask you about it later. Being held accountable, and finding positive reinforcement through our peers, is a great recipe for accomplishing our goals.
Social media can be a valuable partner when you're setting up a support system. You can follow people who have similar interests to yours, who can provide inspiration and accountability as you get yourself ready for each new season. You might be surprised at all the motivation and ideas you can find through the social channels.
Let's stay in contact
This column will strive to be a source of helpful information and motivation for you each month. And I want to connect with you, learn about your goals, and find out what you want me to cover. This will be a team effort between me, the certified trainers and nutritionists at UpLift Guide Fitness (who will be peer-reviewing each column), and you. Our goal is to present you with a plan for eating healthy, and preparing your mind and body for greater performance, which naturally brings greater enjoyment when you're hunting and fishing.
I've done the research, and stand ready to help you set a plan, a New Year's resolution, to become healthier and stronger. To succeed when you face challenges. Each month, we'll talk about what you can do in order to walk all the way to the spot where others can't, shoot well after following your dog to a flushing pheasant, sit longer and quieter in a tree stand, balance better in a bobbing boat, while making more casts than ever.
Here's another promise: I will engage with you, by answering your questions. Connect with us on social media, and let us know what you want to talk about! You'll hear back from me in this column, and on upcoming episodes of the MidWest Outdoors magazine-format podcast.
To submit your questions, and follow along on our adventures, make sure you Like us at: facebook.com/MidwestOutdoorsTV, facebook.com/JulieMcQueen.brotherhood, and follow our Instagram feeds @mwoutdoor and @julesmcqueen.
Fitness for the Field is peer-reviewed by trainers and nutritionists at UpLift Guided Fitness in Woodbury, Minnesota. Learn to eat healthy for the rest of your outdoor-loving life at upliftfitness.com/21dayoffer.