Finding the Fun in Fitness
Having a daily workout routine isn't for everyone. Many of us get our exercise anytime we can, and we don't always have the luxury to schedule hours at the gym every week. If you have a busy schedule, but want to find a way to stay healthy, you can find ways to get your heart rate up without lacing up your running shoes.
I've put together a list of ideas for anyone who feels the need to get some fresh air, to shed a few pounds or who just wants to spend time outdoors while getting healthier one step at a time.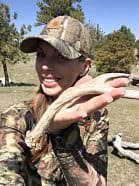 Check your heart rate
One thing that I've been doing for years is monitoring my heart rate any time I do any activity that seems like it might be healthy. I find satisfaction in seeing how my body is reacting to the physical activity, and it also helps me to understand how much energy, or food, I need to take in to stay healthy.
About six years ago, I wore a heart rate monitor while we were on a high-altitude elk hunt. My body was burning so many calories each day that I had to double my food intake that week to keep my energy levels up. I looked forward to seeing how many calories I burned at the end of the day, and it motivated me to continue pushing myself every day to accomplish new goals.
A great new feature of some of the heart rate monitors is that you can link them directly to your camera. This way, when an animal comes into frame you can actually see your heart rate soar when you watch the footage from your camera. The Garmin VIRB offers this feature and a lot of people are realizing how fun it is to watch that number climb right before you pull the trigger on your animal.
Get the whole family involved
If you've ever watched a group of kids spending time outdoors, you may have noticed their seemingly unending amount of energy and enthusiasm for running in circles and moving around nonstop. It might not be possible for you to harness or bottle that energy, but you can capitalize on it. If you have kids, or even dogs, you should stand up and move around with them when you are outdoors. If they play tag, play with them. If they want to roll down a hill and then run back up it, maybe you should tag along with them. Acting like a kid will increase your heart rate without you even noticing. To top the entire experience off, and to prove your point later, wear that heart rate monitor that we talked about earlier.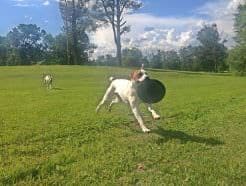 I have dogs instead of children, so I find ways to stay healthy by spending time with them every day. Some days when the weather is nice, I'll take them for long walks. But what about the days when the weather is bad? Do we all sit inside and forget that we need to get our heart rates up? Of course not! I walk my dogs in the rain or snow, because those weather elements add a new level of difficulty to our routine.
If we can go out in the yard and throw the Frisbee for a while, then I make it a point to walk around the yard or chase them around instead of just sitting still. We all get some exercise, and I feel just as satisfied as they do after we go back inside.
If you have children, try to incorporate the same principals into your routine. Go outside and move around as much as they do.
Organized outdoors activities
There are many ways that you can get outside with like-minded people to get exercise, but finding organized activities that focus on things that you enjoy is the best way to stay motivated.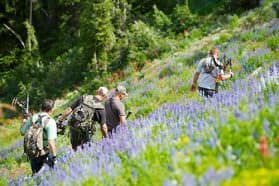 For example, shed hunting has become popular in recent years because not only does it help you add to your shed antler collection, but also it's great exercise. Many people go out into certain areas in groups to walk and locate antlers that have shed from local wildlife. Some days you might walk miles and not find anything at all, but other days you might need some extra strength to pack out all of the antlers you have found. When we shed hunt, I always follow a few simple rules to ensure that we are safe and successful:
Stay hydrated. Always carry enough water to hydrate throughout the day, and carry extra if you have children, pets or other people with you who may not have carried enough water for themselves.
Let others know where you are. Even if you are using a GPS system to stay on track, it's wise to alert other people to the areas that you will be walking in, and when you expect to be back. Set up a system so that everyone knows who is out in the wild, and when he or she will return.
Carry supplies that can save your life. I always carry a small trauma kit in my pack. It's more than a first-aid kit; it's a small bag that has items that could potentially save lives, if necessary. Mine came from TMS Outdoors.
Have fun with it. Don't get so caught up in the fact that you want exercise that you forget to have a good time. Some days you might only walk a little ways, but if you stop and enjoy the moments then that small walk will be meaningful. Other days you might be exhausted from walking so many miles. Enjoy every moment that you get to spend outdoors.

An archer takes aim during the Total Archery Challenge while getting fresh air and a beautiful view.
Photo: Total Archery Challenge
3D shoots
Another great way to spend time outdoors at an organized event during the offseason is 3D archery tournaments. Some of them set up courses with different levels of challenge, and you can spend a day outdoors shooting your bow with like-minded people. Even if you don't shoot a bow, this is a great way to get some exercise and spend time outside. Many of the events are held at scenic areas where you can hike all day and watch archers take shots at 3D targets. I prefer to go to the Total Archery Challenge events because they keep it fun, lighthearted and you can truly challenge your archery skills at any of their multiple events around the country.
Just as I began this article, with mention of the heart rate monitor, I'll bring it right back to that idea. Any of these events, organized or not, can be great ways to get exercise. Any time that I participate in events like this I monitor my heart rate. I prefer to wear the Garmin heart rate monitor chest strap that pairs with my Garmin GPS watch because I can also track my movements and my distance. At the end of the day I feel like I've accomplished my goals when I can check the numbers and truly see what my body is capable of when it comes to fitness and the outdoors.
     Send Julie your outdoors-specific exercise and nutrition questions, at any of our social media pages. Like us at facebook.com/MidWestOutdoorsTV, facebook.com/JulieMcQueen.brotherhood, and follow our Instagram feeds @mwoutdoor and @julesmcqueen. "Fitness for the Field" is peer-reviewed by trainers and nutritionists at UpLift Guided Fitness in Woodbury, Minn. Eat healthy for the rest of your outdoor-loving life at upliftfitness.com/21dayoffer.